Blood drive for resident in urgent need

Apr 09, 2015 11:18AM ● Published by Community News Service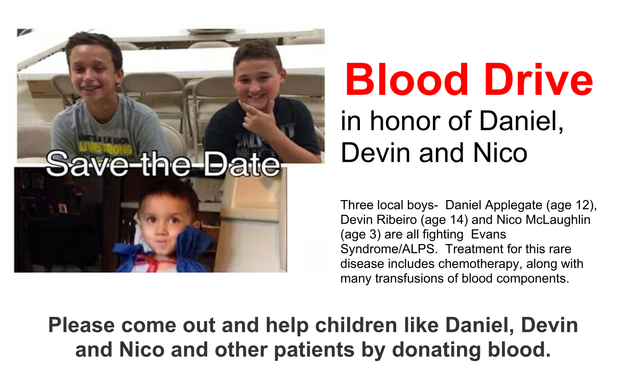 A Bordentown Township blood drive is set to benefit children fighting Evans Syndrome/ALPS on Friday, April 17 from 2:30-8:30 p.m.
Set to be held in the Bordentown Township Senior Center, located at 3 Municipal Dr., the blood donations will benefit Bordentown residents Daniel Applegate (12), Devin Ribeiro (14) and Nico McLaughlin (3). All three are fighting Evans Syndrome.
The Applegate family hopes to collect 100 pints of blood at the drive.
All those who are able to participate are encouraged to help Daniel, Devin and Nico. Blood donors from the last drive will not be eligible to donate at this event.
To schedule an appointment, visit: tinyurl.com/daniel-08505.
Community
,
News
Evans Syndrome
Bordentown Township
ALPS
Senior Center