All that jazz

May 01, 2015 04:07PM ● Published by Community News Service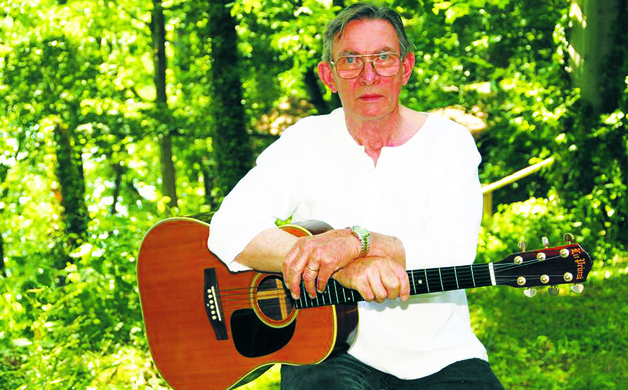 By Susan Van Dongen

For jazz guitarist Dick Gratton, it all started with the late Les Paul.

Gratton, a resident of Bordentown Township, absorbed all kinds of sounds as a child listening to his father's records.

The family vinyl collection consisted mostly of sizable big bands, however, young Gratton got his hands on a certain recording that listed only one musician—the great New Jersey-born guitarist Les Paul. At around age 7, young Gratton vowed to figure out how one man could play so many notes.

"I was thinking 'man, I have to learn how to do that,'" he says. "When I was older, I didn't feel so bad when I heard Les Paul had used multiple tracks. But, that's how I play now, a series of single notes that blend well together—I don't strum."

Since he's played at so many venues, a certain kind of music lover in central New Jersey might know Gratton from his elegant solo jazz performances, usually on his Gibson semi-hollow body. In Bordentown, he's appeared at the Farnsworth House and Jester's Café, as well as at the Yacht Club and various street festivals. He also played for years at the Chambers Walk Café in
Lawrenceville and the former Cedar Gardens in Hamilton.

In addition, he's had a rich career in Trenton, at such past and current venues as the Greenwood Grille, the Mill Hill Saloon, the Tremont Lounge, the Centre House Pub and the Urban Word Café.

Gratton will bring his singular style of playing to several solo performances in the near future, including gigs at the Trenton Social Club on South Broad Street, Wednesday, May 6, Saturday, May 23, and Wednesday, July 1.

Then, on Sunday, May 10, Gratton will perform with longtime friend and vocalist Linda Lee, at the 23rd Annual Hamilton Township Azalea Festival at Sayen Gardens in Hamilton Square. The duo have done the Mother's Day concert for years.

The self-taught musician, Hamilton native and 1959 graduate of Hamilton High School West says he's been performing live for more than 60 years, and his first time was at a family friend's club in Dunellen. His debut in front of an audience was in 1953, at age 12.

"I played 'Lady of Spain,' and I was petrified," he says. "But it worked out well."

Throughout the 1950s, Gratton preferred jazz, although he was in a small rock group in high school, one that was good enough to play on the legendary Steel Pier in Atlantic City.

"We were doing songs by Jerry Lee Lewis, Chuck Berry, things that were popular, and doing them note for note," Gratton says. "Later, my interest was more about taking these and other tunes and making my own arrangements out of them."

He still plays guitar this way, re-arranging the compendium of standard and popular melodies he has in his head.

After high school, Gratton served in the Navy from 1960 to 1962, aboard the aircraft carrier USS Intrepid in the Engineering Department. As a Machinist's Mate (ultimately, a Machinist's Mate Petty Officer 3rd Class), he operated the ship's fresh water distilling plants and occasionally the steam turbines in the engine rooms.

After the Navy, Gratton's father, a veteran of the Pennsylvania Railroad, helped him get a job there. Gratton began his career working in engine service, but later became a locomotive engineer, and was employed by four different rail companies over the course of 37 years, until he retired in 2002. His last position involved engineering Amtrak's high-speed Acela to Washington, D.C.

Gratton says he always tried to choose rail assignments that would allow him to play music at night.

Naming guitar influences such as Tony Mottola, Wes Montgomery and Pat Metheny, as well as pianist Bill Evans, Gratton has performed at major workshops, official state functions and large-scale concerts, including the 1998 Trenton Jazz Festival at Waterfront Park.

He jokes that playing with an ensemble is alright, "as long as the other guys aren't late and know the tunes in the key I want to play them in."

Gratton really enjoys playing with Lee, however, who he's been working with since the 1970s.
"She takes care of the melody, I take the background, and I don't get in her way," he says.

"Dick also doesn't overplay, like trying to jam 1,000 notes into one measure just to show off," says Lee, who grew up in Mercerville. "He's incredibly tasteful."

"For years, I worked (with bands) in California and New Orleans, but I haven't found anyone like Dick," she continues. "He has such finesse and hears everything I'm doing. If I take a song in a different direction, he's right there. We feel like one person musically. He only has six strings, but what he can accomplish sounds so full, beautiful and rich."

Gratton lives in a home that overlooks the Crosswicks Creek, with his wife Joan, recently retired from the Bordentown School System. His son Rick is an accountant, and son John is in the music business, but on the recording side of things. Gratton has his own small home studio where he experiments with solo multi-track recording, just like his first guitar hero, Les Paul.

And like Paul, who played almost right up until the end of his life, Gratton vows to keep on going with his music.

"As long as the fingers hold out, I'll still be doing it," he says.

For upcoming shows, or for Dick Gratton's CD, "The Guitars of Dick Gratton," go online to thejazzman.tripod.com.



Today
,
Community
,
Arts+Entertainment
guitar
jazz
Dick Gratton
Les Paul
Juster's Cafe
Chambers Walk Cafe