For Capital K-9, safety is the best in-vest-ment

May 01, 2015 02:56PM ● Published by Community News Service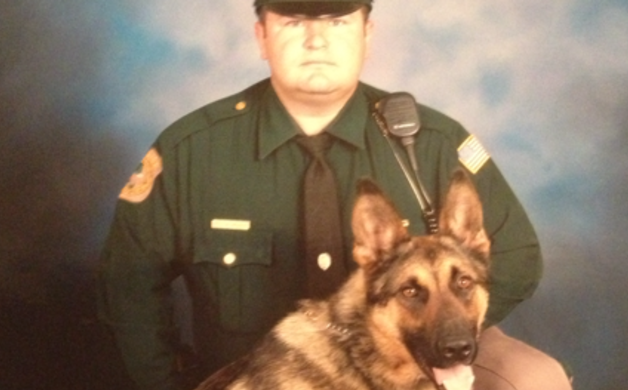 Bordentown Township police officer Nate Roohr and his dog, Kiru, have benefited from the Capital K-9 Association.
By Samantha Sciarrotta

If you drive in or around Mercer County, chances are you've seen a "got K-9?" sticker on the back of someone's car. You know the slogan, but how about the organization behind it?

Those stickers and other items like T-shirts, wristbands, and hats bearing the "got K-9?" logo and other phrases over the years have helped Capital K-9 Association raise over $30,000 since 2011, providing more than 40 bulletproof vests for police dogs from here to Washington state.

It all started with Hamilton resident Mike Lucchesi—who has been a Trenton police officer for 14 years and a K-9 handler for four—and the rest of the city's K-9 unit. Bulletproof vests for the dogs were not in the budget; while they coffer invaluable protection for the dog in a hostile situation, they were just too expensive for the city.

"We feel it's just as important to make sure that these K-9s get the same protection that we do," Lucchesi said. "A lot of times, in very dangerous situations, K-9s are called for and thrown into the front line. It's only right that they get the same adequate protections that us as the officers get when [the dogs] are usually the first ones to the door."

Lucchesi and his fellow officers decided to do something about it, so they launched Capital K-9 that year as a way to raise money for their animals. The original members were all Trenton K-9 Unit officers, but membership has grown to more than 90 animal lovers, from fellow policemen to mechanics to bank employees.

"Our first venture was the Trenton Police Department," he said. "We actually sat with city council and our administrative staff. The city was going to cover half, and we would cover the other half. That freed up our ability to reach out to another police department that we knew was in need and provide them with two vests as well. Our first endeavor started with just us and has branched out."

It was difficult to grow at first, but Rachel Stark of Stark and Stark helped the organization get off the ground, Lucchesi said. She helped create the corporation and submit non-profit applications. Capital K-9 has now benefitted 40 dogs in 16 police departments in four different states.

In addition to Trenton, Capital K-9 has vested dogs in the Bordentown Township, Ewing and Mercer County's Sherrif Departments.

"They're so important," said Bordentown Township officer Nate Roohr, whose German shepherd, Kiru, and two other K-9 Unit members received vests. "They really increase the dog's chances of survival if something happens. A lot of municipalities don't have the funding to purchase vests because they're so expensive. It's great knowing that they're out there helping."

In order to receive a vest, potential recipients submit an application to Capital K-9. If it's approved, funds from merchandise sales and other community events go directly towards that dog's vest. Any excess money raised goes straight towards the next dog's vest. It takes about six weeks to receive a vest once the dog is measured.

Members often deliver vests directly to the dogs and their handlers, and vice president Shawn Marrazzo, Jr. said that's one of the most rewarding aspects of being involved with the organization.

"You go down there, and they kind of introduce you and have the gear on the dog," the Hamilton resident said. "They do a little bit of a demo. When you get the applause and get to meet the officer and the family, hearing how appreciative they are, that's where it is. That's the pinnacle of what all your work goes to."

They're appreciative because not only are their dogs partners and co-workers, they're family members, too.

"It makes my family very happy," said Matt Nemes, a Ewing officer whose dog, Nero, and three others from the EPD received vests from the association. "The extra added protection always makes me feel better. I know if something bad happens, he'll have that extra layer of protection. It's not always 100 percent, but it's better than nothing."

Many officers have been with their dogs for years, and the bond starts at the very beginning of the process when they go through rigorous training together. They don't want to see that training go to waste just because bulletproof vests were out of the budget.

Nemes said dogs go through 12 weeks of training in narcotics or explosives, followed by another 16 weeks of patrol training. The animals learn a lot about obedience and sniffing out odors, and by the end of the 28 weeks, they will do anything the officer tells them to. It's a long and arduous process, but it's worth it, Lucchesi said.

"It's a complete lifestyle change when you're trying to integrate a police dog into your family, into your household," he said. "Training is very intense. It's very overwhleming, and it's very time-consuming. It can be frustrating at times. It's very difficult to teach an animal exactly what you want him to do, when you want him to do it. In the end, when you have that and you receive your certification and are actually classified as a K-9 handler, it's something to be very proud of."

Aside from raising money, raising awareness is the organization's other main objective. Some of its biggest fundraising opportunities come at events like Freedom Fest and monthly Cruise Night car shows with Ewing's Hot Rides at Texas Roadhouse in Hamilton, but while they're raising funds, they're also educating the public through demos and just by talking.
Nemes has attended events, as has Roohr. Both said the opportunity to educate anyone who has questions is invaluable.

"People love dogs, and they love the fact that they're helping raise money to keep them safe," Nemes said. "They have really good turnouts where ever they go. They educate on what the dogs are capable of doing and the situations they get it. People like to hear it from the handler."

Roohr agreed.

"The organization itself is providing for dogs, but it's also a good community relations organization," he said. "People get to go out to fundraisers and events and speak with officers, learn more about about what they do. It's nice to be able to explain some things that the general public has no idea that dogs are capable of and what a useful tool they are."

Nemes said the most common questions he gets asked have to do with training, home life, and how the dogs are picked. But talking about that, he said, is fun. Roohr added that he often discusses how valuable dogs are when it comes to locating bombs and narcotics, and finding missing children or even criminals.

Trustee Sallah Khan said Capital K-9 keeps its appearances at events as engaging and interactive as possible.

"I've seen where a police officer is doing a demo, and there's a whole line of kids against the fence," said Khan, a Hamilton resident. "They all are excited, and it's awesome to be able to touch the community, really show them the value of what we have to add."

As the organization continues to grow, it has tacked on more fundraising opportunities to keep it "interesting and fresh," Marrazzo said. It adds more apparel and change designs each year, as well as taking on a recent partnership with John Baer, who photographs officers and they animals for his annual Cops & Dogs calendar.

Capital K-9 has also added a slate of Cruise Nights at Texas Roadhouse from May to October, after a successful first run last year.

The association hopes to start raising money for additional K-9 resources, like an in-car device that monitors the temperature and alerts the officer if it gets too hot or too cold, and can automatically open car doors if the officer is compromised and needs the dog. Khan also mentioned starting up "401 K-9" funds for dogs after their years of service, and helping establish K-9 units in departments is another goal further down the line.

While Marrazzo said members of the organization are coming up with new ideas almost too quickly, the original objective remains at the forefront.

"Most people have a good heart with animals," he said. "You take a look at some of the danger that these specific animals put themselves in front of. They're really trained to give their lives up for their handlers. Some of the stories, the few years that I've been around and just watching them in action, it sets you back when it's in front of you. It's the reality of how effective they really are."

Capital K-9's next event is a Cruise Night car show on May 26 at Texas Roadhouse on Route 33 in Hamilton. For more information, visit capitalk9association.org.


Today
,
Community
K-9 Capital
Bordentown Township Police