Bordentown's Amber Mack crowned Mrs. New Jersey International (VIDEO)

May 01, 2015 03:16PM, Published by Community News Service, Categories: Today, Community, News
---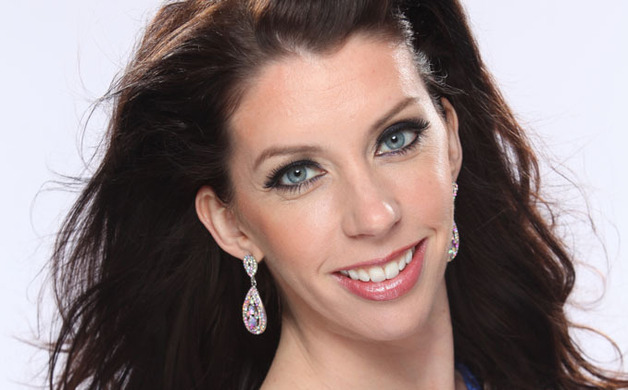 Amber Mack was crowned Mrs. New Jersey International 2015 on March 28, 2015.
---
---
(Scroll down for video)

By Aliza Alperin-Sheriff

In only her second pageant ever, Bordentown's Amber Mack was crowned Mrs. New Jersey International 2015 on March 28.

"It's absolutely crazy to have a state title and only be on my second pageant," she said.

This July, Mack will had to Jacksonville, Florida to compete in the Mrs. International Pageant.
Mack entered the world of pageantry last year when she was the runner-up in the Mrs. New Jersey United States Pageant.

Mack always wanted to do pageants when she was little, but her mother wouldn't let her, because she thought that pageants were shallow. As an adult, Mack has discovered that, in fact, in the Mrs. divisions of pageants, the focus is on charity and using the title to raise funds and make the world a better place.

She decided to compete in the Mrs. New Jersey International Pageant this year because the pageant that she entered last year no longer exists. The directors of the pageant stepped down and now, earning the title of Mrs. New Jersey United States requires petitioning the national office, which is an expensive process.

"Doing another pageant with a state system behind it allowed me to fundraise for my charities as opposed to myself," Mack said.

The two main charities she supports are Special Olympics New Jersey and the YMCA; however, she also works with the American Heart Association, Children's Miracle Network, Miss Amazing (a special needs pageant) and Miss Next Level Youth (a mentoring program).

Mack raised $3,000 for the Hamilton Area YMCA when she participated in the Mrs. New Jersey United States Pageant last year and has been volunteering with Special Olympics New Jersey since 2013—when she moved to Bordentown from Indiana—including at the 2014 National Games which were held in Mercer County last June.

Mack said that the Mrs. International Pageant "[wants] title holders to be out and active in their communities and actively supporting charities."

As Mrs. New Jersey International, she is required to post on her Facebook page at least once a week and make an appearance at least once a month, promoting charities and the pageant system.

Mack explained that one unique aspect of the Mrs. International pageants is that 50 percent of the scoring is awarded at a private interview before the pageant even begins. During the interview, contestants face five judges who each have five minutes to ask whatever they want.

The pageant itself is fairly typical, consisting of an opening number production, a fitness wear competition, a stage chat and an evening gown competition. Another special feature of the pageant is that the winner is crowned by her husband.

One difference between Mrs.-division pageants and other pageants is that there is no talent portion, which is a disappointment to Mack, who is a professional ballerina in her spare time.

"I would love for there to be talent," she said. She reflected that in the Mrs. divisions, talent is defined by serving one's community.

Since being crowned, Mack has been busy making appearances as Mrs. New Jersey International. In the first 15 days after her win, she made 20 public appearances.

One of the appearances she has made so far was promoting her charities by attending a Special Olympics bowling team practice.

"I bowled with the kids and encouraged them to talk with me as a friend. Mostly they were excited to see someone not in their typical group of supporters," she said.

At the Mrs. International pageant in July, Mack will be facing competitors from all over the world. She said there is camaraderie among the contestants, and she was looking forward to the opportunity to meet her fellow title holders and learn about the work they are doing.

"One person wins, the rest of us can be friends, it's not going to be an issue," she said.

She is already working with other pageants winners, including helping Mrs. Kansas International run a fashion show for charity.

If Mack becomes Mrs. International, she will spend the next year traveling across the country and the globe promoting her platform; however, if she loses, she isn't sure whether there will be more pageants in her future.

"When you reach the level of state title holder and you compete again, it's really hard if you don't win again. I have won my state title, so if I don't compete again I will have gone out on a high note. On the other hand, I'm really young and it's only my second pageant," she said.


---
Take a look at a day in the life of Amber Mack as she prepares for the Mrs. New Jersey International Pageant.
---
---
Mrs. New Jersey International Mrs. International Mrs. New Jersey United States
---