BRHS Top 10 Seniors

Jun 01, 2015 01:35PM ● Published by Community News Service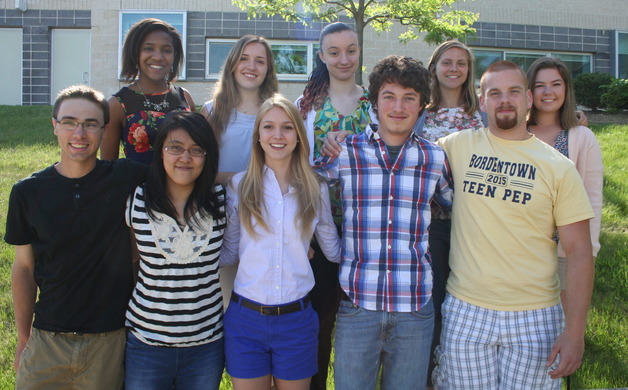 The Top 10 Academic Seniors at Lawrence High School are set to pursue a number of different interests and career paths as they prepare to go off to college in the fall.

These students ranked in the Top 10 based on their GPAs. Each student filled out a questionnaire detailing future plans—including their intended colleges, majors and careers paths—and reflecting on favorite memories.

The graduating seniors are set to attend colleges including Fordham University, St. John's University, Carnegie Mellon University and Gettysburg College. They plan to study fields like marketing, business, stage management, education and the sciences.

The Top 10 students have been involved in many activities during their high school years, including athletics, National Honor Society, Future Business Leader of America, athletics, debate team, theater, Interact Club and more.

The Top 10 students are set to graduate—along with the rest of the Class of 2015—on Thursday, June 18, at 6 p.m. in the Bordentown Regional High School Performing Arts Center.

The BRHS Top 10 students are listed in rank order.


Eileen Lin
Fordham University (marketing, business administration)
Business

Rank: 1 
GPA: 106.48
Activities: Debate team, student council, art club, National Honor Society, Future Business Leaders of America, math club, core choir
Favorite memory: When I was freaking out on Runaway Mine Train at Six Flags, and my friend recording it. Also the daily discussions in AP English with Mr. Franklin and all of the fun moments I've had in my other classes and clubs with my teachers and peers.
Memorable quote: "Two roads diverged in a wood, and I—I took the one less traveled by, And that has made all the difference." –Robert Frost


Mecara Bruce
St. John's University (business)
Entrepreneur, open own boutique

Rank: 2 
GPA: 105.34
Activities: Varsity soccer (senior captain), student council (senior treasurer), art club, On Point, National Honor Society, math club, school library volunteer
Favorite memory: Going to the Central Group II Championships for girls' soccer my sophomore year. It was amazing seeing a sea of white shirts in the stands supporting us. I never felt so honored to play in a game. Although we came in second, it will be a memory that I will never forget.
Memorable quote: "I can do all things through Christ who strengthens me."        –Philippians 4:13


Emma Reichard
Carnegie Mellon University (stage managment)
Stage manager

Rank: 3 
GPA: 104.07
Activities: International Thespian Society, theatre club, stage crew, debate team, mock trial team, National Honor Society
Favorite memory: Walking in the BPAC doors, one week out until Moon Over Buffalo opened, prop posters full of inside jokes in my hand. The lights were dim, still being focused. People were working hard but still talking and laughing. I realized this was how theatre was meant to be. People in a room, creating together.
Memorable quote: "The universe is vast. You are also vast. So is an ant. There are different sizes of infinity." –Welcome to Nightvale


Michelle Hazlett
Gettysburg College (health sciences)
Orthodontist

Rank: 4
GPA: 103.32
Activities: Varsity field hockey, National Honor Society, Teens on Fire, student council president, Bordentown is On Point
Favorite memory: Senior homecoming week.
Memorable quote: "You don't get what you wish for, you get what you work for."


Benjamin Rogers-Boehme
Haverford College (pre-medicine/biology)

Rank: 5
GPA: 102.84
Activities: Biology club, FBLA, National Honor Society, cross country, key club, winter track, debate, Model UN
Favorite memory: Doing homework every night...or goofing around on the cross country bus.
Memorable quote: "Awakening is natural. Delusion is not."


Joseph Pavlovsky
Gettysburg College (organization and management studies)
Forensic accounting

Rank: 6
GPA: 102.64
Activities: Football team, Interact Club, National Honor Society
Favorite memory: Blowing up a 6-foot tall inflatable polar bear in Mr. Franklin's class and watching the reactions of the other teachers who walked into the room.
Memorable quote: "You don't drown by falling in the water. You drown by staying there."


Matthew Kohnke
Villanova University (accounting)
CPA or CFO

Rank: 7
GPA: 102.51
Activities: Varsity baseball (captain), varsity cross country (captain), winter track (captain), math club (leader), student council, National Honor Society (treasurer/secretary)
Favorite memory: Hitting my first home run while Mr. Glenn cheered me on.
Memorable quote: "Treat others the way you want to be treated."


Lindsay Guzik
The College of New Jersey (secondary education in mathematics)
High school math teacher

Rank: 8
GPA: 102.25
Activities: Field hockey, softball, cross country, winter/spring track, basketball, Spanish club
Favorite memory: In 11th grade, my advanced art class took a trip to Magic Gardens in Philadelphia. I was given the chance to appreciate a different form of art as well as explore the city with my friends.
Memorable quote: "Great things are done by a series of small things brough together." –Vincent van Gogh


Kacie Stettner
The College of New Jersey (mathematics/statistics)
Actuarial science

Rank: 9
GPA: 102.06
Activities: Teens on Fire, field hockey, student council, On Point, National Honor Society, track, lacrosse
Favorite memory: Junior prom and that blissful week after AP exams are over.
Memorable quote: "Those who dare to fail miserably can achieve greatly." –John F. Kennedy


Samantha Ryan
The College of New Jersey (criminology)
Criminologist

Rank: 10
GPA: 101.86
Activities: Field hockey, softball, Interact Club, National Honor Society
Favorite memory: My freshman year homecoming football game where I became close with my best friends.
Memorable quote: "Life is short, but so am I."



Today

,

Community

,

Schools