BRMS students among top 10 percent in math competition

Jun 22, 2015 10:16AM ● Published by Community News Service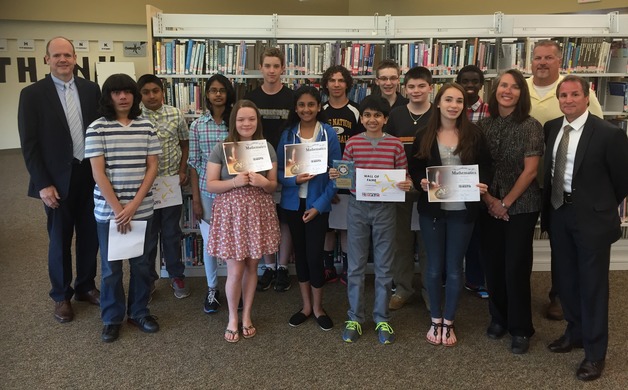 Pictured are (front row) Elisabeth Roberson, Lindsey Beharrysingh, Sanesh Ketkar, Kiera McAteer, Mrs. Kohnke, Mr. Tola, (back row) Dr. Edward Forsthoffer, Jaydeep Singh, Jaspreet Singh, Likitha Kambham, Dylan Wood, Kyle Kato, Matthew Kunkler, Brendon Weiskott, Darion Parks, and Mr. Drew.
Bordentown Regional Middle School's top algebra students had the opportunity to participate in the "Perennial Math" competition.
Bordentown Regional Middle School's team scored in the top 10 percent of all teams which competed on the advanced math tests this year. Additionally, five BRMS students individually placed in the top 10 percent on this advanced level test. Those students are: Likitha Kambham (had the top cumulative score at BRMS), Tyler Comisky, Matthew Kunkler, Jaspreet Singh, and Dylan Wood.
Students prepared from November through February and completed monthly advanced math tests. This year, 8,838 students participated in the United States, Canada, the United Kingdom, Sweden, and Turkey.
Today
,
Community
,
Schools