Model student

Jul 01, 2015 09:11AM ● Published by Community News Service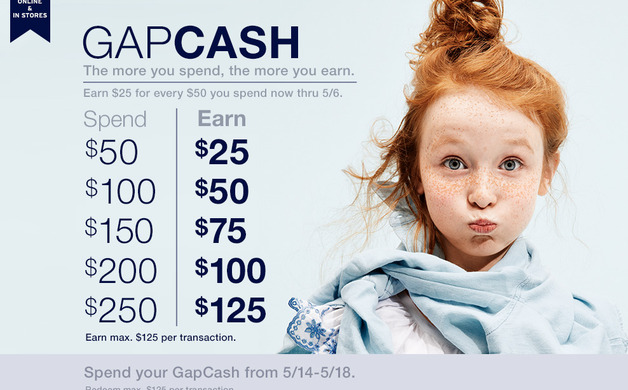 At 12 years old, Hope Springer has been modeling for Gap in print and online ads for the past two years. She has also modeled for H&M, Target and Macy's.
By Aliza Alperin-Sheriff

If you have been to the Gap or checked out the company's website recently, you might recognize Hope Springer. The curly, red-headed Crosswicks 12-year-old is currently being featured in an ad campaign for school uniforms that opened on June 16.

Springer has been appearing as a model in both print and online ads for Gap for the past two years.

"She has worked steadily for Gap. Whenever they're in New York, they use Hope," said her mother, Mary Ann, a former teacher at Peter Muschal School.

In addition to Gap, Springer has modeled for H&M, Target, Macy's and Joe Fresh. Her face has appeared all over the country and has even made appearances in Canada.

Springer got into modeling by way of acting when a stage manager told her mother that Springer was "made for print modeling." On a whim, Mary Anne applied to agencies in New York, not expecting to hear back because the modeling world is very competitive. However, she did hear back and Springer signed with Generation Model Management.

Springer took up acting at age six when she attended an acting camp. She really enjoyed the experience and wanted to continue. She ended up being cast as Belinda Cratchit in the December 2010 production of A Christmas Carol at Princeton's McCarter Theatre.

She was encouraged by McCarter to continue acting and was cast in two more shows, both world premieres. She appeared as Young Phaedra in Phaedra Backwards by Marina Carr in the fall of 2011 and Lilac in Are You There, McPhee? by John Guare in spring of 2012.

Unfortunately, other than A Christmas Carol, McCarter doesn't often mount productions that require children, so in order to do more acting Springer signed with the Generation TV agency. She has gone to auditions for movies, commercials and television pilots.

Springer's father, Nick, said that it would be difficult to do both acting and modeling, as both take up a huge amount of time. Acting requires a very strict schedule for a set amount of time, but modeling is very spontaneous and a model can be called to come at any time.

"If you were doing an acting schedule, you probably couldn't model because you would have to miss stuff," Nick said.

Of the two, modeling fits in more easily with the average schedule of a preteen. Filming a television pilot, for example, would require a six or seven week trip to Los Angeles.
"
That would be time off from school, which is not easy to do," he said.
While modeling also requires time off from school, it most often only requires a few days for a single shoot.

Springer said that acting and modeling are very different.

"Acting definitely has a lot more things to memorize and things to think about," she said. "I'm not saying modeling isn't a lot of work—it's definitely a lot of work."

Although Springer prefers modeling for the moment, she hopes to have the chance to continue acting in the future. One aspect of modeling that she enjoys is the fun backstage environment that modeling provides. She enjoys getting to know other child models and has made several friends. They keep in touch by using Instagram and one of her friends from modeling slept over her house to celebrate her birthday in June.

"I love to work with different people and meet new people," she said. "I think it's so exciting when friends recognize me on billboards."

At first, having their daughter's image be so public was strange for Springer's parents.

"We were in New York when the biggest campaign came out," Mary Ann said. "The ads were two stories high at the Times Square-42nd Street Gap store. It was very weird. Now I'm used to it."

"It's always cool to see her picture," Nick added.

Springer said that sometimes she gets recognized locally and that people who have seen her ads have found her through Instagram.

"Sometimes we go into the local Gap store and employees will recognize her because they look at her picture all day long on the walls," Nick said.

Another part of modeling that Springer enjoys is the chance to try on a variety of different clothes and styles. Although she doesn't get to keep the clothes that she wears on set, she does sometimes acquire them later.

"Some clothes I wear have influenced the clothes I buy at home," she said. "I love Gap jeans. They sometimes have cool patterns. I have some that I wore in a shoot."

She also mentioned that she loves all the shoes that she wears for Gap ads.

Since ads are often shot a season or two in advance, Springer sometimes has to wait awhile to get the clothes that she wants.

"I'll come home from a shoot and say 'Let me check out online if it's out,' and it won't be," she said.

Doing modeling can make keeping up with school difficult, but somehow Springer manages not only to keep up, but excel.

"She's maintained straight A's all through this," Nick said. "We've always maintained that if her grades started to suffer, we'd have to look at whether modeling is something we want to continue.

Springer said that her teachers at Chesterfield Elementary School have always been very supportive and accommodating. They will give her packets of work if she knows in advance that she is going to miss school for a shoot and will take the time to explain things that she missed in the classroom. Back when she was acting, her teachers would come out to see her perform.

Although modeling is a job and takes up a lot of time, Springer manages to mostly live a normal life. Her mother is a former elementary school teacher and is currently a fitness instructor and her father is the Director of Design for ALK Technologies. She has an older brother named Noah who is 13. 

She is also involved in extracurricular activities. She has been a Girl Scout since she was in kindergarten and has been on Chesterfield Elementary School's competitive Science Olympiad team since it started.

Springer believes her red hair gives her an edge in the modeling world.

"Red hair is unique and a lot of companies now like a unique look," she said. "I definitely think it benefits me and helps me get good jobs."
Today
,
Community
Hope Springer
Gap
Model
Generation Model Management
Chesterfield Elementary School