Pop Up Pickers share acoustic jams

Jul 01, 2015 09:23AM ● Published by Community News Service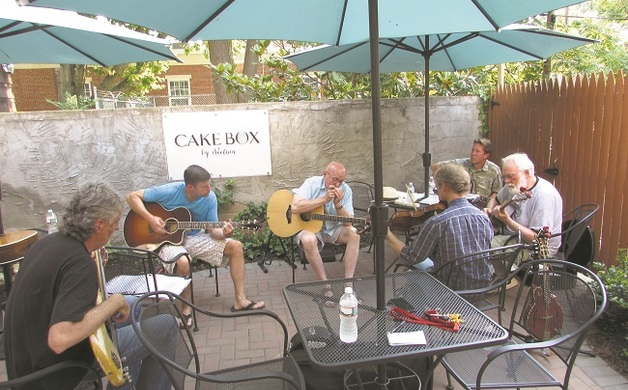 Phil McAuliffe, Jeff Tuccillo, Scott Nielsen, John Tenzer, Steve Mosley and Wolf Hul play some tunes at the Pop Up Pickin' Parlor event June 10, 2015 at the Cake Box in Bordentown City.
By Grant Hill

Under the shade of the turquoise umbrellas and brick walls that line the patio behind the Cake Box in Bordentown City, Scott Nielsen unlatches his leather guitar case and greets his acoustic as if it is an old friend. It is a humid evening on June 10, and he jokes that he only has "five minutes to play a song before it is out of tune."

Nielsen, 72, a Bordentown resident, is the founder of Pop Up Pickin' Parlor, a weekly meeting of musicians and friends who get together to share the one common thread they all possess: the love of music and the muse of songwriting.

A little after 10 minutes of Nielsen picking his guitar with his bandaged ring finger, more men stroll onto the cool patio carrying instrument cases of all shapes and sizes. 

Steve Mosley, retired but once a studio drummer for Willie Nelson, dawns his acoustic guitar and a grey Martin Guitar t-shirt. Wolf Hul, retail display designer, carries a small case from which retrieves a fiddle. The fiddle contrasts greatly to the large electric bass that photographer Phil McAuliffe hauls.

The group began about a year ago as an informal gathering of acoustic musicians who shared "tunes and techniques," but quickly, Nielsen said, "the sessions often turn into a songwriting workshop." It was an outlet for Nielsen and friends to share a dialogue of all things music. But eventually the group enlarged as friends of friends began to join, learning about the group by word of mouth.

The group includes musicians of all skill levels, from fiddlers to flautists. Although Nielsen is a Bordentown resident, the group's members reside all over central New Jersey, travling from Jacobstown to Princeton. Usually they meet once a week, depending on their schedules. The group originally started playing in Square Peg Round Hole in Bordentown City because, Nielsen joked, "they had great heating throughout the winter," but now as summer begins they have moved their music to the patio behind the Cake Box.

The musicians sit in a circle of wire chairs as they unfold their thick binders full of songs. The binders contain both popular songs of all genres and originals by the Pop Up Pickers. There is no set list, no rules, and no judgment. Usually the members hop from one song to the next simply by verbal requests from one member to another, or the unspoken signals only musicians understand as one takes the lead and the others join in to fill the song.

Jeff Tuccillo, an electrician who heard about the group through a co-worker, quietly strums his acoustic guitar as he requests that Nielsen plays one of his originals.

"This song is genius," Tuccillo says with a nod.

The song, titled "Lauretta," is a haunting portrait of a subject that Nielsen met during his work as a media and video producer. It has a bluesy twang and echoes the classic gospel song "Amazing Grace." Many of the artists that make up the Pop Up Pickin' Parlor use the group as a testing ground for original songs as well as a creative melting pot. McAuliffe, who also practiced an original song titled "The Great Road" about the famous street in Princeton, notes "we all pick up things here and there from each other."

As they span genres and songs from the Foo Fighters to original blues, the musicians tap their feet in unison to whatever tune they feel like playing. Each member riffs off another, whether they are talking, playing or creating music. The sound bounces off the rustic brick and vegetated concrete walls to create an echo chamber of soothing melodies and bright acoustics.

The group takes a short break after three or four songs for some water, but the moments of temporary pauses do not stop the flow of music. Quickly the group starts discussing recent performances they have both been in and seen. 

Mosley reflects on his jam session at an Irish folk open mic at Dubh Linn Square, while Nielsen, McAuliffe and Tuccillo reminisce about a visit to signature blues bars in New Orleans.

After a little more inquiry from the group, Mosley further reveals his impressive professional music resume: drummer for Willie Nelson, former band mate of Richie Sambora, and nights spent recording for Gladys Knight. The focus is always their passion: music.

Still, even with the top quality sound, discussion, and refreshments, Nielsen insists that the groups meetings are not a performance, rather a workshop. However, listeners are always welcome.

"I have lost track of how long we've been doing it because of I've been having so much fun," McAuliffe said.

The group is open to anyone who wants to listen or play, as long as they bring a passion for music, songwriting and friendship.

The Pop Up Pickin' Parlor meets every Wednesday from 5-7 p.m. at the patio behind the Cake Box.
Today
,
Community
,
Arts+Entertainment
Scott Nielsen
Pop Up Pickin' Parlor
Square Peg Round Hole