Bai Brands to bring new berries to former Ocean Spray plant

Jul 01, 2015 10:21AM ● Published by Community News Service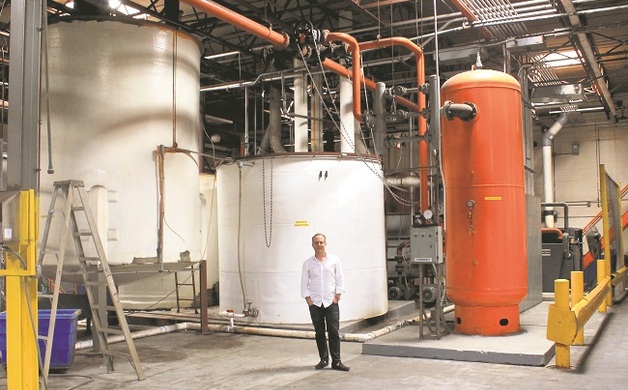 Daniel Popkin, owner of Modern Recycled Spaces, stands in the former Ocean Spray facility in Bordentown.
Modern Recycled Spaces, the award-winning New Jersey firm that transforms old factories and warehouses into modern, loft-style commercial spaces, has signed a long-term lease to bring Bai Brands to the vacant Ocean Spray facility in Bordentown. 

Bai Brands, ranked by Inc. Magazine as one of the 20 fastest-growing private companies in America, will use the former Ocean Spray plant as its main storage and distribution facility.

"Bai has been a longtime tenant of ours in Hamilton, and we have enjoyed watching their explosive success," said Daniel Popkin, owner of Modern Recycled Spaces. "We are so excited to help this entrepreneurial New Jersey firm grow and to bring lasting jobs back to Bordentown."

Bai Brands will lease 225,000 square feet in the sprawling distribution center. Company officials estimate they will create 100 full-time and part-time jobs in Bordentown.

"Now that we have a national distribution agreement with the Dr. Pepper Snapple Group, our business growth has accelerated requiring more warehousing space. We are literally bursting at the seams," said Ben Weiss, Founder and CEO of Bai Brands. "Modern Recycled Spaces has been a terrific partner and enabled us to keep growing, and we are proud to be moving our main storage and distribution operation to the old Ocean Spray facility and keeping jobs in Bordentown."

Weiss started Bai in the basement of his Princeton home in 2009. Today, the coffeefruit beverage brand sells its all-natural, low-calorie, antioxidant-infused beverages nationwide and was recently named by Forbes as one of "America's Most Promising Companies."

"It's incredible that a homegrown New Jersey beverage company will be moving into the old Ocean Spray plant and once again creating jobs for Bordentown," said Bordentown Mayor Joe Malone. "Modern Recycled Spaces has delivered on its promises, and we look forward to working with Bai Brands to continue its meteoric success."

Modern Recycled Spaces announced late last year that it was purchasing the 480,000-square-foot Ocean Spray bottling and distribution facility. Bai is the firm's anchor tenant, with many more to come. "We are committed to bringing more new businesses to Bordentown, fostering a startup culture here and breathing new life into these grand old buildings," Popkin said.

Modern Recycled Spaces announces today that it is renaming the Ocean Spray facility the "Fruit & Produce Centre," or F&P, a reminder of its cranberry past and a nod to the many startups and producers moving back in. "The Fruit & Produce Centre will become a greenhouse for new ideas," Popkin said. "It's a creative space where businesses can grow alongside others."

Modern Recycled Spaces has a long history of reinventing historic spaces. Among other projects, the firm has renovated a golf-bag factory and an old mill in Hamilton. It turned an aging pottery factory in Lambertville into a hip artist studio and hangout, complete with a brick-oven pizza shop and a small-batch coffee roastery. It even recently saved a vintage stainless-steel diner from the wrecking ball, and is turning it into a job-training facility for underprivileged youth. "Popkin has a knack for bringing new life to old places," New Jersey Public Television recently reported.

Popkin offered his thanks to the Bordentown City Redevelopment Steering Committee, Planning Board Chairman Nick Casey and other local officials for their cooperation, planning and steadfast support of the F&P project.

For more information about the Fruit and Produce Centre, go online to fpcentre.com.
Business
,
Today
,
Community
,
News
Bai Brands