'Fastest-growing sport' thriving in Bordentown and beyond

Jul 01, 2015 10:26AM ● Published by Community News Service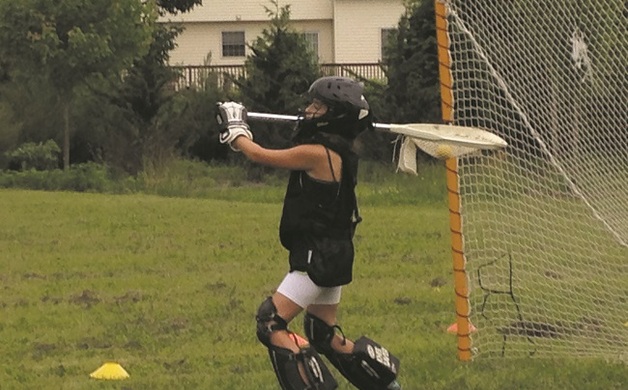 By Samantha Sciarrotta

Lacrosse players and fans are quick to call their sport the fastest-growing one in the nation, and they might really be onto something. According to US Lacrosse, participation increased by 3.5 percent nationwide in 2014—over 750,000 youth, high school, and collegiate athletes play the sport, and almost half of those players are under 15.

The sport is following that same upward trend in Mercer County, just on a smaller scale. Local coaches report massive growth, especially over the last decade and largely at the youth level. Leagues in Lawrence, Hopewell, Princeton, and West Windsor continue to expand to accommodate younger players, while towns like Hamilton recently started introducing high school teams.

"It's a combination of multiple sports, so it has something for everyone," said Rob Siris, who has coached the Hopewell Valley Central High School boys' varsity squad for the last 12 years, as well as the Hopewell Elite Club Lacrosse team. "For some kids who play soccer, it has that constant motion. On the boys' side, it has some of the physical contact of football. It has the offensive and defensive pieces of basketball, and like in ice hockey, you can go behind the net."

Siris, who also runs a youth summer lacrosse camp in Hopewell, remembered when he played lacrosse in high school 20 years ago—there were only 60 school teams in the state.
Now, that number has tripled and then some. Youth and club lacrosse, he added, were "virtually nonexistent."

Now, though, it's not uncommon to catch a match on national television or see a lacrosse play on SportsCenter's Top 10. And youth teams and programs are cropping up all over, and already-established ones continue to grow—like the Lawrence Lacrosse Club and Hopewell Valley Lacrosse, who have both added "Little Laxers" age groups in the last five years. Kids can start as young as pre-K with soft, malleable sticks and bigger balls that help teach the basics of the sport without the physicality and in-depth strategy they may learn later.

Some area schools, like Bordentown Regional High School, still haven't adopted lacrosse programs. But Julie Riesig, who founded the Bordentown Lacrosse Club two years ago, and other members of the Bordentown community have been trying to get the school to start one for the last several years. In fact, the Burlington County Scholastic League introduced boys' lacrosse to its schedule for the first time this year.

"Eventually, you hope we'll be able to have it," she said. "We have lacrosse in our community. There's nowhere to compete, but kids are interested."

Currently, the Bordentown club serves kids in sixth grade to 12th grade, but she wants to expand the offerings to younger athletes.

The point, said Lawrence Lacrosse Club vice president Scott Tennant, is to get kids involved with the sport as early as possible. Participation in Lawrence's club has more than doubled over the last two years, and it's due in part to the addition of youth programs. The younger they are when they start, the more likely they are to make lacrosse their primary sport.
Siris agreed. A child starting with the sport at fourth grade or younger will adapt more quickly to new skills than a child who starts in middle school or later.

"Traditionally with soccer programs, you're starting at a very early age," he said. "Lacrosse is not difficult to start, either, if you're a third or fourth grader. But once you get to the middle school ages, the other kids have stick skills. It's tough to compete with a kid who's been playing for three or four more years."

Riesig said learning skills like passing is is crucial—and easier—to do at a young age.

"Little kids don't get certain techniques, but at that young age, what they can learn to do is see the field, pass, receive," she said. "It's really important to do that at a young age. It's great to have little kids playing. All the other stuff will correct itself with time and reps."

Which is why youth lacrosse programs are becoming more and more common in the area. Getting a surplus of kids involved with a sport at a young age is essentially the only way to have a competitive high school program in the future.

It's also important even further down the line. Kids often pick up sports like football, baseball, basketball, and soccer because their parents played or even just watched them, but lacrosse was only prominent in specific areas like New England, Long Island, and Baltimore when today's parents were growing up. As a result, many kids now are unfamiliar with the sport, which leads to less participation than the bigger sports, and even issues like a lack of coaches and referees. But if today's players stick with the sport and pass it on to their own children, those shortages could be less of an issue in the future.

"Even if you watched the very youngest youth program, and then you went and watched a college program, you'd go, 'Well, they're kind of doing the same thing,'" Tennant said. "They're basic drills. People pick it up quickly. [Parents] get comfortable learning the language. What's key, I think, for learning this, is to also pick up a stick of your own and play. Little kids expect that you can catch and throw. If you can't, they wonder. It's helpful."

David Sison, who heads the Hopewell Valley Lacrosse girls' program, agreed.

"The majority of our kids' parents had no clue about the game when they first started," he said. "Maybe they heard about it in college, but most didn't even have it in high school. A lot of times, they thank us, because they're learning the game. We focus on teaching the game the right way. It's a new sport. We want to teach kids and parents to love the sport. It's almost like a fraternity. This was always kind of special."

Siris added that in the top New Jersey high school lacrosse towns, like Summit and Chatham, players' parents have roots in lacrosse.

But Riesig said that parents being unfamiliar with the sport doesn't have to be a hurdle clubs need to jump in order to drum up interest. US Lacrosse, she said, is a great learning resource. The organization provides memberships, classes, and certifications for those looking to brush up on their skills.

"US Lacrosse is the best at training," she said. "It's the best national organization in that it encompasses men's, women's, kids', coaches, officials. Everything is under one roof with workshops, clinics, a convention. That's the unfortunate misconception—an adult with no experience can be a good coach. A lot of parents can be trained. With the current workshops and new information, all you need are good parents who are willing."

Sison and Lynch both grew up on Long Island, while Tennant grew up in New England, so they started playing as children. Siris also started playing at a young age. They all said that the sport has changed drastically in terms of rules (for example, cross-body checks have since been made illegal) and participation since the '70s, but the change in equipment has been the most visible—and, perhaps, the most important.

"If you walked into a sporting goods store, it used to be harder to find sticks and equipment," Siris said. "Now, they have a whole section of just lacrosse stuff."

And that equipment has undergone several makeovers over the years. Gone are the days of clunky wooden sticks—now, they're plastic and much more hi-tech.

Sison recalled switching from wooden sticks to plastic sticks in the middle of his playing career. The change allowed for better accuracy, more power, and easier catches and throws almost immediately.

"If you started with an old wooden stick, it took you a whole season to figure out how to play," Tennant said. "They had weird lips on them. It was hard to pick up a ground ball. You really had to cradle, and you had to know what you were doing. Now, kids can pick up a lacrosse stick, and within two weeks, they're throwing and catching with one hand."

With better equipment, though, comes higher costs. As Siris said, trying out lacrosse isn't as simple as throwing on a pair of cleats and shin guards and running out to a field with a ball. Sticks, helmets, pads, and balls are all required, and they can be expensive.

The costs are often a deterrent, but programs like Lawrence's often offer equipment rental for players, especially those who are unsure if they want to stick with lacrosse.

As lacrosse continues to grow, Tennant and Lynch said issues like field usage are cropping up—they're competing with other sports for usage. Riseig said she had a similar problem. For this spring's season, the Bordentown club had to use a church's yard as its field.

"It was easy, and they were really great, but we don't have a lined field," she said. "We can use goals, but only when we can. It is hard. I really wish we had fields, but the kids are great."

But they're happy to deal with these issues. It means the sport is gaining popularity, and as more kids (and adults) familiarize themselves with the sport, the more competitive it becomes.

"Because so many kids are playing so much earlier, the quality of the game, even at the youth level, is improving," Tennant said. "It's remarkable how good it's gotten."

For more information on the Bordentown Lacrosse Club, e-mail bordentownlax@gmail.com.
Sports
,
Today
,
Community
Bordentown Lacrosse Club