New team hopes to continue Central Jersey soccer culture

Jul 01, 2015 10:31AM ● Published by Community News Service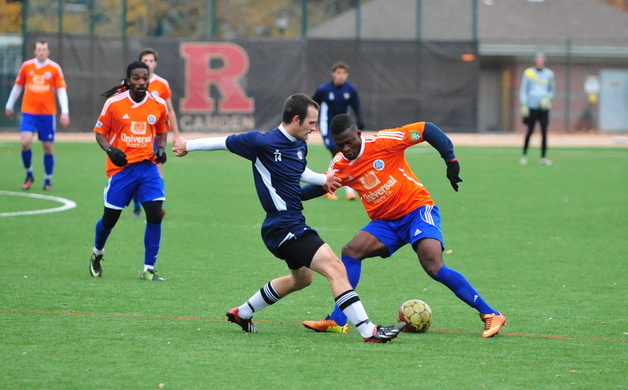 Kyle Bijou squares off against an Ocean City Nor'easters player during a friendly (Photo by Vinny Ignatowicz.).
Over the last several decades, Central Jersey has developed a reputation as a hotbed for soccer. Thousands of local players finished impressive high school careers and continued that success at the collegiate level, while some—like Hamilton's Bob Smith, the late Glenn "Mooch" Myernick of Lawrence and Hamilton native Eddie Gaven—even went on to play and coach professionally.

But for the majority of those players, competitive post-high school and college options are limited. Sure, there are plenty of weekend men's leagues, but Luke Mrzljak and Robert Kroslin knew that a lot of athletes in their 20s were searching for more intensive training opportunities.

"We have so many great players in this area that have nowhere to go," Mrzljak said. "There's nothing in between. You can play on a Sunday morning men's league team, but you're never going to get recognized."

So he and Kroslin decided to form their own organization to help players hone their skills and, perhaps, start the journey towards a Major League Soccer or top-tier league career. The two founded the Trenton Rebels, a professional soccer team that will play in the National Premier Soccer League starting in 2016.

Currently, the reserve team and U-23 squad compete in the Central Jersey Soccer League and the Eastern Development Program Under 23 Summer League. Mrzljak also founded the CJSL in August 2014. Eight teams currently compete in the league, and he said he hopes to add four more squads by the fall.

The first team's roster will be established closer to the start of the 2016 season.

The idea to form the Rebels started out as a conversation between Kroslin, who managed what used to be The Soccer Post on Route 33 in Hamilton (and currently coaches the Rebels), and Mrzljak, who worked there. Kroslin was toying with the idea of bringing a United Soccer League team to the area, but the costs were too high. When the NPSL came along and expanded several years later, the pair thought they might have a match.

The squad started out as Burlington FC, another club founded by Mrzljak. Since Burlington County College is a National Junior College Athletic Association Division I school in soccer, the school's squad was able to offer scholarships, which brought some skilled international players to the area.

Those players ended up making up some of the Burlington FC roster. Mrzljak realized that because of this, the team "could play on a level a lot of other teams couldn't," and he wanted to expand beyond Burlington.

The process, Mrzljak said, has not been easy.

"I never thought in a million years that it would be as difficult as it is," he said. "I've been running soccer organizations since 2007, not at this level, but it didn't even remotely prepare me for a lot of things that we ran into."

Getting a venue to host home games was the toughest part. After eight months of sorting through 20 different colleges and other fields, they finally struck a deal with Mercer County Community College after determining that the school was the best fit. Mrzljak said the road ahead looks smoother now that they got over the home field hurdle.

He also anticipated that finding players who "share the same desire that we share" would be another challenge, but that became the easy part.

"We planted the seed to try and get a team in this area just because of the talent," Mrzljak said. "Soccer is huge in this area. We just thought it was something that could work. Just with the players that we have here, we have such a good core group of guys from Hightstown, Steinert, Bordentown. They're all great soccer schools. Then, you throw in all of the colleges."

Many of the squad's best players, though, are Mercer County and Burlington County natives, and Mrzljak recruited them once everything started to fall into place with the Rebels in the spring of 2014. Players like Hamilton's Dave Udijohn and Kyle Bijou from Bordentown have been a part of the organization since the very beginning.

"I think it's pretty cool," Udijohn said. "If it ends up being a really good team and going really far, you can say that you were there in the beginning, that you helped develop the whole thing. Being there from the start, it's neat to watch this thing grow. We're getting so much bigger. There's so much potential."

It wasn't always like that, though. When the team threw together a quick tryout last spring, the response wasn't what players and staff were hoping for.

"When we first started, there wasn't that many people coming out," Bijou said. "It's been getting bigger over time."

Now, there are over 40 players involved with the organization, ranging from 18 to 30 years old. Mike Fornaro, who graduated from Steinert in June, is the youngest. He joined the team this year.

"I've seen a lot of growth in the little time I've been here," he said. "I definitely think in a couple of years, it's going to be something pretty big. I'm a lot younger than all of the guys, so I never played against any of them [in high school], but I've seen a lot of them play. They welcomed me with open arms. I figured if I got in there and worked, I could get some playing time and gel with the guys."

It doesn't seem like gelling has been a problem for anyone on the team, even when it first formed last year. Following just a few months of practicing together—after spending years facing off against each other in Colonial Valley Conference competition, and even into high school—the U23 Rebels competed in the 2014 Men's U23 National Championship, and after squaring off against squads like the Houston Dynamo's U23 team, they made it all the way to the semifinals before being ousted.

Bijou said he and the guys performed far beyond their own expectations, and Udijohn added that it was a good gauge of where the guys were skill-wise at the time.

"It was a good time," Bijou said. "We did way better than we were expecting to do. We kind of just got a team together a couple of months before it started, so we didn't think we were going to go far, but then, we did."

They'll have the chance to go even further this month when they travel to Virginia Beach July 17-19 to compete in this year's tournament.

And with a year under their belts, the Rebels are more confident heading into the tournament, though the competition has grown since last year, Udijohn said.

"I think we have the potential to do just as well, if not better," he said. "It's a lot bigger than it was last year, so it will definitely be interesting just to see the level of competitiveness. We've added guys to our roster. We're definitely improving. From what I understand, there's going to be a couple top-tier teams. It'll be interesting because these kids are supposed to be some of the better kids in the country."

The newer players are eager to get down there, too, like Pennington's Billy Hawkey. The 23-year-old graduated from Connecticut College last year, where he was named an All-American and the 2014 New England Small College Athletic Conference Player of the Year.

Hawkey heard about the team while he was playing in a winter league at the Robbinsville Field House. He went to a training session, and both parties liked what they saw. Hawkey said the team's "cohesion" and talent were a major part of the draw.

"If you combine 11 guys on the field who know the game and have been playing for a long time, it's natural that you're going to be able to pick up a little faster on players' tendencies," he said. "It has been a fairly new type of environment, but cohesion is a huge piece to the team's success. We're working every week to get to know players a little more."

Heading into the tournament, that will be the key, he added.

"My mindset is certainly to win it and put a good name on for the Trenton Rebels," he said. "We have something to prove. We're there to win."

But it hasn't been all about on-field activities. Mrzljak tries to keep the team as active in the community as possible, whether it's volunteering at soccer tournaments or with organizations like One Simple Wish, or maintaining a presence at local events like the Mercer County Food Truck Festival.

The Trenton Thunder's community involvement, he said, is a model they like to follow.

"They're really socially conscious, and they do a great job of getting us out there as a group," Hawkey said. "It's the best thing a sports organization can do—be engaged with and be a part of your community. If we support the local community, they will support us."

Now that the 2016 season is getting closer and closer to starting, the community's support more important than ever. This first season could shape the club's whole future, Udijohn said.

"I would like to see us do well in the NPSL because that would create more of a buzz about us," he said. "Right now, we don't have a lot of credibility. We are brand new. If we were to do well next season, it would definitely attract some players from the area, and maybe even farther away."

Hawkey agreed.

"You feel that you're one of the founding fathers," he said. "You're part of the early stages, so for better or worse, you're putting your stamp on the organization early in its history. You have the opportunity to kind of write the culture. The goal is obviously to come in, win the league, and prove that we're ready to continue to move up and see how high we can take this club."
Sports
,
Today
,
Community
Trenton Rebels
National Premier Soccer League