Bordentown natives ride for runaways

Jul 31, 2015 10:45AM ● Published by Samantha Sciarrotta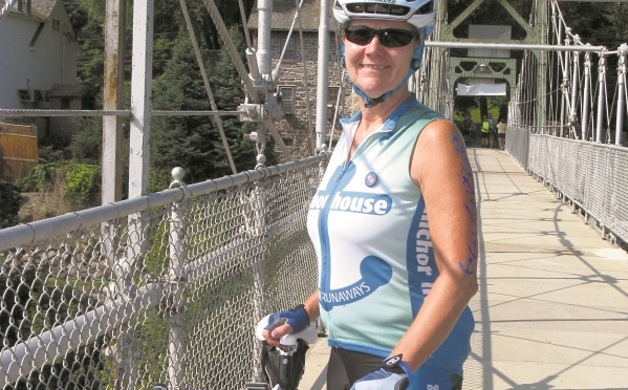 Mikki Quinn was all smiles during last year's ride. This year, she participated as a Rover.
By Nicole DeMentri

Seven days, 500 miles, a bike and a sore butt from Oswego, New York to Trenton. This could describe nothing else but the 37th annual Anchor House Ride for Runaways.

Over 200 riders and members of the support crew, also known as Rovers, completed the ride that began on July 11 and ended on July 18, with a celebration held at the Quakerbridge Mall in Lawrence Township. The ride supports Anchor House, an organization located in Trenton that provides assistance for runway and abused children and teenagers through age 21.

Seven determined riders and Rovers from Bordentown completed this year's journey. All of the riders came to Upstate New York via buses that left from Arm and Hammer Park in Trenton.
Some riders were new and some were not, but they all shared the same reason for the ride: they would do anything for the kids.

According to its website, Anchor House was founded in 1978 "as a stabilizing place for runaway, homeless, and abused youth." It provides assistance for kids—and their families—through various programs and services, like its 24-hour shelter for at-risk youth ages 10-17. Anchor House also runs the Anchorage Transitional Living Program, which provides residential and life skill services to homeless people 18-21 who have aged out of the organization's continuum of care.

Every rider started their days at different times. The "slowpokes" tended to wake up very early and leave on their bikes around 6:30 a.m. Faster riders left towards 8 a.m. after grabbing a quick breakfast at the hotel. Regardless of what time they left, each rider rode about 80 miles a day.

Cycling for 6 to 12 hours a day could be obviously grueling on the body, so the riders needed to take some type of break to refuel. They usually made three stops at Support and Gear stations each day. These stops sometimes were as simple as someone's front lawn, to churches where members made hundreds of peanut butter and jelly sandwich and other foods for them to enjoy.

Once everyone was in for the night the riders retired to their hotel rooms. Each night, however, there were dinners with old and new friends where everyone really came together.

Mikki Quinn and her fiancé Tom Csapo are two Bordentown residents who are veterans of the ride. Quinn, 62, is a retired art teacher of 33 years from the Trenton School District. She started riding 13 years ago after hearing the buzz that surrounded the ride, and she has been involved ever since.

Csapo started his journey 15 years ago with "Team Silly" and earned the nickname "lightning" for his speed on the bike. He rode for each of those 15 years until he was injured. He still wanted to participate, though—this year marks his eighth as a Rover, making this his 24th ride.

"You know, we started riding, me and my three friends, because it was something to do…we didn't understand fully what the ride was about," Csapo recalled.

Now, he does it for those who need Anchor House's services.

Sidelined with an injury this year, Quinn joined Csapo as a Rover. They drove as SAG in his pickup truck throughout the ride and managed different sectors of the area the riders covered. They drove around to help participants fix flat tires, to give them water, and even pick them up if need be.

"We were there for support," Quinn said. "Sometimes as a rider its just nice to see these people supporting you even if you don't need any help from them."

Another veteran rider is Father Mike Burns, who celebrated his 20th ride this July. Burns, a pastor at Bordentown's Saint Mary Church, started riding back in 1994 when three good priest friends "talked him into going along."

"I enjoy bicycling, and on the ride I get to see some very interesting and beautiful places, and I enjoy the company of the many wonderful people who come back year after year to take part in this endeavor," he said.

Peter Downey, 47, who just completed his ninth ride, also enjoys the company of his fellow riders and Rovers alongside the breathtaking scenery. What keeps him coming back is just as comforting.

"I'd have to say my favorite part of the ride is seeing the smiling faces of the children who are living at Anchor House when they come to see us off and when we return," Downey said. Knowing that I helped put those smiles on their faces, and seeing the progress and positive impact the Anchor House Foundation is having on their lives is what keeps me coming back."

Downey learned about the ride from local media, and he tried to see if he knew anyone whom he would know, but he had no such luck. It wasn't until he was at Quakerbridge Mall in the 2006 Ride when all of the riders rode into the huge celebration that he decided to join.
Chrissy Brennan, 51, says what gets her through the day are friends, scenery, and "lots of ice cream." After hearing about the ride as a teenager on WPST and moving away from the area, Brennan decided to ride once she came back to Bordentown. She just completed her eighth ride.

The common thread among all of the riders is their undeniable passion to help the kids. When they have a bad day or mishap on the ride, they say "it's for the kids" and trudge on despite the circumstances.

Every year, hundreds of thousands of dollars are donated through the ride alone. This year, it raised over $400,000. To donate year-round to the cause, or for more information, visit anchorhouseride.org.


Today
,
Community
Ride for Runaways