Brothers make music at Rutgers and beyond

Jul 31, 2015 10:54AM ● Published by Samantha Sciarrotta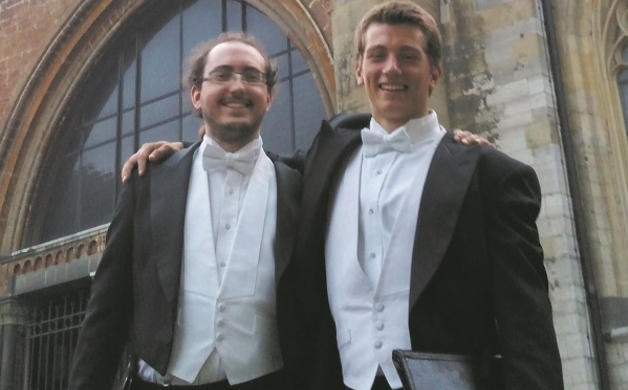 Austin and Grant Tamutus recently traveled to Europe with the Rutgers Glee Club.
By Aliza Alperin-Sherriff

Austin and Grant Tamutus of Bordentown were among the nearly 80 men who traveled with the Rutgers University Glee Club in late May. The club tours Europe every four years and it just so happened that the trip to Europe occurred at the end of Austin's senior year and Grant's freshman year—the one year of overlap that the brothers had as members of the club.

The Rutgers University Glee Club is an all-men's choir that mainly sings classical and folk music. The group was founded in 1872 and is currently directed by Dr. Patrick Gardner, a member of the faculty at Rutgers' Mason Gross School of the Arts.

The club is both a credited class offered through the university and a student organization with officers and activities like any other student group on campus. Rehearsals are held twice a week. In addition to performing one big concert each semester, the club goes on retreats and performs smaller gigs. The group is considered to be one of the best college glee clubs in the country.

When Austin Tamutus was in seventh grade, he played the Wizard in a production of "The Wiz" at Bordentown Regional Middle School. "I saw what it was like to be part of a group in the school and continued from there," he said. "I identified that the part of it I liked was the singing more than the theatrical aspect." He continued singing and becoming very involved with the music program at Bordentown Regional High School.

His mother, Julie Reisig, has nothing but praise for the school's vocal department and its director, Scottie Lamarra. She described Lamarra as "a terrific role model."

"She is detail oriented and passionate. She brings out the best in voices and the best in young people, not just my kids," Reisig said.

Reisig, who coaches field hockey at the school, added that the girls on her team "have absolute love and respect for Mrs. Lamarra. Everyone likes being around her."

When Austin got to Rutgers, he went to a general choral audition for several different choral groups on campus and was selected to join the Glee Club.

Austin's enthusiasm for singing rubbed off on his younger brother. He encouraged Grant to take vocal tech with Lamarra as a sophomore in high school.

Grant enjoyed the class and continued singing in school choirs for the rest of his high school experience. "I really learned to like performing for other people," he said. "There's an intimate feeling both at Bordentown and at Glee Club. Both Mrs. Lamarra and Dr. Gardner make us focus in on them for the whole performance."

He explained that the intimacy that singers experience with their director gets expressed and shared with the audience as well.

Grant decided that he too wanted to join the Glee Club after he attended the group's Christmas concert series when Austin was a freshman. "It's just very captivating," he said. "Seeing my brother perform—that is what made me initially interested in Glee Club. I was very spellbound," he said.

On their European tour, the Rutgers Glee Club performed at five venues in the United Kingdom and four in the Netherlands. "Some of the places we sang were very cozy, some were enormous and awe-inspiring," said Austin.

Grant was particularly enthralled by the Gloucester Cathedral, which was used as a filming location in several of the Harry Potter movies. "It was really cool to go in to," he said. "The actual space we sang in is massive. When we stopped singing as a group, you could hear the echo for a good five seconds. It was really powerful to now that we had control of the room for that instant."

Austin, who opened every concert with a solo, also marveled at some of the acoustics he experienced in Europe.

"I could hear my voice come back to me seconds after I started. It's incredible the feeling that you get in performing in such a space," he said.

In addition to singing, the men got an opportunity to do some touring on their own. In London, the Tamutus brothers spent a day traveling around the city by bike. "It was nice to have freedom over there to be independent of the group during those times, but ultimately we always had the responsibility to get back to the hotel ready to perform," said Grant.

He said that the most important thing he learned on the trip was that "you can have an impact through music that's just profound." He added that all but one of the concerts that the Glee Club performed earned a standing ovation, even though the group's tour guide, a native of London, told them that English audiences rarely give standing ovations.

Grant said that he thought that the Glee Club's performances resonated with audiences so much because of the variety of music they sang. In addition to English, the group sang in Latin, Russian, Estonian, Welsh and Punjabi. The music ranged from classical to contemporary pieces. Austin said that the diversity of the program itself made for an interesting experience. "Singing that in a Rutgers concert hall is very different from singing it in a place that doesn't match up with the mood of what you're seeing," he said. "There's kind of an interesting juxtaposition between the ancient edifices of old Europe with the vary diverse and up-to-date repertoire that we were singing."

The Glee Club's tour was accompanied by a second tour for family and friends of the club's members, which Reisig and the brothers' stepfather, Ken Howarth, decided to participate in.
Reisig said that she simply couldn't miss the chance to see her sons perform in Europe.

"I had never been to Europe," she said. "I thought that every Glee Club performance since Austin started singing four years ago had been tremendous. I was really excited to see all the same songs with beautiful buildings and cathedrals in Europe that are thousands of years old. It was a no brainer, something I had to do, a once in a lifetime experience."

The family and friends tour followed a separate itinerary, but they did get the opportunity to see most of the Glee Club's performances. "The concerts were exceptionally meaningful to me," said Reisig, noting that Austin's solo gave her "a mother's pride."

During his college years, Austin was very involved with the Glee Club serving as an officer in addition to singing. As a sophomore he was the club's executive secretary and as a junior he was elected the club president. One of his most important tasks as president was helping to rewrite the school's alma mater. The university decided to change its alma mater to reflect its co-ed status and replaced references to men with more gender neutral language. Since the Glee Club sings the alma mater often, the school reached out to the club for help.

"That was happening at the time I was president, so I was responsible for being a spokesperson. I gave clips for New Brunswick newspapers and made an appearance in a video on nj.com," said Austin.

Austin, who graduated from Rutgers in May, majored in linguistics and cell biology and minored in computer science and psychology. He is currently working on starting a non-profit and a website designed to work as a civic action platform to organize grassroots efforts. The goal is to create a framework so that people can search for issues that they care about and see what they can do on a local level as well as how local work fits into the big picture.

Austin isn't sure yet whether singing will continue to play such a big role in his life, but he said that the Glee Club is very good at facilitating alumni involvement.

"I'll come back and sing a few songs every few months," he said. "It was definitely something core to my college experience and development, but I'm not sure if it needs to be part of my daily life for the rest of my life."

Grant is a rising sophomore who plans on majoring in exercise science. He said that during his freshman year, the Glee Club also functioned as an important social circle for him. "As soon as I joined the Glee Club, I had 80 new guys to hang out with. It's like a fraternity, but so much better because we get to do all this work together and focus on something bigger than ourselves," he said.


Today
,
Community
,
Arts+Entertainment
Rutgers University
Glee Club