In sickness and in health

Aug 01, 2015 11:34AM ● Published by Samantha Sciarrotta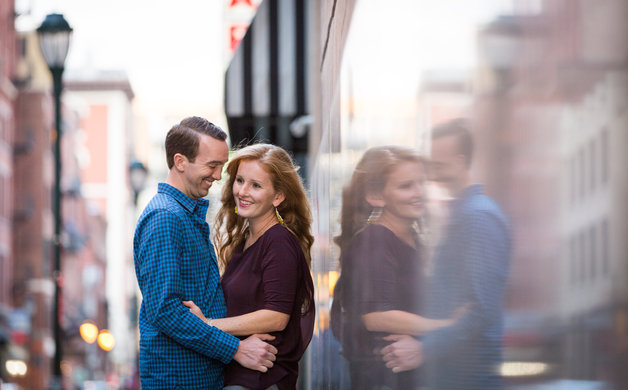 Bobby Adams spent three months at Temple University Hospital, and his wife, Ashley, was there every step of the way. (Photo courtesy of David Kristofer Photography.)
By Meredith Mann, Temple University Hospital

On the morning of March 20, Bobby Adams awoke, as usual, in Temple University Hospital's Critical Intensive Care Unit.

In the afternoon, he got married in a ceremony complete with a black paper bow tie atop his tracheotomy tube, wedding music playing on a cell phone, and an exchange of peach-flavored candy rings.

Later that night, he got a new pair of lungs.

Each of those events is a miracle in its own right. But all of them? As they say, it's icing—on the sweetest of cakes.

New grooms often say they're the luckiest men alive, but Adams has a better claim to that title than most. In January, the hale and hearty 33-year-old from Bordentown—who likes to spend his winters snowboarding and the rest of the year camping—felt horrible from a bout of flu-like symptoms and breathing problems. His then-fiancée Ashley Lamb, 27, took him to their local hospital's emergency department.

"We figured he'd be out of there the next day," she said.

Adams did leave the hospital a few days later—through a transfer to Temple with a diagnosis of pneumonia. But a thorough battery of tests for every possible pathogen turned up nothing; neither did checking for all manners of hematological and rheumatological problems. In the end, Adams was diagnosed with Acute Respiratory Distress Syndrome, a sudden and serious condition.

"It was irreversible worsening of lung failure," said Dr. A. James Mamary, program director of TUH's Pulmonary and Critical Care Fellowship, who was closely involved in Adams' treatment. "He could not get oxygen into his body."

The care team placed Adams on Extracorporeal Membrane Oxygenation therapy: his blood was redirected to a machine that rid it of carbon dioxide and infused it with oxygen, then pumped it back into his body.

"Think of it as lung replacement therapy," Dr. Mamary said.

With Adams' lungs failing to heal on their own, the treatment was literally vital, according to Ashley.

"Without that, he wouldn't be with us," she said.

But this wasn't a permanent or even long-term solution. According to Dr. Mamary, "Time was of the essence," as six weeks is about the longest a patient can survive on ECMO without danger of complications. And as it was, Adams had to be completely sedated in order for ECMO to provide enough oxygen.

With the clock ticking, one option remained: a double lung transplant.

"Usually, ARDS is not indicated for transplant, but with our expertise and excellent teamwork, we were confident that we could save him," said Dr. Yoshiya Toyoda, chief of Division of Cardiovascular Surgery and co-surgical director, Heart and Vascular Institute.

Bobby Adams was no usual case, said Dr. Toyoda.

"Without 52 days of ECMO support and a transplant, he would certainly have died," he said.

Dr. Mamary concurred about the direness of Adams' condition.

"Lungs for transplantation are allocated according to disease severity score," he said. "His was as high as you can get: over 90 on a scale of one to 100."

Weeks of preparation were needed to ready Adams for a possible transplant. His ECMO therapy was stepped up to a more aggressive level, he was brought out of sedation, and he gradually began moving and interacting.

"His strength came back very fast," said Dr. Mamary, and Adams was deemed fit enough to handle the demands of a transplant.

The prospect of a transplant, with all alternatives being exhausted, was a lot for Adams to process.

"I didn't know what lay ahead," he said. "Some days I kind of don't believe it's real."

And just as quickly as his illness began, Adams' path to recovery turned on a dime. On March 18, he was put on top of the regional lung transplant list. And just two days later, Dr. Toyoda scrubbed in and gave Adams the wedding gift to end all wedding gifts—a lung transplant that saved his life.

It was the culmination of weeks of worry and staunch resolve for Ashley. From the very beginning, she was at her husband's side, enduring many sleepless nights—in the Temple University Hospital waiting room, then in a downtown hotel with her mom. Through the efforts of transplant social worker Jacqueline Silver, Ashley ultimately found refuge at the Gift of Life House, a home-away-from-home for loved ones of patients needing transplants. That's how the final piece of the bedside wedding fell into place.

Ashley was on unpaid leave from her job as a foster parent recruiter, unable to qualify for federal medical leave benefits because she wasn't yet Adams's spouse. Getting married—even if it wasn't quite how the couple envisioned their big day when he proposed at dawn among Washington, D.C.'s cherry blossoms last year—would help Ashley stay with him during his recovery and also keep her job.

With the chance of a transplant looming, Ashley mentioned to a Gift of Life volunteer that she needed someone who could marry them, fast. The volunteer, himself a recipient of a double lung transplant, happened to be friends with Judge Diane Thompson. A series of text messages and an expedited marriage license later, Judge Thompson was traveling through a first-day-of-spring snowstorm to pronounce Bobby and Ashley husband and wife.

"I don't know them, but I'm so honored to be a part of their new life together," she said.

Many TUH staff who had been caring for the couple since Adams's arrival were an integral part of the sudden wedding: decorating the room, gathering flowers, providing a slice of cake with white frosting. They formed an "aisle" for Ashley to walk between the nurses' station and Bobby's room, and cheered as the newlyweds shared a first kiss.

"Everyone involved with Bobby pulled together on short notice to share and facilitate an extraordinary event in Temple's CICU that will not soon be forgotten," said CICU Nurse Manager Robert S. Burke.

Some in attendance shed a few extra tears of joy, because just before the ceremony, word had come in that the transplant was a go for that very night.

"I was so moved by the miracle of the entire day," said Linda Ayres, the CICU's assistant nurse manager.

"Everything was coming together at once," Adams said. "It happened so fast, like it was meant to be. What a big day."

A small army of staff continue to see the pair through the challenges that lay ahead. As CICU clinical nurse James Hughes put it, "Everyone has a stake in his recovery."

After the procedure, Dr. Mamary said that Adams was "doing spectacularly well," but acknowledged that many weeks of therapy would be needed before he could leave, and that he might not feel like his active self again for maybe a year. Some psychological and emotional processing was also bound to happen. But Dr. Mamary added, "Before all this, they led organized and purposeful lives. That will serve them well during the recovery process."

Ashley was not sure whether her husband would be able to return to his job as a probation officer, which he only began last fall but deeply loves. One thing she was certain about was that their wedding celebration, originally scheduled for later this year, is still going forward, and Dr. Mamary believes that the couple should be able to share their first dance as planned.

"I think it will be the best celebration in the history of celebrations," Ashley said with a grin.

* * *

It has been two months since the couple returned to their dwelling on Thompson Street, and the transition from hospital to home life has been smooth—and welcome.

"I never thought I'd be in the hospital for so long," Adams said. "I missed being home. It's nice being home in my own environment, being able to do a little bit again."

It started with getting used to a new routine, consisting of taking medicine every 12 hours in addition to waking up at 5:30 a.m. to knock back an antibiotic.

Adams said he's still trying to find the balance between relaxing at home and physical therapy, medication, and follow-up visits to Temple. But being back in a familiar environment is making that a little easier.

"I don't have to worry about nurses coming in, some random person coming in and asking a bunch of questions, taking vitals," he said.

That was a constant during his hospital stay. Each day started around 4:30 a.m., when a nurse came in to draw blood. The visitors, mostly doctors, were non-stop from there. Since TUH is a teaching hospital, Ashley said, many tests or conversations were repeated—residents would come into the room, and Adams's doctors followed once the students left. In between visits, Adams had physical therapy appointments. All in all, he only had a couple of hours a day to himself.

As exhausting as each day was, though, Adams said having Ashley there made coping with the confinement of the hospital a little easier.

"I was at the hospital every day truing to encourage him to do things that he didn't want to do because he had no energy," she said. "He couldn't sleep—they were bothering him all night and all day. He didn't have any energy to motivate himself."

That was still (somewhat) the case after he was released. Ashley said Adams had trouble even just walking to the kitchen when he first came home, but that changed quickly. A nurse, a physical therapist and occupational therapist from the Moorestown Visiting Nurses Association came by regularly, but because Adams's condition has improved so much, home visits are no longer necessary.

Now, Adams is free to do things like cook and drive. He and Ashley often walk around Bordentown—"We have this lovely town to walk through, so we enjoy that," said Ashley—and Adams goes to Hamilton Physical Therapy, where he is on a regimented fitness plan. He started off with light resistance exercises about a month ago, but he recently started using weights and equipment.

He and his therapists are working on building back his muscle mass, which decreased dramatically during his hospital stay. Adams lost 45 pounds of muscle while he was sedated, and he hopes to pack on 20-30 of that before Nov. 7, the day he and Ashley originally planned on getting married. Since everything was already set, they decided to keep the date and share the day with their family and friends.

By that time, Adams hopes to be back to his old self.

"The changes come slow, but you do notice them," he said. "I'd say they probably come day by day, but you really notice them week by week. You kind of think to yourself, 'Hey, I couldn't do that a week or two ago.' That's kind of cool."

This story originally appeared in the April 2015 edition of Temple Talk. Samantha Sciarrotta did some additional reporting.

Today
,
Community
Bobby Adams
Ashley Adams
Lung transplant