Scout takes part in World Jamboree

Sep 01, 2015 08:52AM ● Published by Community News Service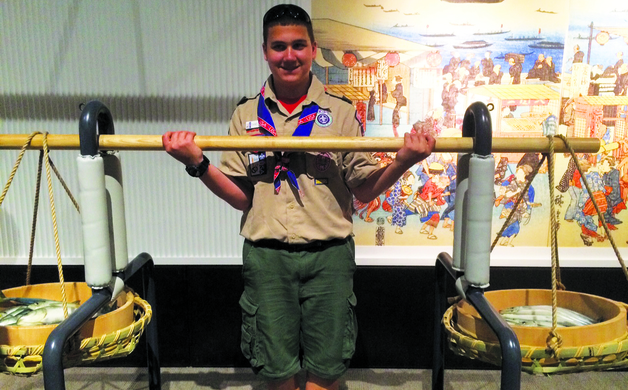 By Nicole DeMentri
Just like any 15-year-old sophomore, Daniel Comeau is not ready for  the school year to start and summer to end. The Bordentown Regional High School student spent his summer vacation across the world in Japan for the 23rd annual World Scout Jamboree.
On July 24, Comeau left for a 16 day trip with 800 Boy Scouts from the United States ages 14-17. Although he was the only one that went from his Bordentown troop, he was excited to see Japan and experience the event, which is held every four years.
"No one from my troop came with me, but I knew the scout master from going to the National Jamboree in 2013 with him. He was the assistant scout master for the Jamboree. I also knew other guys from different troops and I was excited to meet and make new friends, too," Comeau said.
The Jamboree wasn't just an amazing experience for Comeau—it is also considered an honor to attend within the Boy Scout community. The process to apply came after his scout master from the National Jamboree that he attended in West Virginia in 2013 contacted him to see if he was interested in going to Japan.
"I was interested, so I applied. It was pretty much on  a first come first served basis. I signed up about a year before the Jamboree," Comeau said.
The journey to the Jamboree started long before he even applied. His parents talked him into trying out Cub Scouts when he was in elementary school, which lasted until he was in the fifth grade. He then went on to become a scout and eventually worked his way to the highest rank as an Eagle Scout.
The first three days of the trip were spent touring Tokyo. Comeau and his fellow scouts saw local museums, such as the Mitsubishi Museum, the Shinagawa Aquarium, and even went to the mall to shop, which he says was "very different" from an American mall.
They got to experience, explore and learn about the culture of Japan before they headed down to the Jamboree by bullet train.
The Jamboree takes place in a different country each time it is held, and this year it took place on a reclaimed piece of land known as Kirara-hama in Yamaguchi City. About 800 more scouts from the United States joined the boys once they got to the Jamboree site. These scouts toured Tokyo after the conclusion of the event.
Over 30,000 scout leaders and scouts came from 113 different countries to participate in various activities for 10 days starting on July 28. The scouts walked between the different camp sites separated by country in groups of two to three in order to meet people, learn about different cultures and trade handkerchiefs and patches.
Comeau's mother, Debbie Comeau, loved hearing about all the stories from the Jamboree.
"Trading the handkerchiefs was something that is very big to do at the Jamboree and Daniel brought home a couple of new patches and handkerchiefs," she said.
Comeau explained how he went up to different campsites looking for specific patches to acquire. With his patches in a plastic sandwich bag, he went up to the Egyptian, Norwegian, Italian and British campsites to see what they were willing to barter. He ended up getting two handkerchiefs from Egypt and Italy from a trade he made.
In addition to trading patches, Comeau also went through different modules throughout the days. One of the experiences was the Peace Program, during which Comeau got to go offsite to visit the Hiroshima Peace Memorial Park and museum. Another day he was immersed in the local culture through learning about the history of old emperors, all the way up to current pop culture. Other events included water activities on the coast with the new friends he made.
One of his favorite activities was the community service program he participated in. Comeau was able to tour a local school and the watch its students as they put on a show for the scouts welcoming them.
"I thought it was cool meeting all of the different scouts from other countries and learning about their cultures. It was interesting to see how they live and how their culture was different from our own," Comeau said.
Although he had an incredible experience—and major jet lag—he cannot attend as a scout again since the program is designed to try and have as many scouts around the world experience the Jamboree.
One day he hopes to travel again with scouts as a leader, but for now he will stick to continuing his work locally as an Eagle Scout. Comeau plans to keep in touch with all of the friends he made while at the Jamboree through social media.
As for the future, Comeau hopes to continue his work as an Eagle Scout and become an engineer for the military. He's thrilled to currently be helping his younger brother Matthew,  a Cub Scout.
Today
,
Community
Boy Scouts of America
World Jamboree