BLL boys win states 'their way'

Sep 01, 2015 09:05AM ● Published by Community News Service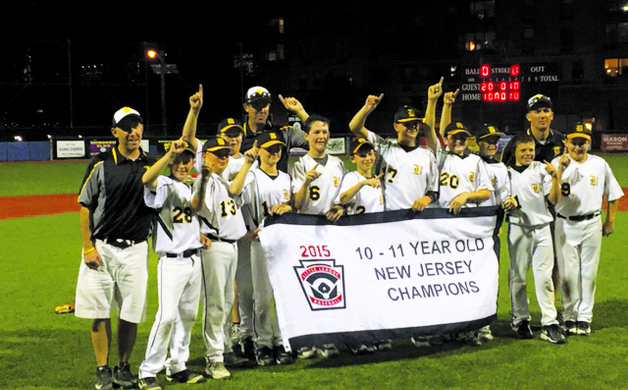 The Bordentown Little League 11-year-old baseball team poses with the banner after winning the state title Aug. 17, 2015. Left to right: Coach Bob Wood, Connor Wood, Vincent Mazzilli, Josh Petrone, Joey Feig, coach Tim Dromboski, Drew Wyers, Zach Matthews, Carson Applegate, Ryan Dromboski, Marco Mannino, Jack Carey, coach Chris Matthews and Alex Ryba. Not pictured: James Primerano.
By Rich Fisher

It's only fitting the Bordentown Little League 11-year-old All Stars won the New Jersey Little League State Championship in Hoboken, which is the hometown of Frank Sinatra.

In listening to the lyrics of "My Way," one of Ol' Blue Eyes' greatest hits, there is one passage that truly defined the Bordentown team:

"But through it all, when there was doubt,
I ate it up and spit it out,
I faced it all and I stood tall,
And did it my way."

Bordentown did just that. There was plenty of reason for doubt as the locals lived in the loser's bracket for three straight tournaments. The players shrugged it off, stared down all challenges and won three consecutive championships by doing it their way.

The biggest win came on Aug. 17, when BLL defeated Randolph, 3-2, in the state final. It was the third state title in league history and first by an 11-year-old team.

It capped a run that can only be termed remarkable, considering Bordentown went 13-0 in must-win games through the District 12, Section 3 and State tournaments. Each tournament was double-elimination and BLL played all but one game with the pressure of having to win or go home.

The day after the state final, manager Bob Wood said with a laugh, "Last night the ambulance was on the way, it was rough. Through every tournament it was tough, but with the money on the line they came through."

Bordentown lost its District 12 opener, 10-3, to West Windsor, and then won five straight by a combined 59-21 score. It defeated West Windsor twice in the finals, 11-6 and 5-2.

"We came into districts thinking we had it easy, that's why we lost our first game," said Connor Wood, the manager's son who drove in all three runs in the state final. "We already beat those teams in the early (Cranbury-Plainsboro) tournament. We thought it would be much easier. But they caught us sleeping."

In the sectionals, Bordentown won its opener for the only time in tournament play with a 12-1 win over Clark. That was followed by a 7-5 loss to host Marlboro, meaning BLL had to scratch out four straight wins in the elimination bracket. Once again, Bordentown avenged its loss by taking two consecutive 5-4 wins over Marlboro in the section finals.

In the first victory over Marlboro, BLL trailed 4-3 entering the sixth inning. But Joey Feig hit a sacrifice fly to tie it and, after two straight intentional walks, Drew Wyers delivered a walk-off single.

"After they walked two guys, I knew I had to come through and get a hit," Wyers said. "He just put it out where I could hit it and I got it."

Wyers continued his clutch hitting in the title game with two RBI, as Bordentown hoisted their second straight trophy. The pitching staff, led by Feig, Josh Petrone, Carson Applegate and Ryan Dromboski, was key to the Section 3 championship.

"My pitching staff, coming in tight games, throwing strikes was huge," Wood said. "They were able to dial it in and hit their spots. Playing Marlboro in sectionals was a great example. We lose to them in the first game, and then beat them twice. We didn't have a ton of hits, but we had timely hits and our pitchers came in and shut them down. It wasn't fun at the moment, but it's fun to look back at now."

Next up was Erial in the first round of states, and once again Bordentown dropped into a hole with a 13-8 loss. Wood blamed himself for that one, saying he probably should have scheduled more practices to keep his team sharp.

But, in the end, the reserve energy they had left in the tank may have paid dividends.
Bordentown won the next three games by a combined 51-10 score and beat Randolph West 11-4 to force a winner-take-all "if" game.

The title game proved to be a classic. Bolstered by the fact that Feig pitched a complete game against Erial on Saturday and Petrone pitched five-plus innings against Randolph West on Sunday, Wood had the pitchers he wanted ready to go in the final.

Carson Applegate got the start. Aside from hitting a whopping 16 of Bordentown's 35 home runs during tournament play, Applegate was also the team's stud on the mound.

"He's our horse, he's our hard-throwing right-hander," Wood said. "He did a good job shutting them down."

Connor Wood's two-run double gave Bordentown a 2-0 lead in the bottom of the first before Randolph got one back in the bottom of the inning.

"That made me feel good to know I contributed a lot at that point and that we had an early lead and a lot of momentum," he said.

With the score still 2-1 in the fourth, Applegate reached his 85-pitch limit and Bob Wood turned to ace reliever Dromboski, who entered with the bases loaded and one out.
Problem? No way. Dromboski promptly induced a 1-2-3 double play to end the threat. 
Bob Wood was sitting next to fellow coach Tim Dromboski during the game, and the nerves were palpable.

"I'm calling the pitches and I could tell his heart was in his throat," Bob Wood said. "His kid is on the mound with the state title on the line."

In the fifth, Connor Wood came through again with a sacrifice fly to make it 3-1. A throwing error allowed a Randolph run in the bottom of the fifth, but Dromboski got through the sixth 1-2-3, followed by two strikeouts.

And the celebration was on.

"This feels good winning this," Wyers said. "Everyone was working hard at the practices, and winning it all was just a great experience. It was really fun."

It may have been fun for the players, but the parents were nervous wrecks. Fortunately, they weren't the ones on the field playing so many must-win games.

"We worked so hard, we knew we could do it," Wyers said. "We were really confident."

Asked if it bothered him playing out of the loser's bracket, Connor Wood said, "No, we knew if we played well we'd win it all anyway. We felt some pressure, but it made us play better.

"We always thought we could do it," Wood added. "Ever since the first practice. We had a full team together for the first time."

Bob Wood echoed his son's sentiment, noting that several players from the core group that started as 8-year-olds went off to play travel ball, but everyone returned for this year's tournament season.

"We made it to the semis of the districts as 10-year-olds but we didn't have everybody then," Wood said. "This year we had that full collection and it made a difference."

Rounding out the roster were Jack Carey, Marco Mannino, Vincent Mazzilli, James Primerano and Alex Ryba, along with coach Chris Matthews. Mannino drew praise from Bob Wood for playing outstanding at shortstop throughout the tournament while also hitting three homers in the states.

"I've got a lot of kids who go kind of quiet in the moment, and for some reason they're able to dial it up when it needs to get done," Matthews said. "The lineup is powerful one through nine, they always have that confidence at the plate. They don't chase early in the count, they take their walks and we got a home run from every spot in the lineup."

Pitching also mattered as Wood said "I've got four or five strong kids, that's probably what set us apart from other teams, was our ability to pitch."

It's a must to have a deep staff, especially when forced to play so many extra games after losing early as BLL did.

Naturally, after this year's success, Bordentown is already looking forward to the 12-year-old District 12 tournament, which has been owned by Nottingham the past five years.

"This gives us a lot of confidence," Connor Wood said. "We know we're capable of doing it next year just as well as we did it this year."

Wyers agreed.

"We can win it next year," he said. "But it will be hard because we'll have a big target on us. Teams will want to beat us."

Sounds like there could be some pressure. Of course, that's just the way this team likes it.
Sports
,
Today
District 12
Section 3