New tech and teachers greet students

Sep 01, 2015 08:41AM ● Published by Samantha Sciarrotta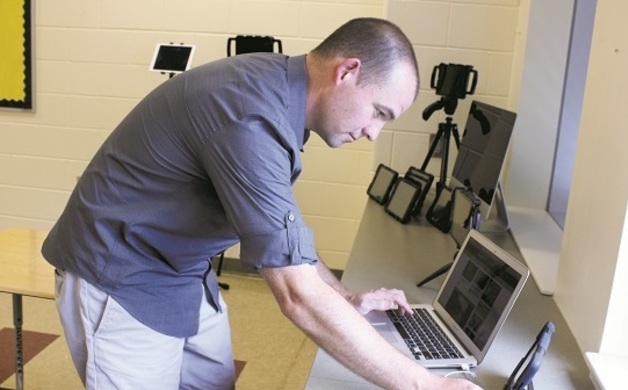 Michael Brennan tinkers with new Apple products the school received as part of a grant from the Haines Family Foundation. (Staff photo by Samantha Sciarrotta.)
Students walking through the doors of Bordentown Regional High School on Sept. 3 will see some new administrative faces in the halls—and new technology in their classrooms. Principal Rob Walder, who took over for Patrick Lynch last December, is entering his first full year at the helm, and two new vice principals will join him: Teresa Valentin, who comes from the South Brunswick School District, and Amy Jablonski, a former West Windsor-Plainsboro history teacher.

Valentin started out as a math teacher at Burlington Township High School, where she taught for nine years. She then moved into an administrative role as a math and science curriculum supervisor in South Brunswick. She grew up in Burlington County as a Moorestown resident. Jablonski, a West Windsor native, worked in business after college, but decided it wasn't for her and switched gears to teaching. After getting an education degree, she taught social studies in the WW-P district for a decade. She went back to school again and earned her administrative certificate.

Both said they are looking forward to meeting students, parents and their fellow educators. The sense of fellowship in Bordentown is part of what drew both women to the job.

"It has this really rich history to the school and the community," Jablonski said. "That's something that is a thread through the kids, parents and faculty. A lot of the faculty either went to school here or are currently residents. That's something that really ties the community together."

Valentin added that learning the ropes with someone else who is new to the position has made coming into a new school district easier and more enjoyable.

"I think we bring similar yet different experiences to the table, so it gives us the opportunity to brainstorm ideas and shoot things back and forth off of one another," she said. "We can see what worked where we worked previously, and maybe that could translate into something that could help strengthen the school community that's already flourishing."

And Walder is eager to tackle the 2015-16 school year with his new team.

"These two are doing an awesome job so far," he said. "With me being new and them being new, we're uncovering a lot of things that need to be done that we didn't realize. But we're having fun along the way, and we'll be ready."

In addition to the new faces, social studies teacher Michael Brennan applied for a grant from the Haines Family Foundation for the second straight year, and this time, he used the $40,500 towards 90 iPads, two iMacs, two Mac Books, charging stations, cases and video equipment for classrooms and the media center. Last year, he received $11,600 from the same foundation that went towards similar equipment.

Last year's iPads were used mainly in AP classrooms, and Brennan said they allowed for more creativity than the typical textbook. Now, with the added tablets, two additional classrooms will be able to use them, and Brennan will also make a large set available in the media center. There, teachers can schedule times for their students to work with the iPads for projects, presentations and other assignments.

"It gives the teachers a lot of freedom," Brennan said. "Any subject can use them. The potential for use with them is limitless. I've see them used in math, science, certainly history and language arts in other schools. It's really starting to sweep the educational world."

Brennan worked with Walder and former media specialist Doneanne Soult this year to develop a usage plan for the devices. Both were "instrumental" in the process, Brennan added. His experience last year was helpful in terms of planning for 2015-16. The students were receptive and eager to use the iPads—and much more excited, he said, when they realized the tablets came with protective cases—and once they got a handle on what they could accomplish with them, "it got really fun."

"It's a really big opportunity for our students to take a lot more ownership of their education," he said. "It gives them a much greater ability to collaborate with their classmates, or even kids from other schools. They have the ability to publish their work and to accumulate a digital portfolio. It allows the students to go beyond the textbooks."

Brennan added that he sees surveys "all the time" reveal that employers want to hire people who can collaborate, create and do independent research. The tablets, he said, gives the students a leg up in all three categories.

Students in Brennan's classes last year created their own Bordentown history textbooks. Using the iPads, the students took pictures, recorded videos and did research to complete their books.

"It's the sort of thing that you would never be able to do with pen and paper," he said.
Holly Haines, who runs the foundation that provided the grant, was able to see the finished products.

"It was pretty cool how they created these interactive tour guides using the iPads," she said. "I learned more about the history of Bordentown from them than I knew beforehand. [Brennan] is doing a great job using technology to make their learning that much more in tune to the way kids learn today."

This year, Brennan hopes to see the iPads further the students' research, collaboration, creativity and problem solving skills. Apps like Evernote, Genius Scan, Skitch and Pocket will aid with saving, annotating and sharing research, while Google Drive, Airdrop, Pic Collage, Pages and Twitter allow students to work together. Students can use  tools like Book Creator, Pages, Keynote, Vimeo and iMovie for projects that require them to create.

And just as the students are learning new technologies, so is Brennan.

"I think I have a decent handle on it, but the kids are able to show me a lot about the iPads. A lot of different kids have so many skill sets and so much expertise, that they could help each other."
Schools