5K to bring muddy fun to Fernbrook Farms

Sep 01, 2015 09:21AM ● Published by Samantha Sciarrotta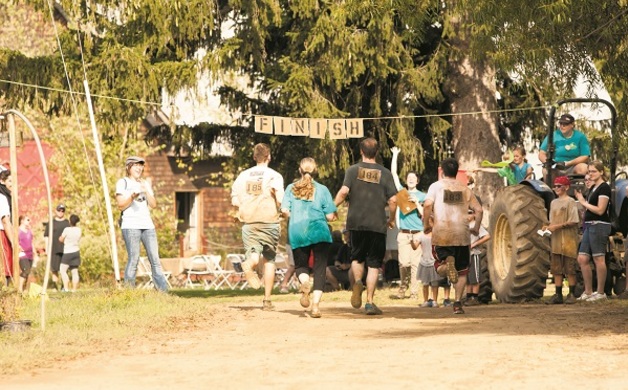 Craving an obstacle-filled mud run but can't find any local options? Fernbrook Farms has you covered. If you want to raise money for a local organization while running, they've got you covered there, too.

The environmental education center is hosting its fourth Farm Run, set for Sept. 27. The first run was held in the fall of 2013, and it's been a hit every six months since, said education director Brian Kuser.

Though the race's 5K distance has gone unchanged since its inception, the course and its obstacles vary by race.

"Some [obstacles] that are fan-favorites, we keep," Kuser said. "We're always brainstorming to make it fun and exciting for returners."

This year's course starts at the barnyard. Runners then navigate through the farm's fields, forest and creek. Participants will pass through rows and rows of the colorful, flourishing Community Supported Agriculture crops and nursery plants.

"There are lots of rows of well-manicured crops," Kuser said. "Different parts of the course will take you through the rows of trees and vegetble crops being grown. We wait to see what's in season and what looks beautiful prior to setting the exact course. Each year, it's different as various things are being harvested."

Obstacles will include favorites like the mud slide, hay mound, creek crossing and army crawl, as well as additional surprises that have yet to be revealed. Kuser said the Farm Run organizers are constantly searching for new obstacles.

The Adult 5K Farm Run is for runners ages 11 and up, while kids 6-10 can participate in the Mini Mile Farm Run. registration fees for adults are $40 and kids are $22 up to Sept. 26. On race day, adults are $45 and kids are $25. Proceeds go towards the farm's mission, which is to provide hands-on experiences for kids in nature through signature programs, summer camps, homeschool classes and school trips.

"Fundraisers help to support our programs, care for animals, expand facilities and provide scholarships," Kuser said. "We create unforgettable experiences for kids in nature at afforadable prices, and they are super high quality."

In addition to the run, attendees can purchase food and visit with the farm's animals. The CSA farm shop will be open.
Check in begins at 8:30 a.m. on race day. The 5K heats begin at 9:30, and the mini mile heats start at 11:30. For more information or to register, visit 
fernbrookeducation.org
.

–Samantha Sciarrotta
Today
,
Community
Fernbrook Farms
Farm Run