Happy living at Clare Estate

Sep 01, 2015 09:56AM ● Published by Community News Service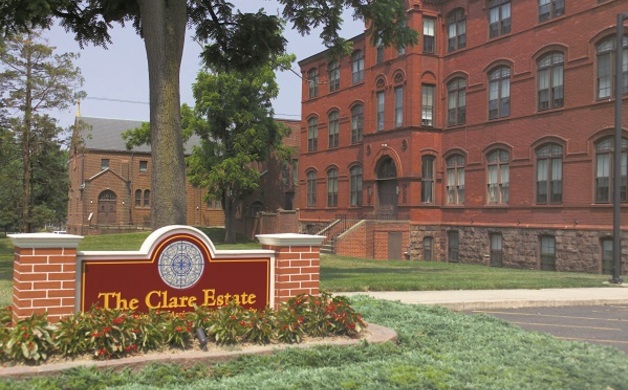 By Jacquelyn Pillsbury 

In 2001, The Clare Estate senior residential community on Crosswicks Street in Bordentown moved into the historic former home of the Sisters of Poor Clare. After serving as a monastery, the 200-year-old main building was completely renovated and modernized, while retaining its original architectural charms, such as stained glass windows, arched ceilings and detailed woodwork.

New free-standing cottages were added to the 10-acre property, while maintaining a natural setting with gardens and trees. These rental cottages provide independent living for seniors 55 and older and are designed to be an affordable alternative to home ownership, while also providing 24/7 access to nursing staff if needed.

The Clare Estate is family owned and operated. "The owner [Christina Foglio] has a vested interest" in the facility, said Executive Director Alyson Mulryne. "She came here and fell in love with the monastery. She made it her life mission.We are committed. If you choose us, we want you to be with us until the end, even if that means we have to change programming or staffing"

Mulryne added that many Continued Care Retirement Communities in the area "have large buy-ins. Here we have no buy-in. We offer affordable housing in-house. We have a renovated monastery building that is nearly 200 years old and built an addition on the back that marries the old with the new."

Included inside the former monastery is a 37-bed memory impairment unit called "Anthony's Walk." The rest of the 101 spaces are for traditional assisted living.

"We offer different levels of care," Mulryne said. "You can be as independent as you want and still drive to end of care or hospice" and every level in between.

"The Clare is unique in that we embrace the individual that lives here as who they are and who they were," Mulryne said. "Our No. 1 goal is to get their parents, aunts, uncles back so they can enjoy the family member. We can take away the burden [of daily care] and embrace who they have become. That is a big focus of who they are, what they did, and what they love."

She cited the example of a resident who was a master plumber with a debilitating disease.

"The gentleman couldn't speak, but he could work with his hands. He created art with tile and wire and it elevated his confidence by being able to touch the familiar things again. It hangs on our wall."

The Clare Estate and its residents give back to the community. They are on the annual Bordentown Halloween Parade route, where they provide apple cider and spiced cookies and sit in the grandstand during the event. In addition, they are supporters of local charities including HomeFront—residents make blanket's for the organization's families.

"We don't just entertain our residents, but we do something they enjoy," said Mulryne. "They feel purposeful and happy and flourish as a part of the community." Many of the residents are from Bordentown. Mulryne estimates most come from within a five to eight mile radius.

The "out of towners" move to The Clare Estate to be closer to family. "Selfishly, I feel good because of the residents. Everyday there is something gratifying." She chalks that up to being part of people-centered business, but to her it is more than that. "We are one big happy family." For Mulryne, "the highest compliment we receive is 'it feels good here.'" To her and the staff at The Clare Estate it is not about the glitz "but about the care you give and the love."

Contact The Clare Estate to learn about current availability and to take a tour.
The Clare Estate, 201 Crosswicks Street, Bordentown. Phone: (609) 298-9960. E-mail: info@theclareestate.com. On the web:
www.theclareestate.com
Today
,
Community
Clare Estate