BRHS hoops wins summer title

Sep 01, 2015 10:00AM ● Published by Community News Service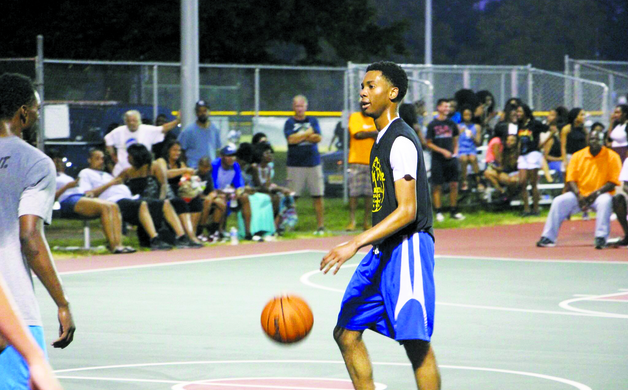 Myron Gordon dribbles during the Moody Park Basketball League finals on July 29 at Moody Park in Ewing. Bordentown defeated Notre Dame 55-35.
By Rich Fisher

It was the night of July 29 and Ewing's Moody Park was hosting its usual overflow crowd for the Boys' High School Division championship game of the Moody Park Basketball League.
About every five minutes or so, fan favorite PA announcer Tim "Dog" Gibson would yell out "Unfinished business!" whenever a Bordentown player would make a big basket or pull off a nice defensive play.

By evening's end, the business was settled—the Scotties took a 55-35 victory over Notre Dame for the first Moody title in program history. A year ago, Bordentown dropped a double-overtime decision to Ewing in the championship game.

"It was a very big deal, we felt like there was a lot of unfinished business last year," said senior point guard Dante Gipson, echoing the night's popular refrain. "We just wanted to come out this year and get the job done."

Junior shooting guard Darnill Brown agreed. "It was something Bordentown never did before. It was basically unfinished business."

By now, you should get the picture. Bordentown was on a mission this summer and the Scotties accomplished it.

What made it so impressive is that for the first nine games of the Moody season, they were without standout senior forward Myron Gordon, who averaged 22.5 points per game last winter in helping Bordentown to a 24-6 record and a berth in the NJSIAA Group II Central championship game. Gordon hurt his ankle at the start of this summer, and he did not return until the final game of the regular season.

"The good thing is, the other kids played so well," said third-year coach John Myers. "You learn a lot about how they will react when things aren't perfect. They did such a great job. Without Myron, we had the same regular season record (9-2) as we did last year with him."

Gordon is already a 1,000-point scorer and is considered by Myers "one of the top three players in South and Central Jersey." His absence left Bordentown as an afterthought in the minds of their opponents when the Moody League season began, but other players got their chance to step up.

"He's a very big part of our offense as we all know," Gipson said. "It was hard at times not having him there. I figured it almost benefited us at the end. We came together as a team and once he came back it was a lot easier."

Brown felt the same way, noting that "Myron is like the big focus and teams only worry about him. When he went out, everyone started playing their roles and we were fine. A lot of other guys on the bench like Teriq (Ashburn) and Jaquay (Mendez), they were stepping up."
The coach lauded the play of returning lettermen Gipson, Brown, Ashburn and Manny Ansong, and he also praised the efforts of newcomers Mendez, Parker Dortch, Kenyondre Blackshear and Erik Price.

"Mendez didn't play last year because he was hurt," Myers said. "He was a defensive juggernaut for us. Blackshear was a JV player last year and really did a great job of rebounding, defending and making a difference in little things. Eric Price has that great ability as a big kid to do some things inside and some outside."

Gipson was impressed with the way the youngsters played.

"Guys like Mendez and Price almost had to come out of their shell and step up and that's exactly what they did," he said.

Myers said it was not a case of asking guys to step up in Gordon's absence—he expected them to do it without his instruction.

"One of the things I'm trying to get the Bordentown culture to be like, is that whether you're going to be a sophomore and you never played varsity or a senior who has started, you have to come through when it's your turn," he said. "We're going to need eight or nine guys to contribute."

The coach went on to say that without their dynamic scorer, the remaining players needed to figure out how to create points and win games without him. Thus, if Gordon gets in foul trouble in a game this year, the Scotties won't fall to pieces with him on the bench.

Even with Gordon in the lineup, two of the key players will still be Gipson and Barnes, who both wanted to work on certain things this summer.

"I needed to work on my mid range game and decision making," Gipson said. "I feel like once that happens I'll be… . I don't want to say I'd be unstoppable, but it would be pretty hard to guard me."

For Barnes, it was a case of getting more active.

"I wanted to get involved in the game and not [be] sitting back and [watching] other players do all the work," Barnes said. "I'm trying to get more involved in the offense."

The fact that everyone stepped up in Gordon's absence was considered one of two big achievements this summer by Myers. The other is the fact that they took care of that unfinished business, which is something they also want to do this winter.

"We are doing [the summer league] because we have high expectations," the coach said. "The first step was winning against the Notre Dames, the Ewings and the Trenton Highs of the world. Last year we won our division, we went to the sectional final and lost. The next step is to win the division and win the sectional title and go from there."

Myers added that the team cannot get complacent and rest on the accomplishments of last season and this summer. He made this year's non-conference schedule tough, and his players seem to understand what needs to be done.

"It's a very big confidence builder, we had a big year last year and we just striving for more, we want to go farther than we did," Gipson said. "This is just the first step in a very long trip ahead of us. We went to get past sectionals and make a statement."

In other words, the Scotties still need to take care of some unfinished business.
Sports
,
Today
,
Schools
Moody Park
Boys' basketball