Farmers unite to feed the needy

Sep 30, 2015 08:01AM ● Published by Samantha Sciarrotta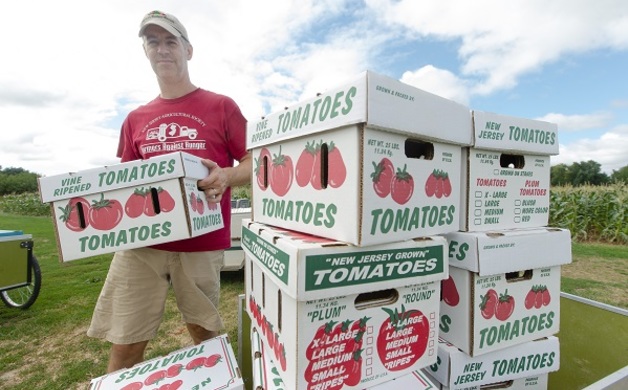 Brian Strumfels at a Lee's Turkey Farm gleaning on Sept. 11. (Photo by Suzette J. Lucas.)
By Samantha Sciarrotta

When farmers find themselves with a surplus of crops, their only choices are often to compost it, feed it to livestock or toss it.

Farmers Against Hunger aims to change that.

The Bordentown-based organization visits farms across the state to collect, or glean, unsold or unused produce, which volunteers then donate to one of over 70 food pantries, food banks and soup kitchens. All told, the organization collects over a million pouds of food each year.

"It's product that's just going to be otherwise wasted or thrown out," said Kristina Guttadora, executive director of the New Jersey Agricultural Society and program director of Farmers Against Hunger. "Knowing that somebody can get a fresh meal when maybe all that they've received from a pantry has been boxed or canned, it's nice to know that you're helping them with some fresh, healthy food, too."

That mission resonated with Mary Pat Christie's New Jersey Heroes organization and thousands of online voters—Guttadora was named this year's fifth New Jersey Hero at the end of August. Competing against two other hunger relief agencies, Guttadora eked out a victory by less than 100 votes.

Farmers Against Hunger was founded in 1996 after state farmers and legislators toured agricultural areas in South Jersey and noticed an excess of farm waste. Princeton's Bonner Foundation donated the organization's first truck, and Farmers Against Hunger has been working with farms at every end of the state since then. Currently, they work consistently with over 50 farmers, wholsesale produce companies, grocery stores and retailers. 

Locally, the organization gleans from Fernbrook Farms, Hlubik Farms, Russo's, Honeybrook Organic and Strawberry Hill. Some businesses, like Wegman's and Panera, also donate fresh breads.

Each week, volunteers collect food and bring it to four main distribution sites: Camden, Mount Holly, Browns Mills and Trenton. From there, 10 or so different organizations come by and fill up their own vehicles with produce. Guttadora estimates that each site serves about 1,000 families per week. Another 30 soup kitchens and food pantries are beneficiaries, too.

"They can come, usually within a day when we call them, whether we have a lot or a little," said Jeff Tober, farm manager at Fernbrook Farms. "They just have access to a number of places that can make use of [the crops], whether it's tomatoes, okra, watermelon or really anything. They can find a soup kitchen, a food bank, a shelter that will make use of it. The simplicity of it and the fact that it's going to people that need it is great for us."

Tober, who first got involved with the organization through Nancy Hlubik about eight years ago, often calls Guttadora when he knows he's going to have an excess of a certain crop. He recalled an instance two years ago when he had to harvest all of the farm's peppers or lose them to frost. He had way more than he could use, so he called Guttadora, who came out in her own car with one other volunteer and picked the peppers herself.

In that sense, the organization helps its farmers as well as the families it feeds. Guttadora said this is especially the case at U-Pick farms.

"You pick one apple from the tree, and five fall to the ground," she said. "It's going to create a mass to be rotting unde the tree. We actually help the farmer by cleaning it, but also, it's picking up perfectly good apples if we can get in there pretty quickly."

In all, that's a lot of work for a staff of six, just two of whom—Guttadora and Bordentown resident Brian Strumfels—are full-time employees. But it's exactly why the New Jersey Hero award was so important. The award came with a $7,500 grant, which the organization will put towards funding a new truck. But Farmers Against Hunger was also rewarded with intangibles like more online exposure, leading to an influx of volunteers and a general interest in its mission.

"We gained hundreds of followers on Facebook and Twitter," Guttadora said. "We've already had so many volunteer requests. That's essentially going to lead to us being able to collect more food. You can send 10 people out to a farm, but if you can send 25, you're doubling every amount that's not getting left behind on the farm. That's a big problem for us. We just don't have enough people always to help when we need last-minute gleanings."

Strumfels said the nomination had been in the works for sometime. Though they didn't initially know who nominated them, Guttadora recently found out that it was a volunteer who worked with Farmers Against Hunger during Hurricane Sandy, when they gleaned over 18,000 apples in just three days and donated them to shelters and their usual spots.

The voting was tight, but promotion on farm social media pages and similar outlets helped the organization come out on top.

"The nomination came out of the blue," Strumfels said. "We saw that the other two organizations in the competition both had national followings. We figured we'd give it a try, but how much of chance did we have? After a week or two, we did a huge PR blast, and we saw we had a chance."

Strumfels got involved in 2009. He graduated from Rutgers-Camden with a degree in art and photography, but wanted to expand his horizons. He looked into Americorps that June, just before farming season, and Farmers Against Hunger caught his eye. He applied, was accepted and started that summer. 

Now, Strumfels is on the road five days a week. On a typical day, he stops at three or four farms, picking up between 5,000 and 10,000 pounds of food.

On an atypical day, he's standing onstage representing the organization at a Bruce Springsteen concert. Springsteen's concerts often feature food drives for local hunger relief agenices, and Farmers Against Hunger was the beneficiary in October of 2009, when the musician played his final shows at Giants Stadium. Attendees who donated food at the show were entered into a raffle for a seat upgrade. Prior to the concert, Strumfels got to go onstage, stand in Springsteen's spot and announce the winner.

No matter how the organization's employees, farmers or volunteers serve, though, it's always rewarding. And, as Tober said, it resonates with locals.

"We don't want to see our fellow citizens go hungry," he said. "It's everywhere. It's not just certain urban areas. It's all over the state. I can't say enough things about Farmers Against Hunger. Their staff are always so helpful, and they work hard. We've never had a bad encounter."

Strumfels said the organization is only "scratching the surface" of its possibilities.

"Obviously, we need to raise more money and hire more people," he said. "We definitely see a large amount of potential. We're saving so much food from beind wasted. But we can double or triple that."

Guttadora agreed.

"I think we need to grow in being able to fund the things that nonprofits need," she said. "This is a job for many more people, but our budget's been tight. I would like to grow our staff, grow our volunteers and grow our farmer donors. When you've got gleanings and food out there, you want to be able to line up enough people to be able to do it."
Food+Dining
,
Today
,
Community
Farmers Against Hunger
Krtistina Guttadora
New Jersey Heroes