Heartfelt mission

Sep 30, 2015 08:02AM ● Published by Community News Service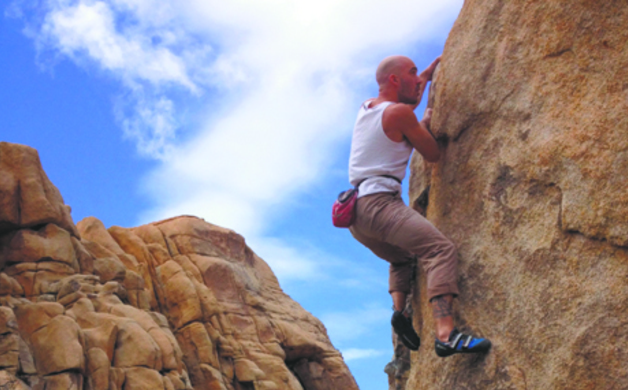 Anthony DiLemme has maintained an active lifestyle, despite his diagnosis.
By Nicole DeMentri

One look at the "Anthony's Heart Valve Replacement Saga" blog certainly shows how Bordentown native and current Southern California resident Anthony DiLemme, Jr., lives his life to the fullest. At birth, DiLemme was diagnosed with a bicuspid aortic valve. Basically, his aortic valve was defective and would need to eventually be replaced as it wore down.

The 32-year-old high school science teacher's entries range from his own diagnosis to helping out others facing severe heart problems.

That openness and willingness to help others extends beyond the blog, too. DiLemme was recently named an American Heart Association Patient Ambassador, a role in which he helps connect others to the support network offerred by the AHA. Patients facing heart disease or stroke issues can create an account and log into their own blogs in order to follow people across the country with a similar diagnoses. Users can also ask questions that they may not be able to find answers to via Google or other outlets.

"Right now, I am passionate about helping out others with heart conditions and that's what I'm focusing on. I want to keep doing more for them," DiLemme said.

Most recently, he wrote on his own blog about a fellow cyclist and friend, Matt, who passed away from chronic clotting issues. The two met after connecting through DiLemme's blog over similar heart related issues.

One line of the entry read, "Matt's death hit me hard because he was my peer. I saw myself in him, and I saw myself in his death. 'That's me,' I thought to myself."

Although rattled, DiLemme vowed to not live his life afraid of the unknown complications. He stays in the present, though he regularly monitors his own condition.

"There are always risks I live with, but I just watch it everyday. If everything goes as planned, I should live a very healthy, long life," he said.

DiLemme lived a happy and healthy lifestyle as a child, loving science and nature. His friends growing up referred to him as "bug man" because he was infatuated with any type of bug.

He graduated from Bordentown Regional High School in 2001 and went onto study at Ramapo College. From there, DiLemme went to graduate school at the University of Redlands in California, and he used the school's medical libraries to research his condition.

"I knew that eventually I was going to need surgery, so I wanted to make sure I knew everything I could about my condition before it came time for that," DiLemme said.

From there, he moved out to California for what was originally supposed to be a six-month trip for a job. He ended up never coming back to New Jersey.

Doctors monitored his heart and found no problems until his late twenties. When they discovered that his valve started deteriorating, DiLemme felt no symptoms. He decided to go ahead with surgery. The decision was made in early fall of 2013 to undergo elective surgery to replace his aortic valve with a mechanical valve.

In November of 2013, Anthony underwent his first open heart surgery. Recovery went well and DiLemme returned to his active lifestyle.

However, four months later, he was rushed to the emergency room with shortness of breath and pain, only to find out that he had acquired a potentially deadly infection. In March of 2014, he underwent his second open heart surgery to replace the mechanical valve from December. 

The recovery period this time around was much harsher than the first time due to the serious nature of the most recent procedure.

DiLemme vowed to be optimistic about the second surgery, truly believing that this procedure would hold. One thing, though, that did frighten him was not being able to go back to his active lifestyle of hiking, cycling, climbing and trail running.

"I was afraid that I was going to be slow or always have shortness of breath. After recovering from my second surgery I actually ended up a stronger climber than I was before."

Throughout his medical rollercoaster, longtime Bordentown residents and DiLemme's loving parents, Helen and Tony DiLemme, flew out to California to make sure he was surrounded by family throughout his recovery.

"I couldn't have done it without them. They were my rocks," DiLemme said.

Prior to his first elective surgery, DiLemme decided to document his entire journey after being inspired by a blog called "Defective Heart Girl Problems." He gained an audience and now uses his platform to help others facing heart conditions.

Passionate about helping kids, Anthony recently returned from volunteering as a counselor at Camp de Corazon. The camp is completely donation based and serves young adults ages 7 to 17 facing congenital heart disease whom were never able to attend a "regular" summer camp before.

"Needless to say, I felt at home at this camp, just like the campers. I felt like a CHD hero there. I was brought to tears multiple times every day because of I was able to witness these moments of beautiful acts of kindness or courage," DiLemme wrote on his blog.

Despite living in California, DiLemme said that he will always be a Jersey man at heart, and he hopes to help people from coast to coast through difficult times in their lives. Right now he plans on continuing teaching and doing even more for the heart condition community.
Today
,
Community
Anthony DiLemme
Bicuspid aortic valve