Veterans Advisory Committee plans new memorial park

Sep 30, 2015 08:05AM ● Published by Samantha Sciarrotta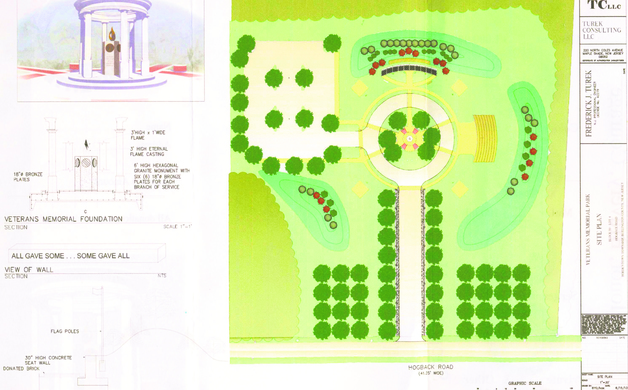 A rendering of the proposed park drawn by Fred Turek.
By Samantha Sciarrotta

The Bordentown Township Veterans Advisory Committee aims to always stay on the lookout for ways to honor local veterans of all branches of the military. The members host a Veterans Day ceremony every November and maintain a presence at events like Community Day throughout the year, but they wanted to do more.

So, several years ago, some members proposed a new Veterans Memorial Park, complete with a small amphitheater, a 30-foot-high monument wall and a granite monument featuring an eternal flame and six bronze plates for each branch of the military. The layout was designed by engineer Fred Turek of Turek Consulting, LLC.

Eventually, the committee hopes to add soccer fields and baseball fields. The whole area will connect to the current Joseph Lawrence Park.
"It could go beyond just a veterans memorial," VAC member Bryan Branson said. "Ultimately, it could all be developed. That's kind of in the long term."

But, the process is still young.

"We've still got a ways to go," said Bordentown Township committeeman and VAC township liason John Moynihan. "We're just in our infancy. Now, we're just trying to keep pushing to get a little more momentum. All the members of the committee, past and present, have always been supportive. I think that adds to the support that the community has and the participation we get."

The new space will come with plenty of parking and lighting. The committee hopes to eventually tap into the soybean fields that surround the area to add other attractions.

To get an idea of what kind of features they wanted the park to have, Moynihan said many VAC members took several field trips to investigate other similar parks. A park in Pleasantville, he added, was the one they emulated the most.

Once construction gets started, VAC chairman Michael Huntanar suggested building parts of the park in phases instead of all at once. Though the project is still "in its diapers," as Branson put it, they hope to get started as soon as funding allows.

To get to that point, the committee will host a car show on Sunday, Oct. 11 in the parking lot of Peter Muschal Elementary School, near the proposed park. The event will feature food, door prizes and a deejay, and, of course, a wide array of cars. The rain date is Oct. 17.

The VAC held a show two years ago and welcomed around 50 cars from every era. Cars can be as old or as new as the participant wants—there is no limit. Car buffs can enter their vehicles into various categories, and winners will receive trophies. There is a $15 entry fee for particpants, but there is no cost to attend the show. The committee will accept entries up until the day of the show.

VAC member Don Smieszak played a major role in putting the show together, said Moynihan.

"He's been a tremendous help organizing it. He really knows what to do," Moynihan said.
Also approaching is the organization's annual Veterans Day ceremony, which is set for Saturday, Nov. 7 at 1 p.m. at Bordentown Cemetery. The event usually features a keynote speaker and the Hometown Hero award, given to a veteran who lives in the township, but this year's event will also include a memorabilia walkthrough and tributes to Harry Havens, Peter Ziegler and Dick Pinter, three veterans and longtime Bordentown residents who passed away last year.

The ceremony is also a good way for residents to learn about the VAC, the members said. Huntanar, a Major in the Army, hadn't heard of the organization until he was presented with the Hometown Hero award last year.

"One thing about this organization is that it's a small group," he said. "There are probably a lot of veterans in the area who don't know anything about this organization. That's a big part of it, just getting the word out there that this organization is here in Bordentown."
To learn more about the Veterans Advisory Committee, visit 
bordentowntownshipvac.com
. For more information about the car show, call (609) 256-1131 or e-mail ninevair@verizon.net.
Today
,
Community
Veterans Advisory Committee
Veterans Memorial Park