Webseries showcases music scene

Oct 01, 2015 08:00AM ● Published by Community News Service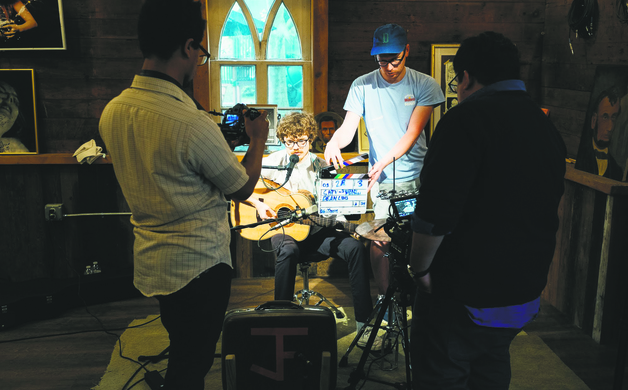 Ricardo Lorenzo, left, and Kevin Lawton, right, direct musical guest Julian Fulton during a recent shoot.
By Grant Hill
An important cultural pillar for any town or city is often its music scene. It is not simply a sampling of the area's current tastes and trends, but rather an underrepresented population's longing to be heard. That is the organic nature of how musical meccas like Nashville and Seattle were built; and at Carriage House TV, its creators have started construction on a new scene right here in Bordentown.

Carriage House TV is a casual web-based music show filmed all over Bordentown. The show, as explained by executive producer Ricardo Lorenzo of Pennsauken, 26, and business developer Kevin Lawton of Bordentown, 27, is a "curator" of sorts for music scenes spanning the state.

The producers recently wrapped up filming for its first season. The first episode, featuring the local act Roy Orbitron, was originally published to their website on May 1, and new episodes are scheduled to be released on the first of every month until the season comes to a close in November.

The show came about organically, as most of Carriage House's producers are in bands themselves. Lorenzo, a video and media producer, and his band, YJY, were filming an audition tape for NPR's music series Tiny Desk Concerts. The band wanted to produce a high quality audio and visual piece to submit. Such material is vital for bands nowadays, but it can be hard to come by due to pricey equipment and production.

So the idea came to Lorenzo and his bandmates to figure out a way to somehow provide local bands from scenes all over New Jersey with such an outlet while simultaneously producing material of their own to use in their careers. Usually, the bands are friends of the producers or are proven favorites around New Jersey. As Lorenzo says, "it helps everyone out in the end."

"Everyone" includes local Bordentown businesses. Every episode typically features two stripped-down songs from the artists of that month, intertwined with interviews at local staples. This season includes episodes filmed at the Open Arts Stage, Bordentown Guitar Rescue, Under the Moon Cafe, the HOB Tavern and Square Peg Round Hole. The community is important to Carriage House—many of the producers grew up in the area.

"We are always trying to get more connected to the community and businesses," Lawton said. "We shoot in Bordentown and we want to keep it in Bordentown. At the heart of the show is the spirit of cross promotion of both the sites and businesses of Bordentown and the talented bands we have on our show."

Lorenzo said they have worked shooting into a "formula." Although the show can contribute its success to this formula, it by no means slips into routine, all due to its talented staff. "Our host Steve Sachs is incredibly in depth and very funny. He definitely contributes to the spontaneity of the show" said Lorenzo.

Sachs can be seen searching the web for bands' tweets and other funny anecdotes in many episodes. One stand-out moment occurred when Sachs asks a member of the band Fond Han to pick out some favorites records of his at the Record Collector in Bordentown City. The interview turned into Sachs and the band riffing off each other for some truly authentic cleverness. "It is Steve's interview style that sets us apart," said Lawton.

The performances also set Carriage House apart, such as in one instance when the team scraped together a fictional quartet of back-up singers dubbed the "Sha-La-La's" in order to accompany Roy Orbitron in this season's premiere. "We still get asked by viewers where they could here more from the Sha-La-La's, which is funny because they don't actually exist" said Lawton.

Filming takes about two hours per episode. "We have gotten into a rhythm with it," Lorenzo said.

At the heart of that rhythm is still the music. The episodes relay the vibes that each act radiates in high definition audio and video. Such quality allows the audience to be fully immersed in the shoot's settings and sounds, while still capturing the intimate essence that sessions provide. Most of the video equipment is provided by Palisades Motion Pictures, an up-and-coming local production company.

"Carriage House is becoming a network," Lawton said. "So many people contribute to the final product. It is a passion project for all of us."

Those people include Dean Luis Chuqui (director/producer), Tim Fitzpatrick (sound engineer), Conor Meara (producer/co-sound engineer), Steve Sachs (host/producer) and Kevin Lawton (business/marketing). "Everyone at Carriage House is focused on high quality," Lorenzo said.

While Carriage House remains a "passion project," the ideal goals for the series is to gain some sponsorships to generate revenue, which they could put right back into producing the show. For now, the show is searching for local sponsorships for food on set. "Anyone who has worked on a film set will tell you that the most important aspect of any set is the food," said Lorenzo. "Food is more important than revenue at this point."

It is the "spirit of cross promotion"-meets-cooperation that has the potential to do a lot for the greater musical good of Bordentown. The series provides exposure to not only bands, but to businesses to people who may not have been aware of the talents of both. The "network" that has become Carriage House connects Bordentown and music with people from all over. While Bordentown may not be an American music Mecca, the team at Carriage House is laying the foundation upon which the talents of New Jersey and Bordentown can build.
Carriage House TV can be viewed at 
chtvseries.org
 and can also be found on Facebook, Twitter and Instagram.
Community
,
Arts+Entertainment
Carriage House TV
Ricardo Lorenzo
Kevin Lawton