Pumpkin picking, hayrides and other activities to kick off fall

Oct 01, 2015 08:05AM ● Published by Samantha Sciarrotta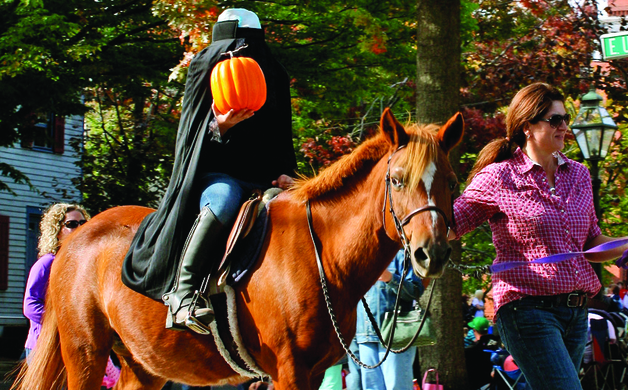 The Headless Horseman rides through a past Bordentown City Halloween Parade.
The autumn season is famous for pumpkin patches, apple picking and haunted hayrides. Whether you're looking for a family-friendly weekend or a night of terror with friends, there are plenty of fall activities to enjoy in our area.

Terhune Orchards is hosting fall family fun weekends Saturdays and Sundays through Oct. 18. The farm, at 330 Cold Soil Road in Lawrence, will be transformed into a fall festival, complete with corn and hay bale mazes, a barnyard filled with farm animals and pony and wagon rides. Children can enjoy face and pumpkin painting, and everyone is welcome to pick their own apples and pumpkins. Local bands will perform live music, and fall foods — including apple cider donuts, soup, pies and more — will be available. For more information, call (609) 924-2310.

For even more family farm fun, head over to Howell Farm (7 Valley Road, Lambertville) for an aMAZing Pumpkin Carve. From Friday, Oct. 9 to Sunday, Oct. 11 families can visit the farm for a four-acre corn maze and pumpkin carving station. There will be pumpking carving demonstrations, prizes for the most distinctive creations and surprises for the kids. Outside the corn maze, visitors can walk through a labyrinth outdoor gallery of colorful organic sculptures. For more information, email hvartscouncil@gmail.com.

The Corner-Copia Farm Market and Garden Center is adding a twist to their corn maze this year. The 10-acre maze, located at 299 Princeton-Hightstown Road in East Windsor, will be open Saturdays and Sundays until Nov. 3. As children walk through the maze, they have to figure out "the mystery of the missing farmer." There will be 12 checkpoints in the maze, each revealing another element of the "crime" for kids to investigate. At the end of the maze, the children get to reveal the mystery. For more information call (609) 426-8884.

At night, Corner-Copia turns into Corner of Chaos: Scream Acres. Open Fridays and Saturdays from 7 - 11 p.m. and Sunday evenings from 7 - 10 p.m. until Nov. 2, Corner of Chaos features four haunted attractions—including walk-through mazes and a wagon ride—live music and refreshments. For more information, call (609) 443-6666.

The Fernbrook Farms Environmental Education Center (142 Bordentown-Georgetown Road, Chesterfield) is hosting a not-so-scary Halloween event Friday, Oct. 23 to Oct. 26 from 5:30 to 8:30 p.m. Visitors can enjoy Halloween-themed games, a scavenger hunt in a meadow maze and a wagon ride. Everyone can then stop at the bonfire and roast marshmallows before heading home. Both kids and adults are encouraged to wear costumes, so long as they don't have masks. Admission is $16 for adults, $12 for kids and free for children 2 and under. For more information, call (609) 298-4028.

Hamilton-based Odd Act Theater Group will be performing murder mystery theater shows Friday Oct. 23 and Saturday, Oct. 24 at 7 p.m. Audience members get to choose which clues the detective follows to solve the mystery. The theater is located at 2103 Whitehorse-Mercerville Road in Hamilton, and tickets are $35. For more information call (609) 577-1384.
Bordentown Township's sixth annual free haunted hayride is set for Oct. 23 at Joseph Lawrence Park, 317 Ward Ave. The rides run from 6-10 p.m. The event is for all ages, but younger kids are encouraged to attend while it's light outside. In addition to the hayride, the event also features vendors, food, face painting, games and more.

Bordentown is also hosting its 45th annual halloween parade on Oct. 25 at 2 p.m. The parade starts at Farnsworth Avenue, Bordentown City. For more information, visit bordentownhalloween.com.

During every Saturday and Sunday in October K and S Farm (831 Windsor-Perrineville Rd., East Windsor) hosts Sunshine Acres, a family-friendly fall attraction. There are activities for small children, including pumpkin picking, a corn maze and free hayrides. However, once the sun sets the farm turns into the Field of Terror, featuring four different haunted rides and mazes. There is also a DJ, dancing a bonfire and concessions. The Field of Terror is also open on Fridays.

The Windsor Farm and Market, (1202 Windsor Road, Robbinsville) is hosting child-friendly hayrides to a pumpkin patch from 10 a.m. to 4 p.m. every Saturday and Sunday in October. Their haunted hayrides are held from 7 to 10 p.m. every Friday and Sunday in October.
Shadybrook Farm is hosting a daily PumpkinFest starting Oct. 2 until Oct. 31. The PumpkinFest opens at 11 a.m. and features hayrides, and pumpkin and apple picking. They are also holding a HorrorFest complete with four different haunted attractions: the Hayride of Horror, Barn of Horror, Alien 3-D Encounter and Carnage. The HorrorFest is open Fridays through Sundays in October until Oct. 30. The farm is located at 931 Stony Hill Road in Yardley, Pennsylvania. For more information, call (215) 968-1670.
Today
,
Community
,
Arts+Entertainment
Harvest
Autumn