Students to collect cans for kids

Oct 01, 2015 08:04AM ● Published by Samantha Sciarrotta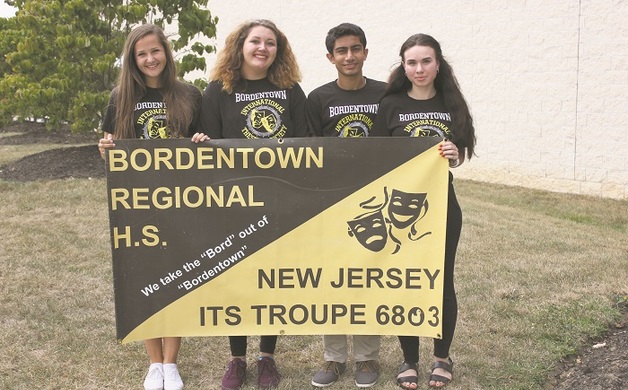 International Thespian Society members Cynthia Reynolds, Jenna Hartman, Saad Butt and Mary Liz White organized this year's Trick or Treat So Kids Can Eat fundraiser. (Staff photo by Samantha Sciarrotta.)
By Samantha Sciarrotta

The Bordentown Regional High School International Thespian Society Local Troupe 6803 has collected over 12,000 pounds of food over the last five years.

And the club has done it in just about five total nights.

Members of the troupe go trick-or-treating each Halloween, but the treats they ask for are not candy. They're requesting canned goods, boxes of pasta and other non-perishables as part of the annual Trick or Treat So Kids Can Eat food drive, a nationwide fundraiser sponsored by the ITS through the Educational Theater Association. Bordentown's troupe is one of over 300 in 41 states that participate. Last year alone, all the troupes combined to raised over 421,000 pounds of food.

"It's so rewarding," said troupe president Cynthia Reynolds. "You walk around town all night and you feel like, 'Oh my gosh, I'm not collecting a bunch.' And then you look in the back of your car, and it's full. You drive over to drop it off [to the club's donation hub], and you see it's even more full. It's really so much food."

The troupe starts planning the event at the start of the school year, and members decide which areas of Bordentown they will tackle. The troupe also participates in the city's Halloween Parade each year, so members also meet to discuss what their float's theme should be and what kind of costumes they will wear. The week of Halloween, the troupe distributes fliers and advertises on social media to get the word out.

Troupe members, as well as theater club and National Honors Society members, split into teams and are assigned to walk around different parts of the township and city—in costume, naturally—from 6 p.m. to 9 p.m. They ask for food like canned goods, pasta, rice, stuffing, instant potatoes, sauces, cake mix, soup and more.

Then, each team drops off its collections to a designated home to keep it all together. ITS sends a truck by the next day to collect the food and deliver it to local food pantries. This year, donations will go to Burlington Community and Emergency Services. The troupe set a goal of 4,500 pounds of food, its highest ever.

"The streets that have the most houses are where we know we're going to get the most donations," Reynolds said. "Obviously, some areas are larger, so it takes longer. We try to cover a large area of Bordentown."

Though the bulk of the group's donations come on Halloween night, they will also set up drop boxes throughout the township and city starting Oct. 1. All Bordentown Regional School District schools will have boxes, as well as Farnsworth Avenue businesses Miss Daisy's Flowers and Gifts, Shoppe 202, Rebecca's Vintage Boutique and Consignments and Sonya Salon and Spa. David Luck of The Storage Depot donated the boxes.

There will also be a drop box near the corner of Second Street and Thompson Street, and members will be collecting donations at the parade on Oct. 25.

"The cool thing is that it's all within your community," said member Mary Liz White. "You're walking around your town. It's going to people in the town. You're working with local businesses. It's fostering a sense of community."

Reynolds agreed. The fundraiser, she said, would not be possible without the support of Bordentown residents and businesses.

"The sense of community is there, especially this year with all the businesses that are helping, allowing us to set up outside their stores, donating boxes for us," she said. "I really feel like it gets the whole community involved. It's a great experience, especially when you hear that sum total."
Food+Dining
,
Today
,
Community
,
Schools
Trick or Treat So Kids Can Eat
ITS