Salon still stylish after 28 years

Oct 01, 2015 08:09AM ● Published by Community News Service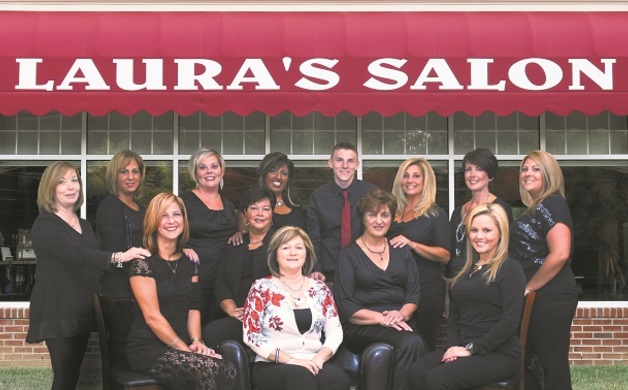 The Laura's Salon staff. Seated, left to right: Victoria Giaquinto, Bonnie Fitzwater, Laura Heupel, Gloria Knight and Virginia Lee. Standing, left to right: Dorothy Vickers, Kimberly Lockett, Melissa La Cour, Laura Mendoza, Tyler Heupel, Stephanie Dos Santos, Donna Ricardi and Jillian Volpe.
By Jacquelyn Pillsbury

Laura Heupel, owner of Laura's Salon on Route 130 in Florence, raves about the love and support of her family, the other hair dressers, and their customers for making her salon a success for nearly three decades. "We started out in Columbus nearly 28 years ago, and moved to Florence almost eight years ago. This is a group effort. We have staff members who have been with us for ten years or more," Heupel said.

Staff members which include her mother, Gloria Knight, her husband, Jim Heupel, and their son, Tyler. Laura's Salon is a family-run business both genetically and in spirit. "The girls are a big part of our business. We are kind here. It is all about our customers. Florence, the community, everyone helps one another," Heupel said.

The business plays a part in that, too. Throughout the month of October, Laura's Salon will be raising money to help two local families dealing with cancer. Heupel said, "you do what you do to do what is right."

In the past, the salon has raised $1,000 for cancer research through hair extension in different colors, like teal for ovarian cancer and pink for breast cancer.

Laura's Salon has nine hair stylists, including Heupel. Her mother and Boni Fitzwater greet customers as they enter the salon. They are both original employees. Donna Ricardi, Vicky Giquinto, Virginia Lee, Melissa LaCour, Stephanie Dos Santos, Lisa Vrettos, Jillian Volpee and Laura Mendoza round out the stylists. "They are awesome, good people," Heupel said.

With 19-year old Tyler now helping out with the business end, a third generation enters the family business. Tyler attends Rider University where he is earning his degree in business. Heupel and her husband, Jim, also have a daughter, who is in nursing school.

Heupel and her staff attend classes at least twice a year to keep on top of the latest trends in hair styling, coloring, foil highlights and blow drying. "We stick to the basics. We are really good about hair," she said.

Heupel and her staff also really enjoy helping women look beautiful on their special days.
"Proms and weddings are huge," she said. "We have unique wedding packages. We set up orange juice, bagels and cheese and crackers, and people bring in champagne." They host a celebration while everyone in the bridal party is attended to. The salon also offers a make-up service.

Heupel and her husband married 30 years ago. Upon graduating from Burlington County Vocational School, she worked in a salon in Princeton for four years. "I knew I wanted to be someplace where I could learn," she said. Her father, who owned his own electrical business, and Jim, who owned his own construction business, inspired her to open her own business.

When they moved from Columbus to their current location eight years ago, Heupel said "we had the chance to do it all over again."

The current location features "high-end care for the family." The salon has a café where customers can relax with their laptops. "When you redo a business, you get to see what you want to change," Heupel said. She also wanted to create a comfortable scene. The new location features ample parking and easy access.

Many of her customers followed her to Florence, and more new ones have found her. "We have more than doubled our staff since we move. The place has a whole different feel," Heupel said. "It was a big decision to move, but it was a good move."
Laura's Salon, 2144 Route 130 North, Suite 6, Bordentown. Phone: (609) 499-5999. E-mail: lauras_salon@yahoo.com. On the web: 
laurassalon.com
Business
Laura's Salon