Irons takes center stage for BRHS field hockey squad

Oct 01, 2015 08:13AM ● Published by Samantha Sciarrotta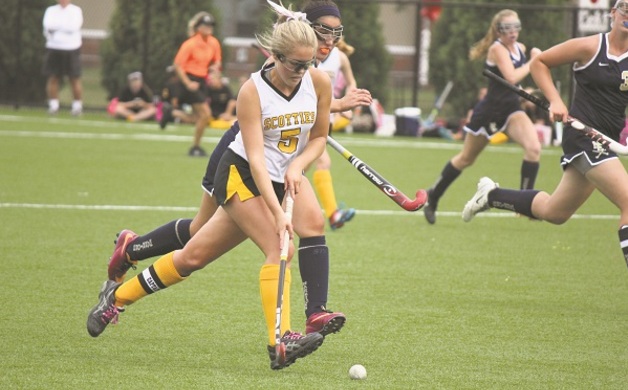 Morgan Irons beats out a New Egypt player during a 4-3 home win on Friday, Sept. 11. (Photo by Samantha Sciarrotta.)
By Samantha Sciarrotta
The longer Morgan Irons has been with the Bordentown Regional High School field hockey team, the further she has moved up the field.

The senior started out with the Scotties as a defender, moved up to assist goal-scoring powerhouses Jess Carey and Cait Nitschmann and will finish out her career as the squad's center striker.

"Morgan is now our primary striker on corners, and she can also create attacking opportunities by virtue of her 1v1 skills and passing abilities," Bordentown head coach Julie Riesig said. "She's adapting fine, because she's always had poise and doesn't get ruffled under pressure."

Though she only recently moved into a spotlight position on the field, college recruiters noticed her long before that. She recently committed to the Unviersity of Massachussetts-Lowell after very nearly deciding on La Salle University.

Deciding prior to the start of her senior season has been a relief, said Irons. It has also changed her perspective on the pitch.

"I am not going to really worry about myself as much," she said. "I think it's a team effort. We lost 12 seniors, so we have a lot of potential. I don't think our team knows that yet. Myself, I just want to make the girls better because I know I have experience, and they look at me to teach them. That's really what I'm doing this year, not for myself, but for the team."

But Riesig would argue that Irons has always had that mentality.

"She is just a very smart player, so [the younger girls] are learning that certain things work better when they do them with a bit of forethought and communication," she said. "She is really patient and never loses her cool. That's a good example for the younger girls. She is always positive, too."

Irons decided on UMass-Lowell after a last-minute visit to the school. She was ready to commit to La Salle, but, the week she was going to announce it, but UMass head coach Shannon Hlebichuk reached out and invited her up to the school.

She wasn't sure if she wanted to go because she was so set on La Salle, but after talking with her mother, Jill Shipley, a former field hockey and lacrosse champion at The College of New Jersey, Irons headed north. And she didn't regret the decision.

"I fell in love with UMass," she said. "I made my decision that week."

Irons said she liked the school's distance from home and its proximity to Boston. She also preferred UMass's "town-like" atmosphere and larger campus.

The school is constantly growing, she said, and that's the case for the field hockey program, too. The school moved up to Division I athletics in 2013, which has led to a larger team and more skilled recruiting classes. The idea of playing for a budding DI squad was important to her decision.

"I didn't want to sit the bench at a powerhouse school," she said. "I wanted to play and make the team better. DI is going to be really, really hard. I've already got a workout back, and I'm scared to death to look at it, but I'm really excited. I want to be pushed harder than I've ever been pushed before. I want to be known as someone who is doing something for the school, not just the field hockey program. I want to make my mark."

Before she does that, Irons has a season with the Scotties left to finish. The girls went 13-8 en route to a NJSIAA Section 2, Group 1 semifinal berth last year, and started this season 2-1 after graduating a dozen seniors. She hopes to break some school records, like goals scored in a season.

It's a young team, but Irons views that as a positive and recognizes that she has an important role to fill.

"Specifially during the drills, they look at how fast I'm getting my shot off or at different moves, like beating a defender one-on-one, or reverse chips," she said. "They also look at me for passing because I can see the field. I definitely see it rubbing off on them. They're looking where they pass the ball, just little things like that. It's really important."

That's not to say she doesn't miss Carey, a 2014 graduate, and Nitschmann, who graduated last year. Both currently play for the Rutgers field hockey team and are close with Irons. She and Nitschmann have "never done anything field hockey related without each other" before this season and spend time together whenever she comes back to Bordentown.

"Playing on this team without [Nitschmann] breaks my heart," Irons said.

It helped to have someone on her side who had recently gone through the college recruitment process, though.

"I think knowing what she went through gave me a head start," irons said. "I know a lot of my friends don't really know what to do yet, but she definitely gave me a head start. I would introduce myself to coaches and just get them to look at me while I was playing."

It's that self-starter trait that makes Irons a positive leader in a year that could be filled with uncertainties. Riesig said she hopes to see the team advance to the sectional final, as well as capture a Patriot Division title for the first time. Irons agreed.

"I would like to see how far we can go," she said. "We're a really close team, and we love each other. That's definitely going to help us a lot more. We weren't as close last year. I tell them all the time that we can get really far, father than last year, even. I think they kind of doubt themselves sometimes because we're a much younger team. I have confidence in our team. I really want to win."
Sports
,
Today
,
Community
,
Schools
Morgan Irons
Field hockey
Umass Lowell
Julie Riesig