Luyber finds stability in first year at QB for Scotties

Oct 01, 2015 08:09AM ● Published by Community News Service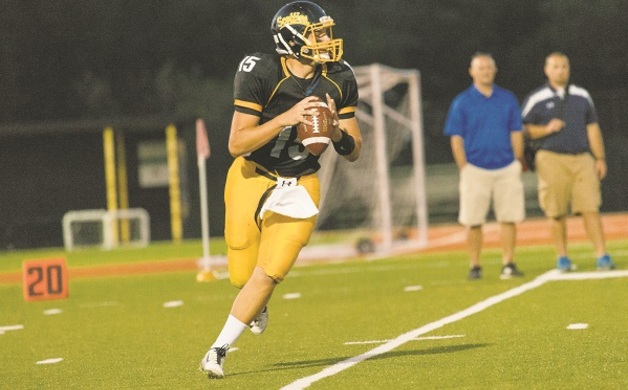 Mitch Luyber looks for an open receiver during a 48-21 home loss to Highland on Sept. 18, 2015. (Photo by Suzette J. Lucas.)
By Jashvina Shah

Mitch Luyber has played quarterback on the football field ever since he was allowed to pick a position. The Bordentown Regional High School senior now starts for the Scotties.

But Luyber's journey to becoming the team's starting quarterback took a detour. After playing the position for the school's junior varsity squad during his freshman and sophomore seasons, Luyber was called on to fill in Bordentown's offensive line and played center in his junior year.

"We had four really good offensive, senior linemen coming back and they were all pretty good friends with Mitch," head coach Stephen Perry said. "They all came to work out together in the spring and during that time we were saying we just need one more guy, one more player to set it off."

Luyber wanted to keep playing quarterback, but he also understood the team's needs.

"At first he was hesitant but I think he saw it as an opportunity to get on the field, be a starter and to help out a really good offense and a really good team," Perry said.

To adjust to center, Luyber learned how to snap the ball and blocking assignments.

"I had a rough idea of who blocked what and what was going on in a run play," Luyber said. "The hardest part was definitely understanding how you can call a play and practice it a thousand times, but when it comes to game time, that defense might be in a completely different formation, and you have to change the whole blocking scheme on the fly."

But Luyber fit in with the offensive line, and the four seniors around him helped the transition.

"He's a smart kid," Perry said. "He's athletic. He was able to pick that up. With all the switches, all the transitions, last year he ended up being a second team all-week linesman, so he really did a good job."

During last season, a 7-3 campaign, Bordentown took the field against Cinnaminson in the middle of the season. Bordentown's starting quarterback, Austin Pinkerton, tore his ACL during the game, leaving Bordentown with an immediate hole to fill. Instead of picking another player.

Perry called on Luyber.

"To be honest I didn't expect that whatsoever," Luyber said. "I didn't know what the were going to do. I thought they were going to put a JV kid in there. But after I heard the coach on the sideline yell, 'Mitch get in here,' I can honestly tell you I felt my stomach turn a little bit."

Perry swapped Luyber's No. 75 for a lower jersey number and put him into the game.

"There were definitely nerves. It was kind of close, and I didn't want to be the reason the game ended up falling apart," Luyber said.

Luyber adjusted to the situation, but Bordentown lost the game.

He didn't let the loss weigh on him, though.

"Mitch is very laid back. Things roll off his back pretty easily and so it wasn't a big deal," Perry said. "He's able to make adjustments. Him switching to quarterback in the middle of the game, he hadn't taken ay reps at quarterback in the weeks prior and he just picked it up and he just kind of rolled along with the punches. It him a good player and a good person."

Luyber started at quarterback for the next two contests, helping Bordentown to a couple of victories.

Though the squad missed Pinkerton, Luyber said he and his teammates tried to stay positive about the situation.

"When Austin went down last year, it was definitely like none of us on the team were willing to be down about it," Luyber said.

While Luyber acted as a stable substitute quarterback, Bordentown still needed a strong offensive line. So when Bordentown played Holy Cross, a team known for its potent offensive and defensive lines, Perry knew the switch needed to be made.

With a talented running back in Jahmiere Van Kline, who graduated last year, Perry only needed a quarterback who could hand the ball off. The offensive line was again a priority, and Luyber was called back to center.

"We felt like that actually gave us a better chance of winning that game than it would have having Mitch at quarterback and someone else at center," Perry said. "We knew [Luyber] was a really good center and we knew he would do a great job against a really tough defensive line."

While Luyber wanted to stay at quarterback, he again understood the situation. And in the offseason, Perry told Luyber he would be in the running for starting quarterback the following season.

"He really worked hard," Perry said. "He was in the weight room and then he worked hard on this throwing mechanics and everything. Coming into camp this year he was ready to vie for our starting quarterback job and that's where he is now."

Luyber also spent his offseason prepping for the position with a trainer and running patterns. The offseason regimen helped Luyber transition back to his lifelong position. In his first senior start, a 40-20 loss to Pemberton, Luyber completed eight passes for 71 yards.

"He does a really good job with the mental aspect of the game," Perry said. "He's a good athlete. I think he could still improve his throwing mechanics a little bit more. He makes good decisions, he doesn't put the ball up for grabs."

But that's just Luyber being Luyber,  Perry added.

"Freshman and sophomore year he was a jack of all trades willing to do anything to get on the field," he said. "Now he really took the reigns of being a quarterback and being on of the leaders of our team and pushing the younger guys and just working his butt off to make himself better."
Sports
,
Community
,
Schools
Mitch Luyber