Made with love (and frosting)

Nov 02, 2015 07:11AM ● Published by Community News Service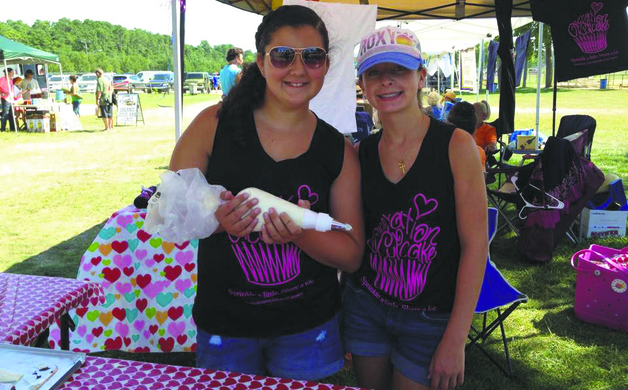 Emma Bowers and Nina Burben started Operation Cupcake baking for displaced shore town residents after Hurricane Sandy hit.
By Lisa Zola-DeLibero

Over 45,000 cupcakes. Over 45,000 smiles. This is what keeps bakers Emma Bowers and Nina Burden busy in the kitchen.
Right after Hurricane Sandy hit the area three years ago, the two girls, who were both 5th grade students at St. Mary's Catholic School in Bordentown at the time, knew they wanted to do something for all of the displaced people and the men and women helping with the storm cleanup. "I really love to help people, and so does Nina," said Bowers, who is now in 8th grade at St. Gregory the Great Catholic School in Hamilton. "She and I had a little thing we were doing called Two Girls and Their Cupcakes, and since we love to bake so much, we thought we could help out after Sandy."
The pair went to a local Red Cross shelter and donated 400 cupcakes to shore town residents who were forced to evacuate away from the coast.
"People would say that they couldn't believe we were running around in the rain helping out, and that we were so young," Bowers said. "This made us feel like we were really making a difference. As we were walking out of the shelter, we said that this is like operation cupcakes, and this is how we got our name."
The girls started baking on a daily basis with ingredients that were donated from friends and family. They also purchased some ingredients with donated money, and even used some out-of-pocket cash.
"We watch a lot of shows on the food channels like Cupcake Wars, and since we like the show a lot, we knew this would be something we would enjoy doing with the idea in mind that it would be helping lots of people," said Burden, who is now an 8th grader at Our Lady of Sorrow Catholic School in Hamilton. "When Emma and I saw the happy look on the victims' faces after they had our cupcakes, we knew that we could bring joy to them at a difficult time."
After their first donation to the Red Cross shelter, the girls started baking cupcakes for the National Guard, and all of the volunteers working on the barrier islands, cleaning up the devastated area. Burden's mother is a teacher, and the father of one of her students is in the National Guard. That gave them the idea to bake for those invovled in the cleanup effort, as well.
They even received a police escort to Point Pleasant after after baking for policemen and women, firefighters and utility workers.
With the help of their parents, Bryan and Nancy Bowers, and Rose Mary and David Burben, the girls were able to bake and deliver thousands of cupcakes to people in need of a pick-me-up. "Our parents help so much by taking cupcake orders, managing our Facebook account, and they help us to deliver the cupcakes by driving us to where we need to go," said Burden. "My brothers [Conor and David] and Emma's sisters [Addison and Laura] even help us with putting on the sprinkles."
Since the beginning of Operation Cupcake, the girls have branched out, helping many other organizations in need. They have established a presence at local blood drives, festivals, fundraisers and more.
"We started getting involved with the local churches, food pantries, fundraisers, hospitals, and even doing raffles to donate baking goods for cancer patients," Bowers said. "We wanted our cupcakes to do as much good for others as they can do. "
The girls also enjoy being a part of fun events. This past summer, they were invited to participate in the making of a world record food drive. They also bake cupcakes for friends' birthday parties, and have participated at the Soulsational Festival at Veterans Park in Bayville. All of these events have given the girls an opportunity to add more fun to the day, while getting their name, and their purpose, out there to people in the community.
They started their website, operationcupcakenj.com, in the middle of the first year of their baking, and it has helped them to get the word out there, and let others know that they are on a mission to make a difference. "I think that by baking these cupcakes, it shows people that something so simple can make such a big difference," said Burden. "It is best to keep things simple, and as we know it is the simple things that really count."
The girls are going to continue to be a strong presence in the community and throughout the state of New Jersey. They plan to continue baking lots mor cupcakes, and putting smiles on a lot more faces. As far as their favorites to eat? They both said that the vanilla are the ones they bake the most, but they both like the chocolate cupcakes, especially with strawberry confetti. And like their website says…Sprinkle a little. Share a lot.
Today
,
Community
Operation Cupcake