Performance Spine and Sports Medicine happy to heal

Nov 02, 2015 07:44AM ● Published by Samantha Sciarrotta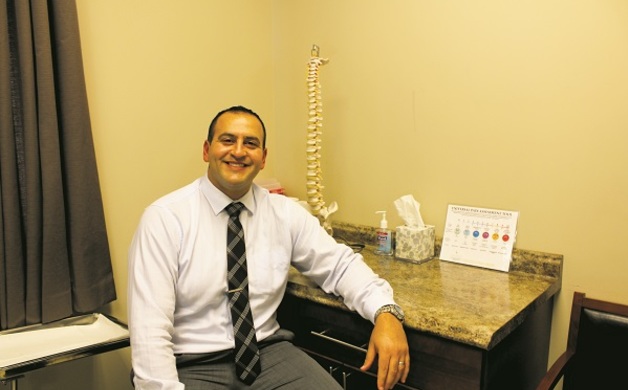 By Samantha Sciarrotta

Rehabilitation after an injury or musculoskeletal ailment is sometimes synonymous with surgery, long recoveries and running back and forth between appointments with different doctors and specialists.

Performance Spine and Sports Medicine aims to eliminate that stigma.

Healing injuries and correcting ailments without surgery is the practice's top priority—97 percent of its patients avoid surgery, said practice manager Carrie Dudley. The treatment team at PSSM instead uses a range of traditional and cutting-edge treatments such as orthopedic care, physical therapy, chiropractic care, pain management, and acupuncture, while guiding them every step of the way.

"I think what always strikes me the most is when a patient says, 'I've been to so many places, and I've never had an experience like this,'" said Dr. Michael Rizkalla, the physician at the Bordentown location. "At first, I thought, 'It must be that one patient.' Then you hear it time and time again, and it just kind of reiterates the good job they do on the rehab team, all around, the whole practice."

PSSM, which opened its doors in Bordentown in January of last year, is located in the Team 85 Fitness and Wellness Campus on Kevin Johnson Boulevard. It is equipped with a two-floor, 16,000-square-foot space that includes medical evaulation offices, an extensive phsyical therapy space, a return-to-play turf area for rehabilitating athletes, chiropractic tables and acupuncture. Medical evaluations take place on the top second floor, while physical therapy and rehabilitation services are located on the ground level.

Dr. Rizkalla said back and neck injuries and pains are the practice's "bread and butter," but knee, shoulder, hip, foot and ankle ailments are also common. Anybody with any type of musculoskeletal complaint, from sports injuries to arthritis, is welcome, and the practice treats all ages.

This "under one roof" approach enables the doctors and therapists at PSSM to practice their integrated rehabilitation model, starting with a medical evaluation by Dr. Rizkalla. He has been with PSSM since 2011, when he trained at the Lawrenceville location for his fellowship in interventional spine and pain management. He has been practicing with PSSM since 2012 and is board certified in physical medicine and rehabilitation, and sports medicine. He is also licensed for certified medical acupuncture. 

Rizkalla attended Rutgers University and the Ross University School of Medicine. After an internship at Morristown Memorial Hospital, he did his residency at the Harvard Medical School Spaulding Rehabilitation Hospital.

Following the initial examination, patients are prescribed any combination of physical therapy, chiropractic services, acupuncture or injections, all in correlation with what they may need. Dudley added that patients can see multiple specialists and providers in a single visit, so if you needed chiropractic care and an injection, you could get it done all in one day.

All injections are made with ultrasound or fluoroscopic guidance, the former of which Dr. Rizkalla said is a relatively recent development in the physical medicine and rehabilitation world—it's only taken off within the last five or 10 years. Viscosupplementation, a treatment that can help with arthritis, is an example of a treatment that has benefitted from the boom, he added.

"Traditionally, we used to just have to do it blind," he said. "Now, we can actually visualize in the joint and inject a contrast medication to know exactly where our medication is going. There have been studies that show even in trained or skilled hands, you could miss up to 30 percent of the time. It's nice to have the visualization as a proof that you're in the joint. I think our patients with arthritis have benefitted tremendously from that."

An even more technologically advanced treatment is using platelet rich plasma, better known as PRP, which uses the patient's own blood to help heal a tendon or ligament. PSSM also has the capability to perform stem cell treatments in the form of bone marrow aspirations, which harvests the body's own cells to promote healing in a tendon or ligament.

Spinal cord stimulation is another treatment that patients might not be able to find elsewhere. A device is implanted into the back to trick the brain into feeling a pleasant nerve stimulus, as opposed to pain, wih the push of a button on a remote. Those suffering from chronic foot pain or sciatica pain are among the patients who benefit from the treatment.

On the physical therapy end of the spectrum, PSSM is equipped with a deep tissue laser, a vibration plate and an OptoGait assessment, which analyzes the way patients walk and run, from examining the biomechanics to determining how much power output is in the foot.

"We offer such a variety of treatment options," Dr. Rizkalla said. "We're never left in that situation where I have noting I can offer you. There's always something we can do. Because we have this integrated practice, the patient outcomes are absolutely phenomenal. It's quick, it's painless, they're in and they're out and they get such vast improvement from that."

Unique to this location—PSSM has two other offices in Newtown, Pennsylvania and Lawrenceville—is the opportunity for aftercare. At Team 85, the office is now able to incorporate an outpatient facility, like a gym, directly into patient plans because everything is all on the same campus.

"It's going to have personal trainers, sport-specific training," Dr. Rizkalla said. "It works really synergystically with what we do. It's pretty awesome because when we're doing running evaluations or a sport-specific evaluation, whether it's a golfer's swing or a hockey player, we can incorporate that. You'll go from injury to non-injury, to feeling pretty good, to the next level of performance and optimizing your abilities to really prevent further injury."

And prevention, Dr. Rizkalla added, is also key to what PSSM does. 

While prevention of all injuries is impossible, he said the staff is able to indentify deficiencies and weaknesses that might make an individual more prone to a catastrophic injury, like an ACL tear.

That approach is part of what allows so many PSSM patients to avoid surgery.

"We want to be a presence in the community, not just an office that some people have heard of," Dr. Rizkalla said. "When you're picking a physician or a place to find healthcare, you're always nerve-wracked because you don't know what sort of person you're going to get. I think the quality of all the providers, across the board in all of our offices, is just really, really phenomenal. The type of quality you would expect when you go to a big city is right here in your backyard."
Performance Spine and Sports Medicine, 9500 K. Johnson Blvd., Bordentown. Phone: (609) 817-0050. On the web: 
pssmwellness.com
. Hours: Monday-Thursday, 8 a.m. to 7 p.m.; Friday, 7 a.m. to 6 p.m. Referrals are not required, and the office accepts most insurances. Additionally, PSSM charges a small patient fee in lieu of a co-pay.
Business
,
Community
Performance Spine and Sports Medicine