After 350 wins, Castaldo reflects on 32-year career

Nov 02, 2015 07:52AM ● Published by Community News Service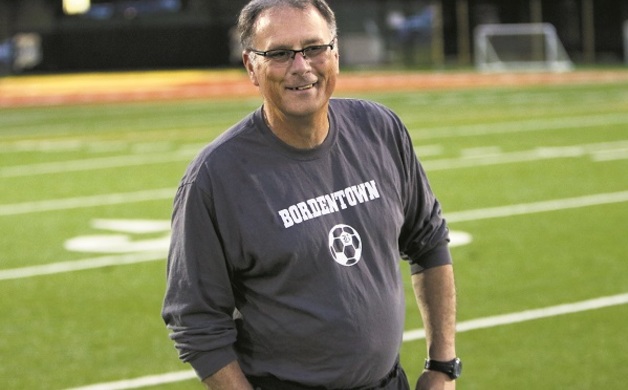 Dominick Castaldo smiles before a game against Westampton on Oct. 13, 2015. (Photo by Martin Griff.)
By Rich Fisher

Don Lenox is someone the Bordentown Regional High School girls' soccer program should be very thankful for.

At the start of the 1980s, a young soccer player returned to Hamilton Township after three years at Hofstra University. He had experienced some success as a player at Steinert High School, playing for the Group IV co-champion team in 1975.

After coming home from Long Island, he knocked around for a bit until Lenox put him to work at the now-defunct King's Fairgrounds Mall Indoor Soccer Center in Hamilton. He would run things at night when the full-timers were home with their families, and Lenox saw enough in the youngster to prod him into coaching.

He began working with some Jersey State Select teams for both boys and girls. Lenox liked what he saw and in 1983 the Scotties girls' job came open. A Bordentown school board member and Lenox both encouraged the raw recruit to apply.

Dominick Castaldo did just that and, 32 years later, he's still winning games, reaching milestones and setting records with the Scotties.

On Sept. 15, Bordentown took a 7-1 victory over Maple Shade to make Castaldo one of just three coaches in South Jersey history to reach 350 career victories. The other two are Lee Troutman, who's now retired, and Jamie McGroarty, who is waging an ongoing battle with
Castaldo for most career wins among South Jersey girls' soccer coaches.

The difference is, Troutman was at two schools—Cherry Hill East and Haddon Heights, while McGroarty is now at Eastern after coaching at Delsea. All of Castaldo's 357 victories (as of Oct. 15) have been at Bordentown, making him by far the all-time SJ leader in wins at one school.

"If you stay doing something long enough," Castaldo said with a laugh, "you hit milestones by default."

And milestones are the least of Castaldo's worries. They are by-products of trying to develop good citizens to make his life simpler when he's collecting social security.

"The game is one thing, but we have to prepare these girls so they become good young adults and women," he said. "I tell them, 'One day, I'm going to be sitting on a porch with a blanket covering me, drooling, old and decrepit, and you guys will be running the country and I want it to be in good hands because I want a nice house to walk into.'"

That has been Castaldo's philosophy for over three decades. He doesn't care if you're the last girl off the bench or a superstar like current Monmouth player and Bordentown grad Alexis McTamney. Everyone will be treated the same, with the idea that they progress as players and people.

Castaldo has had few assistants, and just got his first varsity assistant this year in Michelle Quigley. But he has had a steady right-hand man for 23 years in JV coach Chris O'Leary and has also struck up a friendship with long-time Scotties' boys coach Mike Brennan.

"Dom gets it," Brennan said. "Coach Castaldo figured out a long time ago that it's about providing an opportunity for high school girls to come out and have a great time, while playing some good soccer and figuring out what kind of person you want to be."

O'Leary agreed, adding that Castaldo's priorities for his players are well-balanced.

"The theme for our program is always that family is first, then school, and then soccer," he said. "And that's our goal, to make our players into women who are ready for college and the world beyond. We have an amazing collection of alumni who are successful in so many ways in life, and I think that is the kind of thing that Dom takes the most pride in."

Indeed he does. Ask Castaldo his proudest moment and he won't say it's the Scotties six league titles, or five state sectional championships, or four trips to the state finals. There is not just one "moment" of pride for him, because he is proudest of the countless relationships he has forged with players. He is actually coaching daughters of girls he coached with the same zeal he had in the '80s.

Castaldo grew up when soccer was king in Hamilton and Mercer County was one of America's biggest hot spots. He played with the late Brian "Maynard" Welsh, the long-time West Windsor-Plainsboro South coach, and Joe Fink, the current Trenton High assistant. He tapped them for knowledge as a player and even later when they were all coaches.

Unfortunately for Castaldo, Steinert's 1-1 tie with Kearny in the state final his junior year was a sort of precursor of things to come.

"I've lost four state finals as a coach and tied one as a player," he said. "I'm 0-4-1 in state finals."

Just getting to four is more than most coaches have done, though, and Castaldo can (but won't) take credit for that. Despite worrying about his players' character first and foremost, he also knows the game of soccer.

"His ability to analyze a game is second to none," Brennan said. "His education in the sport has never stopped. He still loves to watch the game, go to conventions and talk about tactics with others. A lot of coaches decide that if a certain formation worked great in 1978, it will work great now, end of story. Not Dom. He evolves with the game every year."

O'Leary refers to Castaldo as "The International Man of Mystery, because he always knows what he wants and I have to play catch-up. He has one of the best soccer minds I have ever encountered."

Castaldo credits Fink, Welsh and many others for honing his soccer IQ. But what makes him most unique is that this man—whose peers rave about his knowledge—is always the first to listen to the ideas of others.

"Dom is anything but an egomaniac," O'Leary said. "With me and Quigs (Quigley) there is a near constant give and take. Dom has always listened to what we have to say, and if it fits what he wants, he'll use it. He seeks input not only from us, but from his players. He wants to cultivate their knowledge, but also have the girls take ownership of the program."

The coach's reasoning is that the more opinions he gets, the better the decisions will be.

"I want them to understand it's their team," said Castaldo, whose penchant for teaching and caring is interesting considering he is not a teacher.

Castaldo's full-time job for the past 20 years has been in Research & Development for a pharmaceutical company. He spends time at their facilities in Philadelphia and Cranbury, making for some hectic moments in the fall. The fact he is not at the school makes it tough to keep tabs on his girls, but with O'Leary and the addition of Quigley, he has eyes and ears in the building.

Another Castaldo trait is that he won't cater to superstars on a different level than any other player. McTamney is the greatest to come out of Bordentown but, like Castaldo, never thought that way about herself. Not that her coach would have let her.

Castaldo knew of Alexis at a young age, as she played with his step-daughter Rachel Rivera (a former Steinert player) since they were 11.

"Alexis was a blast, but she was no different than anyone else," he said. "I never allowed her—and not that she ever would—get a big head. There's games I would bench her because I didn't like the way she was playing. Here you have one of the premiere high school players in the state and she might have scored three goals, but I don't like what you're doing, you come and sit down. These are lessons you have to learn, and she took that the right way."

With Castaldo's track record, it might not be smart to take his methods the wrong way. Not too many girls have. Some coaches win and don't care what their players think of them as long as they produce on the field. Dom looks at coaching as a way to cultivate friendships.

"I don't have to teach them about wins and losses, kids know how to win, they know what it means, you don't have to go there," he said. "The best feeling in the world to me is someone coming back, they have no ties to the program anymore, but they come back because of the experience that they had here."

As long as they keep coming back, so will Castaldo. He evaluates himself at the end of each year and asks himself if he still has something to give his players about the game and about life.

"So far, the answer is always yes," he said. "And as long as it's yes, I'll keep coming back."
Which is good news for the Bordentown program.
"I hope," Brennan said, "that our girls realize what an amazing gift we have in Coach Castaldo."
Sports
,
Today
Dominick Castaldo