Keeper uses communication to lead Scotties' soccer

Nov 02, 2015 07:57AM ● Published by Community News Service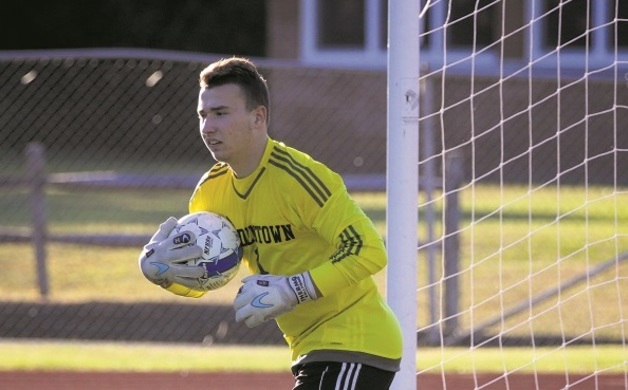 Dino Gromitsaris makes a save during the second half of a game at Trenton Catholic Academy in Hamilton on Oct. 6, 2015. Bordentown won the game 1-0. (Photo by Martin Griff.)
By Rich Fisher

Soccer goalies aren't scorers, but that doesn't mean Dino Gromitsaris doesn't help the Bordentown High attack.

"Dino," coach Mike Brennan said, "is worth a goal or more a game."
That's a tribute to the confidence factor that the senior gives the Scotties, who were 10-1-1 as of Oct. 19.

Brennan elaborated on his statement, saying that the keeper "allows us to attack out of all of the spots we would like to. His big play potential allows the kids to go into any game against any team knowing that we can do great things. That can help us pull out some results against big programs."

Gromitsaris, a muscular, 6-foot, specimen with quick reactions, is generally considered one of the top keepers in South Jersey. In Bordentown's first 12 games this season, he allowed six goals (four coming in one game against Williamstown), had 10 shutouts and made 48 saves.

As a junior, he had 141 saves, a 1.12 goals against average and seven shutouts. In his sophomore season he made 106 saves, had a 1.5 goals against average and 11 shutouts. Playing sparingly as a freshman, he made 15 saves in three games and showed flashes of what was to come. He made All-Burlington County, All-South Jersey and All-State at various levels the last two seasons.

Brennan said he didn't know much about Gromitsaris when he entered Bordentown, noting that he had only seen him in some club games at age 13.

"That doesn't really give you much of an idea how they can hang on the field with 17 and 18 year olds," he said.

He's been hanging quite well after deciding at a young age he might fit well in the net. Gromitsaris began playing soccer at age 10 and, after one year, joined the BC Crew travel team. For his U13 year, he progressed to club soccer with the CJFC Barcelona, which was ranked in the Top 10 in New Jersey and claimed several major tournament championships.
By then, he was firmly entrenched in goal.

"I first started playing the field playing in the middle and, at times, at right and center back." Gromitsaris said. "I asked my coach if I could play in net one day and it all started from there."

When he entered high school, Dino used his athletic ability to make saves. As time went on, he grasped what is most important to a goalkeeper: the ability to control his box and set up the defense to make life easier for himself.

"Dino has changed from a shot-stopper to a goalkeeper," Brennan said. "He wants to be a high-IQ keeper that does a great job managing the game. Over the past two seasons, he has turned himself into someone who does that better than any other high school goalkeeper I've seen."

It took a while for him to gain that ability, as Gromitsaris was extremely quiet in goal, never saying a word.

Finally, his travel coaches urged him to start talking and directing people on the field. He began doing that, and improved on it at Bordentown.

"I picked up on how to word stuff and get my message across as clearly and quickly as possible with the guidance of coach Brennan," Gromitsaris said.

The coach went so far as to say Gromitsaris's communication is the best part of his game.

"Most people like to judge goalkeepers on how many diving saves they make or how far they can punt the ball," he said. "Dino has really bought into the concept of focusing on the best starting position and is always looking to improve it based on how the game is changing. He has also become pretty good at moving his 'off the ball' defenders pretty well."

There is still something to be said for physical talents, of course, and Gromitsairs has them as well. One of his best attributes is his strength, which allows him to muscle his way through a crowded box and gather balls that weaker keepers might get knocked off of.

"I had always had a good starting point, I just needed the guidance on what to do to reach my potential, strength-wise," he said. "I spent a lot of long winters working very hard to become as strong as I am today."

By adding muscle, he did not detract from his quickness. That was obvious last November when he stopped two straight penalty kicks in the shootout round to lead the Scotties to a state tournament victory over Rumson-Fairhaven.

Gromitsaris is confident in his ability to stop PKs and, for good reason, is reluctant to reveal his secret. Brennan, discussing his ability in 1v1 situations, says "his reflexes allow him to hold his ground for an extra step before committing to the ground, making life a little tough for his opponent."

While Brennan considers last year's PK heroics a highlight he will always remember, he says his best memories of Gromitsaris are just the way he plays the game.

"Getting off his line to snuff out balls played through are the plays that stick out to me," the coach said. "They aren't the type of plays that people talk about after the game, but they are very important. Preventing the other team from getting dangerous actually keeps him out of the highlight reel more than a lot of goalies."

Like most young goalies, Gromitsaris had to develop a mental toughness after allowing a goal. Whenever he let one in, the keeper blamed himself, no matter who was at fault.

"I would replay the goal in my head, wondering what I did wrong instead of focusing on the game in front of me," he said. "A big factor for me improving on putting a goal behind me is, every time I dwelled on it, coach Brennan would constantly get on me to forget about it and focus on the play."

Brennan is confident he will be following his keeper's exploits in college over the next four years, and Gromitsaris has been focused on Rider, Rutgers and Rutgers-Camden. He feels in order to play at the college level he must continue to improve his off-ball communication and also deliver better goal kicks.

Before then, however, he is hoping for the Bordentown squad to make a nice run in the states after a tough 2014 campaign.

"Last year we were not always on the same page," he said. "This year we basically have the same exact team minus one senior. Playing together all summer and having us click on different sorts of levels lead to us having confidence in what we do and made us a better team because we trust each other as a whole. We became one big family."

And he is hoping for one big family celebration.

"I feel this team has huge potential and I hope to make a huge run in the state tournament," Dino said. "Hopefully we'll bring Bordentown home a state title because we haven't had that for a very long time."
Sports
,
Today
Dino Gromitsaris