Letter to the editor: Halloween is supreme in Bordentown

Nov 02, 2015 01:43PM ● Published by Community News Service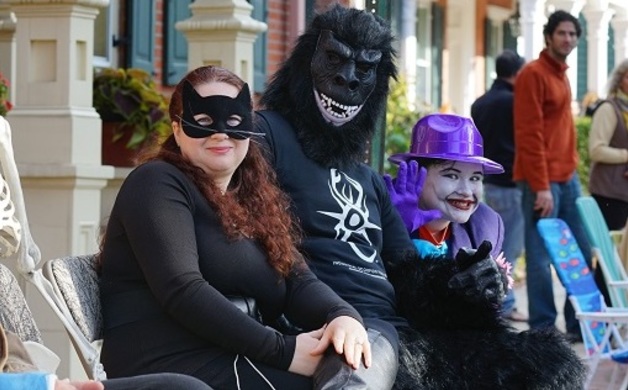 Locals enjoy the Halloween Parade on Oct. 24. (Photo by Ron Onorati.)
I will be forever grateful that my children have been raised in Bordentown City. There are many reasons for this belief, but the annual Halloween festivities always reinforce this feeling.
On an average day, this place presents as a nurturing town where kids live closely enough together to walk to many friends' homes. No highways to cross, and places aplenty for a slice of pizza or an ice cream cone without parental involvement. If a twelve-year old has three bucks in his pocket he can spend it freely here on foot. This has become increasingly uncommon in a world where children are constantly supervised.
Then Halloween comes. We all know that his town has many worthy celebrations and festivals, all of which are appreciated. None compare to Halloween.
The Ghost Walk and Halloween Parade are great, but Halloween Night is the culmination of the whole month. People come from neighboring towns just to do their "trick or treating" here. I increasingly hear complaints from neighbors about people from Trenton coming to town on Halloween night. That never bothered me. If your own neighborhood is not safe enough to go door-to-door, the least I can do is buy a few extra bags of Kit-Kats and give people a smile.
The culmination of the night of course occurs on Thompson Street. It seems to get stranger as the night goes on, but it is a kid-friendly safe kind of weird. You can allow your kids to wander and know that you'll catch up with them later.
My children will soon be adolescents. As most adolescents do, they will probably seek more daring and dangerous forms of fun. But for now, they can be safe here. I know they will always remember their childhood Halloweens. I can picture them as grown adults with their own children living in some quiet suburb somewhere. They will be telling their own kids about this decorated town, the massive amount of "trick or treating", and of course Thompson Street. They will sigh and know it will never be the same for their own children. It only happens here.
Ken Boberg
Bordentown City
Today
,
Community