The 'Joy' of acting

Dec 02, 2015 08:29AM ● Published by Community News Service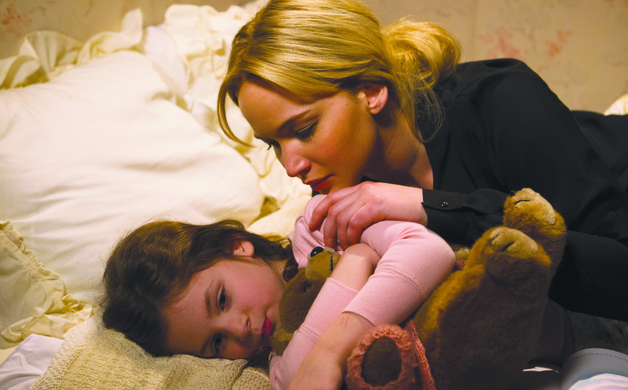 Gia and Aundrea Gadsby split the role of Christie, the daughter of Joy Mangano, played by Jennifer Lawrence, in the December film, Joy. (Photo by Merie Weismiller Wallace.)
By Rich Fisher

There aren't a lot of people from Mercer County who are on a first-name basis with Robert DeNiro and Jennifer Lawrence. Especially those in second grade.

But the times, they are a-changin' so move over Mary Kate and Ashley—two girls from Mercer are invading your turf!

For those who fell in love with the Olsen twins when they combined to portray Michelle Tanner on the TV show Full House from 1987-95, get ready. You may be falling in love all over again.
A new set of adorable, identical twins will invade the American consciousness when 7-year-old Aundrea and Gia Gadsby appear in the movie "
Joy
," a biographical comedy-drama set for release on Christmas Day.

Central Jersey residents will certainly have a rooting interest in how the film does at the box office, since the Gadsby girls have local roots.

Born in Trenton, the twins live with their mom, Nicole Ortolano, in Princeton Junction and are second-graders at Dutch Neck Elementary School. They just moved from Hamilton, where they attended Langtree Elementary during their first two years of school. Their father, Brian Gadsby, lives in Bordentown and is a Nottingham High graduate, while Nicole is a Steinert grad.

The brown-haired, blue-eyed pixies take "cute" to another level in their appearance, mannerisms and dialect. So much so, they charmed a set that includes some of the heaviest hitters in Hollywood, as Joy stars DeNiro, Lawrence and Bradley Cooper, along with Edgar Ramirez, Diane Ladd, Virginia Madsen and Isabella Rossellini.

"It's pretty crazy, right?" Brian said with a laugh.

Actually, it's pretty incredible, in a wonderful kind of way.

At the start of shooting, the man who gunned down the masses in Goodfellas, Taxi Driver and The Deer Hunter left a gift and a tender, hand-written note on Robert DeNiro stationary for each twin in their trailer. The note said "Dear (Aundrea/Gia), break a leg, love Bob (Rudy). P.S., you'll remember this when you're a little older."

The Rudy stood for DeNiro's character name in the movie, as he plays the part of their character Christie's grandfather, Rudy Mangano.

As if that isn't enough, one day Brian walked Aundrea into the house in Boston where the crew was ready to shoot  a scene. As soon as they walked in, Lawrence ran across the room exclaiming "Oooohhh Aundrea!" while giving her a big hug.

Gia gets the same treatment, and can't use enough "reallys" in talking about how great it is working with big stars who they only know as nice, normal people.

"It's really, really, really, really, really fun," Gia said. "Sometimes when we're on the set and we're taking a break, Jennifer will play with me. She does do really nice things for me."
Jennifer. Bob. Ho hum, just another day in the life of the Gadsbys. Even mom and dad got to meet some actors.

So, just how did two girls from the streets of Hamilton Square get to hang out with some of the most famous entertainment names on the planet? It's basically a combination of having a dedicated mom, charisma, intelligence and a willingness to work hard at a very young age.
And being a twin doesn't hurt.

Ortolano had that in mind when she began taking the girls on auditions when they were 1 year old. They started out by getting print modeling jobs in Parents Magazine, and in publications for Babies R Us and Toys R Us. Spurred by their early success, Ortolano took them on auditions and they landed national commercial spots for Viacord, Gerber Life and Sprout/Aquafresh.

They also did runway modeling for a New York City fashion show and were shoe fit models for The Children's Place. The climb up the ladder continued with a guest spot in season 3 of Royal Pains, and the twins also took part in a fashion segment on the Fox & Friends pre-show.

"It was a lot of running back and forth to New York City and eventually I told our agent that I wanted to focus only on TV and movies with the girls," Ortolano said.

The big screen wasn't far behind.
From there the girls auditioned for an independent film called
People, Places, Things
, a movie about a New York City novelist—played by Jemaine Clement—who struggles to be a good father to his twin daughters while dealing with the infidelity and eventual departure of his wife. The Gadsbys got the part of the daughters and the film was shot in Brooklyn in August 2014.
Written and directed by James Strouse, it was shown at Robert Redford's Sundance Film Festival in Park City, Utah, and got rave reviews. 

As for the girls, it was a smashing debut.
Allie Funk wrote
 on the entertainment page of bustle.com, "They're brand new to the scene, and they're freaking adorable. People, Places, Things is the first major motion picture appearance for both of them, and in fact, it's their very first IMDB credit as well. But don't think that these young ladies will be one-hit-wonders; they're already confirmed to play Jennifer Lawrence's daughters in the upcoming film Joy."

The People, Places, Things casting director recommended the girls for a Joy audition.
The is directed by David O. Russell, who had successes with American Hustle and Silver Linings Playbook—which also starred DeNiro, Lawrence and Cooper. After their audition in New York, Gia and Aundrea were contacted that same day by Russell via Skype.

"He was putting them to the test," Brian said. "He was saying 'OK, do this, now show me how you act like this, show me how you act like that.' Apparently identical twins are more desirable in the film industry. You may have one who can do a certain scene better, or one who acts a certain way better than the other."

Shortly after the 45-minute skype session, Ortolano got the call that the girls were hired. Unlike People, Places, Things, the two girls would take turns playing one part. They left the next day to begin shooting in Boston, which is when Aundrea got her first great memory of the experience.

And no, it wasn't meeting Bradley Cooper.

"It was cool," she said. "I was driving to the set and all I saw was big piles of snow on the ground."

"Joy" is the story of family over four generations, centering on Joy Mangano, who invented the "Miracle Mop" and became a home shopping superstar with regular appearances on the Home Shopping Network.

Lawrence plays Mangano, DeNiro plays her father, and the Gadsby twins take turns playing her daughter. Cooper plays a high-powered HSN executive.

Brian got to watch filming for 10 days and couldn't believe the hard work it took.

"It's a lot of hustle and bustle, a lot of rotating," he said. "It's a crazy schedule. They're working around the weather and everything else that's going on. You have to be readily available. They cancel a lot, so it's erratic. David O. Russell really put them to work, filming late hours. We had to sign some waivers to allow them to film past 10:30 p.m., they worked their tails off."

Evidently, it doesn't feel like work for the girls.

"They enjoy it," Brian said. "They have a good time and they bring a lot of energy and laughs and smiles to the set."

It's easy to see why, as both are naturally animated and radiate with whimsy and good humor. They have a natural childlike enthusiasm that they combine with a savvy maturity—talking to them feels talking to a couple of miniature adults. Ask them how they are doing, and they both respond with a chipper "I'm fine, how are you!"

Not having seen the film yet, Brian estimates they should be on screen at least over 10 total minutes with all the shooting they did. There were a lot of lines for a 7-year-old to remember.

"They don't get it from me I'll tell you that," Brian said with a laugh. "They freaking amaze me with that stuff."

Asked how she could remember all her lines, Aundrea said "It's easy! I practice them with my mom at night and when my sister was on the set and I was doing my homework I practiced them, and when we were driving there I practiced them with my mommy."

Asked if it was hard work, Gia said "Kind of, but not really."

And while most folks would be in absolute awe of the actors they were in the presence of, the beauty of being 7 is that one has no real concept of whom they are dealing with.

"They don't understand the magnitude of how big the stars are that they're with," Brian said. "They just act themselves. It's probably what keeps them from getting nervous."

Aundrea certainly doesn't see what the big deal is.

"It was pretty fun," she said. "They're super friendly. They're just like regular people to me."

The girls are both in agreement on one thing.

"I want to keep on doing this," Aundrea said.

Asked if she felt the same way, Gia exclaimed "Oh yeah!"

Ortolano pointed out that neither she nor Brianforce this on the girls, and if they want to stop, they can stop. 

"They are acting because they love to act and for no other reason." she said. "It is very important to me to keep them grounded.  They are just normal second grade girls who just happen to love acting.  They live a very normal life and are not treated any differently because of their acting."

Brian also gives credit to Ortolano, saying "Their mother was pretty much the driving force, she took them to auditions. She found out identical twins are a lot more desirable in the industry. I guess they were cute, identical twins and she decided to start taking them to see what happens."

Incredible things have happened, that's for sure. The Joy premiere will be sometime in December as the studio will fly the girls and their parents out to view it.

"It's just all surreal, it really is," Brian said. "I sometimes wonder what can come out of this but then, it's more just like, I'm really, really proud of them. They do such a good job."

You're not alone Brian. Bob and Jennifer are big fans too.
Find out more about the sisters on their website, 
gadsbygirls.com
, which launched this month.
Today
,
Community
,
Arts+Entertainment
Gia Gadsby
Aundrea Gadsby
Joy
Jennifer Lawrence