Historic homes get festive

Dec 02, 2015 08:48AM, Published by Community News Service, Categories: Today, Community, Arts+Entertainment
---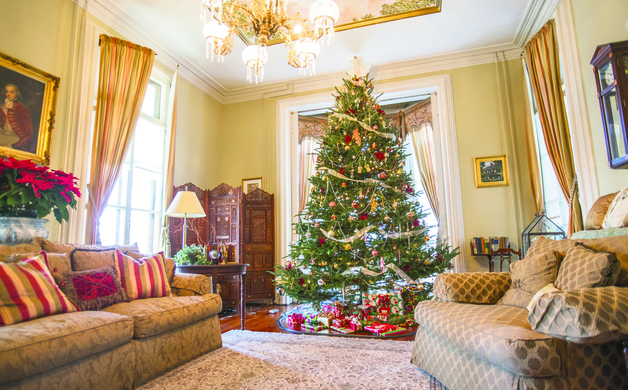 Karen and Christopher Hofrichter include a 12-ft.-tall tree as part of their house tour decor. Last year's tree is pictured here. (Photo by Deirdre Ryan.)
---
---
By Laura Pollack

The holiday season is synonymous with warm greetings, good tidings and quality time spent with family and friends. Some Bordentown City residents, however, take the traditional season's greetings to a whole new level.

Karen Hofrichter is one of these residents. Hofrichter and her husband, Christopher, don't just open up their home to their family and neighbors—they open it up to the entire township.

The Hofrichters participate in the annual Historic Bordentown Holiday House Tour. Every year, the Bordentown Historical Society sponsors tours of residential households throughout Bordentown City. The property owners decorate the houses in various seasonal or traditional decor to highlight the building's unique structure.

This year, the self-guided tour is set to take place Saturday, Dec. 12 from 4 - 8 p.m. The tour starts at Farnsworth Avenue and guests are free to go from house to house at their leisure.

Chuck Pesce, president of the Bordentown Historical Society, said they currently have seven residential properties on the tour this year, although there is still time for more to join the list.
Saint Mary's Catholic Church will also be available for tours from 6 p.m. to 8 p.m. The church opens later than the other sites due to its regular 5 p.m. mass.

"Our particular house tour includes all types of different homes with different architecture and obviously different decorations," Pesce said.

While Pesce said there are no requirements or restrictions to determine what houses are allowed to be on the tour, most of the homes in Bordentown City have a rich history and unique architecture. One house that stood out to Pesce is a Farnsworth Avenue home, built in the 1860s, that has its own carriage house.

Hofrichter said she and her husband joined the tour after someone suggested their home would be a perfect fit for the event.

"I guess it was a little flattering that they thought people might be interested in seeing our home," Hofrichter said. "And then that was mixed with a little apprehension of going on the tour. The first time you do it you're not really quite sure what to expect."

After thinking it over, they decided to put their house on the tour to allow history, architecture and design buffs alike to casually peruse their historic home.

"I think, not only is it for a great cause, but we just love old houses," Hofrichter said. "And I just think it's wonderful to give people an opportunity to see them because it's so rare that you actually see inside of the houses, and there so many people who love old houses."

While the desire to allow people to admire their house initially inspired them to join the tour, Hofrichter said meeting all of the people on the tour itself kept them coming back year after year.

"It was a great time meeting all the people coming through your house and talking to everyone," she said. "It was almost like having some type of party."

While the Hofrichter home won't be on the tour this year, the couple did participate for three years and still enjoy visiting the other open homes.

People on the tour decorate their homes to match bring out the houses style, history and architecture.

"[The older homes] have a lot of interesting nooks and crannies, so to speak, and people decorate differently — it's a good time," Pesce said.

It's up to the discretion of the homeowner to choose how they decorate their home for the tour.

Pesce said some choose to do traditional Christmas decor while others pick a style based on their background.

"Some have done some European scenes based on their German heritage, or what have you, it's really is up to the individual," he said.

Hofrichter said they chose to decorate their home with a more traditional Christmas style, complete with a 12-foot tree and nutcrackers.

While she was always a fan of decorating, being on the tour added an extra element of excitement for Hofrichter.

"That makes it actually more fun because you have more incentive to get out all the decorations and do something you normally might not make the effort to do for some years," she said.

The unique ambiance of each house attracts a wide-range of guests. Pesce said families, of both young and old generations, from the township and as far away as some South Jersey towns have attended the event.

"People are always very interested in your particular property, your particular house, some of the history of the house some unique features of it, your own particular decorations—they just appreciate it," Pesce said. "They're very interested in the individual properties. I think they take note and sometimes it motivates them to be on the tour the following year."

The residents of Bordentown City, Pesce said, are a very close-knit community, and many of them have a huge interest in historical backgrounds and perspectives.

"People they like to see [the old homes] and they like to participate, and I think they like to try to continue it," Pesce said.

Hofrichter said they've kept in touch with some of the people who have been on the tours of their home.

"We have met some fascinating people who we've actually kept in touch with a little bit," she said.

In addition to the home tours, Old City Hall, 11 Crosswicks St., will be displaying its annual holiday train show. While the train display is separate from the house tours, Pesce said the events coincide to create a wonderful atmosphere of holiday and winter joy in Bordentown.
Tickets to the house tour event are $20 and all of the money raised goes toward preserving and protecting the history of Bordentown City. For more information on the house tours or the Bordentown Historical Society visit 
bordentownhistory.org
.
---
---
Holiday house tours Historic homes
---