Bordentown Home for Funerals looks beyond the ceremony

Dec 02, 2015 09:30AM ● Published by Community News Service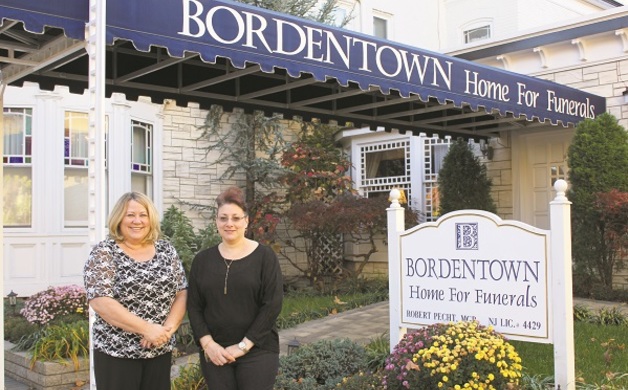 By Jacquelyn Pillsbury

Eleven years ago, Robert and Stephanie Pecht purchased the building now known as the Bordentown Home for Funerals on Crosswicks Street a building Stephanie is convinced has been a funeral home ever since it was built in 1893.

Not long after they purchased the building (but not the business) in 2004, Robert and Stephanie began a lengthy renovation process, which included moving the entire funeral business to the first floor, so that "no part of our facility is in the basement," explained Stephanie. This means the viewing rooms are on the same level as embalming and other aspects of the business.

The family, including their grade school age daughters Giselle and Margot, live upstairs. The brownstone Victorian home fits Stephanie's image of a dream house. "Bordentown is the best place to live in New Jersey," said Stephanie. "Hands down, we love it. It has the best sense of community I could ever have hoped for."

It is with the community in mind that Stephanie and Robert have begun offering Healing Café events. They recognize grief does not end with the funeral. "A lot of people think it is hardest to go through the funeral process. Robert and I would like to focus on what happens after the funeral," said Stephanie.

Bordentown Home for Funerals offers several events throughout the year to help with the healing process. In November, they held their annual remembrance mass on All Souls Day in the chapel at St. Mary's Church. On Friday, Dec. 11 at 7:30 p.m., the home will have an ecumenical Blue Christmas service also in the Chapel. All are welcome.

The Pechts have teamed up with Romelle Holmgren Lysenko, a licensed therapist with expertise in grief and loss, to provide Healing Café sessions periodically throughout the year.

"We are here to create a safe place where people can come together and talk about grief and loss that many years later can still be very acute. At some point you can explore your own feelings about death and dying. It is something people don't want to talk about," Lysenko said.
"In explaining our feelings about death and dying, I believe we can live fuller livers. I create a safe place to have these conversations. Grieving people need to talk about their grief. We live in a culture where you get a couple of days off from work and have to get back to life. We also have medical miracles. Death is not as common as it used to be."

Lysenko was a CPA when her 7-year-old son Scott died in 2004. She earned a masters degree in social work from Kean University in 2008 and has recently completed advanced training at the Center for Complicated Grief at Columbia University in New York City.

"Everyone had a child die a few generations ago. Before that moment [when Scott died], no one I knew lost a child." She built a strong network of other grieving parents back in the "pre-social media days. We would all e-mail each other in a list serv. We had all lost our child. I saw the difference it made to me to have a community and it is what led me to start the healing conference."

The next session will be March 16 at 6:30 p.m. at the Bordentown Home for Funerals. The Healing Café and other events are free and open to the public.
Business
,
Today
,
Community