'Class act' takes over Post 26 gig

Dec 02, 2015 09:41AM ● Published by Community News Service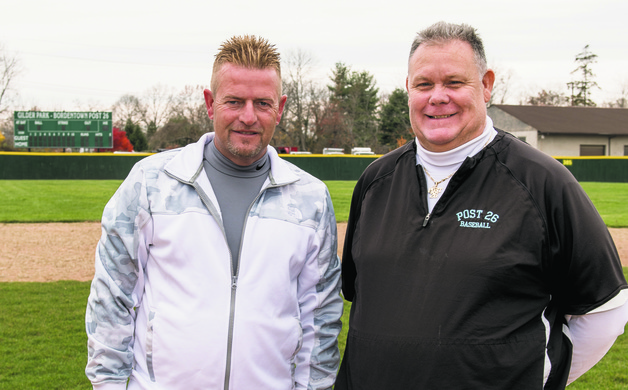 By Rich Fisher

When it comes to the Bordentown Post 26 coaching situation, the formula is pretty simple.
A class act is departing, only to be replaced by another class act.

There will be a new look for Bordentown's American Legion Baseball representative next June, as Tom Dolan recently stepped down after 16 years as manager. Doug Moore, who spent 14 years with the Trenton Schroths/Mitchell-Davis, including the last 10 as its manager, will replace Dolan.

Dolan, who had outstanding success during his time with Post 26, could not be happier about his heir.

"His record hasn't been all that great over the years, but he's been successful," Dolan said. "My number one vote for Manger of the Year every year since he's been there has been for Doug Moore. I don't care what his record is, he does a great job. It's a huge loss for Trenton but a huge gain for Bordentown."

And it takes away Post 26's sting of losing Dolan, who compiled a glittering resume' with the Gilder Gang. The guy who was tagged as "The Bread Man" at a young age produced loaves of success for Bordentown.

Although Dolan never kept stats and doesn't even know where he could find them, he knows that Bordentown won over 300 games on his watch, finished second in the New Jersey state tournament twice and was a two-time regional tournament qualifier. The 26ers reached the Mercer County playoffs and the state tournament every year under Dolan.

That's all secondary, however, to what he felt really mattered.

"The biggest thing to me is when these guys call me to invite me to their weddings, or call to tell me they're getting engaged," Dolan said. "Even guys having problems, when they're struggling at a college or something like that, they'll call someone they respect and they'll ask for my opinion. That's what makes it so great. Not the wins and losses."

Dolan grew up in Hamilton and played baseball and football for St. Anthony's High School, which is now Trenton Catholic Academy. He attended Mercer County Community College and planned on playing baseball until getting rotator cuff surgery his senior year of high school in 1978.

"After that I was done," he said, adding with a laugh, "Not that I was going anywhere in baseball."

But he was, just not as a player.

As a spry 20-something, Dolan became an assistant baseball coach for Nottingham High School in the late 1980s. He lasted five years but gave that up to start coaching his daughter Marissa, who began playing basketball, soccer and softball in Bordentown.

As Marissa got older, Dolan was approached by Marty Temple to help him with Bordentown's Junior Legion team in 1997. After two years, the Post shut down the junior program, and Rich Mercantini asked the Bread Man to help him in Senior Legion.

Midway through the 1999 season, issues with parents reared their ugly heads, resulting in Mercantini leaving the team. Dolan was asked to ride out the season, and he nearly got Bordentown into the playoffs after the team was 3-12 when he took over.

"After that year, I wasn't even thinking about coming back," he said. "But they talked me into it."

Sixteen years later, he finally decided to call it quits, due to several reasons. Time restraints had a lot to do with it after he was promoted to president of Case's Pork Roll.

Several other reasons factored into the decision. Dolan's wife, Linda, took early retirement and he has a six-month-old grandson.

"My wife never told me not to coach," he said. "I could have kept coaching if I wanted, but I really just wanted to spend more time with the family. And it's getting to where it's almost like another job. It's just not as much fun as it used to be."

Managing legion baseball has indeed become more difficult. With so many other options available, players are going to travel teams in hopes of being seen by college coaches and pro scouts. Other players, who have been involved with the sport their entire lives, finally hit a wall and just don't have the desire to play from March to August.

"It's hard to get everyone out there all at once," Dolan said. "I understand that. It's summer baseball. They're going to college, they want to go to the shore. I can't blame them. And of course AAU has been picking at us for years. I guess that finally took its toll on me. Getting these kids out is harder than it used to be."

Cynics won't feel sorry for Dolan, who was able to get his pick of the crop from seven different towns. But he noted that brings it's own set of issues, such as getting playing time for talented athletes when there is no playing time available. That has led to several issues with parents over the years.

But Dolan survived, thanks to some thick skin and a loyal cabinet of coaches.

"Without Neil Cummings and Chris Hoyer, there is no way we'd have been successful," Dolan said. "Neil has been here every year but the first, and Chris has been with me for the last 12 years. And the great part is getting all these young assistants that used to play for me. These guys came back and wanted to help out the program that helped them be successful in college."

Dolan is not walking away completely. He will stay on the Mercer County American Legion Executive Board, noting the strong relationship he has with former and past coaches such as Rick Freeman, Chuck Giambelluca and Fred Walters, among others.

"I still love legion baseball," he said. "But right now it just seems to be the right time for me."

It was Walters and Freeman who kept Dolan in the game when he first started out.

"After my first year I'm like 'I'm done with this, these parents are crazy,'" Dolan said. "But I talked to Freddy and Rick, and they said 'It's your team, run it like you want.' And then Neil and Chris helped me go on. We became a three-headed monster. It wasn't just me."

But in making the move, Dolan wanted to make sure that the program he built would remain intact. That's why he approached Moore.

A 1987 graduate of East Brunswick Vo-Tech, Moore played baseball for Middlesex County College. He had a friend who coached Trenton's Mitchell Davis team who asked him to come on board. Moore was an assistant for four years but left for Lawrence as things started getting too whacky with Trenton legion baseball.

The Trenton Schroths had forfeited out of the league but when they returned in 2005, their athletic director, along with Post Director Warren Lewis, asked Moore to be manager. He spent the next 11 years becoming one of the league's most respected skippers.

Moore not only knows the game of baseball, but he became a father figure to a lot of under-privileged players, often providing financial assistance out of his own pocket. Two years ago he guided Trenton on an impressive state tournament run, earning him Coach of the Year honors. Like Dolan, he cherishes the relationships he has made more than what his team's have accomplished in terms of numbers.

He was the first person Dolan thought of when he stepped down, but he first had to convince Moore he was really leaving.

"I didn't believe him," Moore said with a laugh. "He'd been saying it every year for the last couple of years. I definitely didn't want to leave at the beginning of last year after having such a good season in 2014. And even this year, I had a hard time making the decision because my heart is with those Trenton kids, everybody knows that."

Moore mulled it over and finally decided he needed a new challenge. He knows there will be a different set of challenges at Bordentown, but said "I feel I can just go to a place and coach, I don't have to worry about a lot of the other stuff I had to deal with at Trenton."

Moore preached the running game at Trenton because he had speed. He will change his philosophy at Bordentown and tailor it to his talent.

"I'm a big believer you have to adjust to your players," said. "I'll have a lot to choose from at Bordentown. I'll pick the team to my style, but a player's a player. If he's not a speedster like I'm used to, I'll take him and adjust to what I have. I know there's adjustments to make and I've prepared myself for it."

One other factor that made Moore an attractive candidate is that he and Broad Street Park manager Mike Petrowski manage a Bordentown 13-year-old travel team. Those are the kind of players being poached by showcase teams before they can ever get to Babe Ruth or American Legion.

"He has a relationship with those guys, so we're hoping he can keep them from going to those other teams and get them to Bordentown," Dolan said. "I really do think we've left the program in great hands."

Just like it has been the previous 16 years.
Sports
,
Today
Tom Dolan
Doug Moore
Bordentown Post 26
American Legiona baseball