In new role, McTamney continues to thrive at Monmouth

Dec 02, 2015 09:46AM ● Published by Samantha Sciarrotta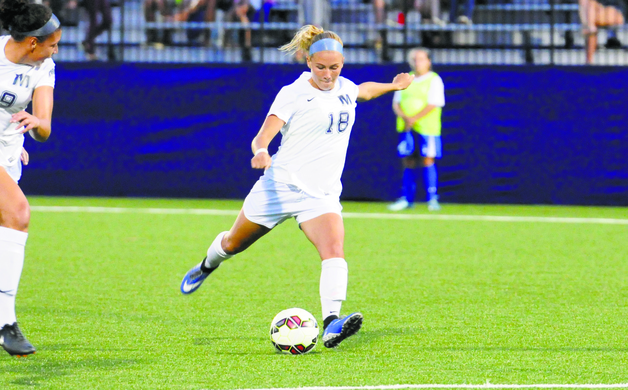 It's an all too familiar story.

A high school athlete excels as a teenager, gets recruited by a college powerhouse and expects to be the center of attention. They're cocky, selfish and they usually get knocked down a peg or two pretty quickly.

Thankfully, Alexis McTamney avoided that fate.

The former Bordentown Regional High School girls' soccer standout, now a junior at Monmouth University, has always had a reputation of being selfless and willing to adapt on the field, and she carried that over to West Long Branch. Monmouth head coach Krissy Turner said coming from Bordentown to Monmouth was a big change for McTamney, but she faced the new challenge head-on—and with no complaints.

"In high school, they played 4-4-2, but here, she's one of three strikers," Monmouth head coach Krissy Turner said. "She's not in front of the goal as much. She's at a wide position, so she's often crossing in front of the goal. And that's partly because other teams know how good she is, so they plan ahead of time to stop her. That allows her to set people up more."

As a freshman, McTamney led the Hawks in points (27) and goals (11), which earned her Metro Atlantic Athletic Conference Rookie of the Year, First Team All-MAAC, MAAC All-Rookie, MAAC All-Tournament Team and National Soccer Coaches Association of America All-Northeast Region Third Team honors. She ranked second on the team in points (17) last season and was another First Team All-MAAC selection.

This year, McTamney tallied 22 points on eight goals and six assists, good enough for second on the team— as well as the MAAC Offensive Player of the Year award. She was also named to the MAAC All-Championship team.

Turner said it was McTamney's versatility that won her this season's honor.

"Any time a team was getting ready to play us, she was their focal point," she said. "I think we finished 8th in the country in goal scoring this year. We had many players scoring, but she's the one that everybody focuses on. And nobody stopped her. When the coaches were picking, she really was the best offensive player."

But it that hardly fazes McTamney anymore. She's been double- and triple-teamed by opposing defenders since her high school days.

"I think I've gotten pretty used to it, but it's not easy having more than one girl defending you," she said. "I don't really think about it. I just try and do my best to push through. Every once in awhile, you just have to step back and take a breath. I think that you can't let everything bother you while you're playing. You have to keep a clear mind."

Not only is McTamney used to it, Turner added—she thrives on it.

"She loves it, which is very unique," the coach said. "It makes her tougher to stop. She really is fine with having assists and not scoring as much, as long as the team is thriving. It makes it sweeter."

McTamney agreed.

"I think that assists are almost more important than the goals, to be honest," she said. "Getting an assist and helping the team win that way is awesome. You really get things done. I just try and adapt to what they ask us to do."

Her primary role as a freshman was a goal scorer, but that changed as time went on. When McTamney's coaches approached her and asked if she could take on more of a passing role, she accepted it without question.

Sometimes, Turner said, she has the opposite problem that many star players have.

"Sometimes, she passes when she should shoot," Turner said. The assists show that she really cares about the team. She's not afraid to pass. When opponents key in on her, send two or three defenders at her, it opens other players up. She's able to read that and pick her moments. It's fun to watch her. She really does like making defenders look silly."

McTamney started playing soccer at around 3 years old with Bordentown Community Soccer Association. She switched to travel at age 9, when she moved over to the Hibernian Xcel in Hamilton.

As a member of the Scottie squad, she led Bordentown to a state final berth in her senior season in which the team scored 70 total goals. She scored 58 of those goals and tallied 12 assists for good measure. She played a part in every single goal that year. McTamney finished her career with 125 goals and amassed countless league, county, state and region honors. She was an All-American as a senior. She also played varsity basketball for three years.

"We enjoyed watching her play and compete because the way that she does that," Turner said of McTamney's recruitment. "She is outstanding in 1v1 situations, so she's fun to watch."

She started taking soccer seriously when she was 12.

"I realized I wanted to keep playing," she said. "Already being in the game for a long time was part of it, but I also just love soccer. It's just fun. It's a way to get away from everything that's going on around me. It's something I can go to if anything else is going on."

The pressure she faces on the field might not sound like the most soothing solution to non-soccer problems.

For McTamney, though, it is.

"I think I just play my hardest, and I try to keep the team going," she said. It's harder sometimes, and it's not as hard other times. You obviously have more pressure when you're losing, or when the opponent is really good."

The Hawks made it to the MAAC semifinals this season, where they fell to Siena, 2-1. They met a similar fate last season with a 1-0 loss to Rider in the same round, but the women captured the MAAC Championship title with a 2-0 win over Fairfield. McTamney notched both goals in the title game.

"She likes to be creative," Turner said. "She relishes that challenge of taking players on. A lot of other players shy away from that. It's her confidence, and her ability to fail multiple times. Seventy percent of the time, it's not going to work, but that doesn't bother her. She'll keep on doing it because she knows eventually she'll be successful. When the game is on the line, when the ball is on her foot, [her teammates] believe she'll get it done."

McTamney said she hopes to keep playing soccer after college, and Turner said the potential is clear.

"I want to see her continuing on the path that she's been on for the last three years and possibly playing at the next level beyond Monmouth," she said. "I think she has the ability to do that."
Sports
,
Today
Alexis McTamney
Monmouth University