Township stands firm as pipeline looms

Jan 04, 2016 08:01AM ● Published by Samantha Sciarrotta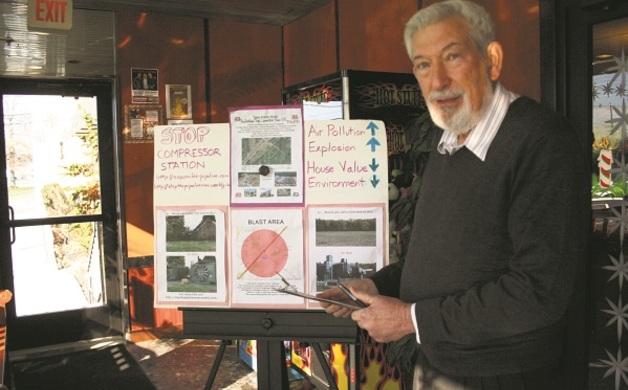 By Samantha Sciarrotta

An explosion with a one-mile blast radius. Noxious fumes emitted into the atmosphere. Emission- and gas-related illnesses. All are possible byproducts of natural gas pipelines and the compressor stations that go along with them. They're exactly what Bordentown Township Mayor Jim Cann and Deputy Mayor Jill Popko fear.

If it seems like there was a lot of dialogue surrounding pipelines in 2015, there was—there are currently 12 ongoing projects in New Jersey as of January.

But one in particular has kicked up some dust in Bordentown and surrounding Chesterfield: the New Jersey Natural Gas Southern Reliability Link pipeline and the accompanying Transcontinental Gas Pipeline Company compressor station. The 30-inch pipeline is proposed to start on Bordentown Chesterfield Road in Chesterfield and travels through Chesterfield, North Hanover, Plumsted, Manchester and Lakehurst.

Though the actual pipeline will not pass through Bordentown, it's a pressing concern for Cann and Popko. Stopping the proposed compressor station, the purpose of which is to push gas through the pipeline, is also a priority.

The station will sit right on the Chesterfield-Bordentown border near 15 County Road 528. Cann said when Transco approached the township about obtaining an easement for the station (the township denied the request), the company's representatives were intentionally deceptive. They claimed the project would occupy 12 or 13 acres, when in reality, it will be well over 30.

"They came in and downplayed it as just this little thing that they need," he said. "That it's nothing more than to move the gas along. No big deal. In truth, it is a big deal."

The concern, Cann continued, is that fumes and emissions will can spread from blowdowns, or the venting of gas from the station. According to a February 2015 study examining compressor stations and their health impacts, conducted by the Southwest Pennsylvania Environmental Health Project, there is no data that lays out exactly what would be emitted in a blowdown—though burning eyes, headaches and coughing have been associated with blowdowns in the past.

What is known, however, is that whatever is in the pipeline at the time of the blowdown will comprise the emissions: likely methane and ethane, according to the same study.

"We just had a big G20 meeting on climate change, and here we are about to set up our state for another 50 years of gas production," Cann said, "How counterproductive is that? We should be putting our money into clean energy and renewable resources, not million-dollar pipelines in a state that is so loaded with pipelines, you probably can't put a stick in the ground without hitting one. The whole thing is just ludicrous. The gases these things release are hazardous."

Lena Smith, a regional organizer with Food and Water Watch in Philadelphia, said the toxins associated with compressor stations can also cause nosebleeds, skin irritations and more, and these symptoms can affect humans and animals.

Cann and Popko said the pipeline and compressor station representatives in attendance at township meetings have refused to answer questions about gases, emissions, noise, explosion rates and more. As a result, the township installed a snow fence around its part of the proposed compressor station property and designated it as private property. The township is also prepared to take legal action.

Though the project has been in the works since the summer of 2015, Bordentown was only notified in November, and even then, officials had to do their own research.

Popko compared the situation to the film, "The Blob."

"It starts out rather innocuous with this little thing, and it just keeps growing," she said. "It is a monster. It's a growing sense of entitlement that they are going to use all of our resources and pollute them for their greed. There's nothing more to it than that, and they're very adept at doing it."

Both Cann and Popko are no strangers to taking environmental action. Cann, a partner in a real estate appraissal firm who has lived in Bordentown for over 30 years, has been a member of the Sierra Club, the Wilderness Society and Greenpeace, dating back to when he was a biology student at Middle Tennessee State University. Popko has participated in the International Day of Climate Action with the organization 350.org and said she and her family live by the "reduce, reuse and recycle" standard.

But Cann's passion in opposition to the project is representative of his views on Bordentown and the state overall, saying it has roots in "outrage that we have become a dumping locale."

"I'm just so frustrated," he said. "People knock New Jersey, saying we're all concrete and smoke stacks. People think that's all New Jersey is, when, in fact, it isn't. We have beautiful beaches, large pineland areas, mountains. For some reason, people say, 'You want to dump a pipeline, a dump site? Bring it to New Jersey.' This is saturation. Why are we doing this?"

Popko, a 13-year Bordentown resident, said the township works hard to keep Bordentown a clean, environmentally safe place to live—why upend that with a pipeline, and eliminate the progress the township has already made?

"We have gotten our Sustainable Jersey certifications," she said. "We continue to work on activities for clean air, water, soil, the health and wellbeing of our residents with our environmental and green team. We stress the importance of a clean and welcoming community to our neighbors, friends and residents."

The township website's homepage has linked to information about the pipeline since November, and it will host a town hall meeting about the project with local and state officials mid-January. A date had not been scheduled at press time.

Bordentown also supplies pre-written letters opposing the construction of the pipeline and compressor station to government officials at town hall. Residents who wish to sign can go to the municipal building, and the township will mail the letters out for them.

Popko and Cann, as well as committeeman Steve Benowitz, have helped lead letter-writing campaigns at sites throughout Bordentown, like Shop Rite and Town and Country Diner. At an event at Shop Rite Dec. 12, Popko said they were able to get 1,800 letters signed in just four hours.

Activists in Chesterfield, like Agnes Marsala and Belinda Blazic who are part of the Responsible Pipeline group, also lead the letter-writing project and, at one point, amassed 600 signatures from Chesterfield residents in one night.

"When I found out about the compressor, my heart just sank," Marsala said. "My heart was in the pit of my stomach. The [pipeline] plans they have for our state make it look like a ladder with many rungs."

Blazic fist heard about the projects when she received a flier about a BPU public hearing. She lives 80 feet from the pipeline, but received no official notice.

At first glance, she didn't think much of it. But after attending the meeting and doing some of her own research—reviewing thousands of cases of health hazards associated with pipeline gas leaks and emissions, reading about the possibility of an explosion—her opposition grew. She found that this tended to be the case with a good portion of residents.

"For every 300 people who find out about it, 299 oppose it," she said. "You don't really know the magnitude of these infrastructures until you start diving in."

Cann and Popko agreed with Blazic, stating that education is key. They—and residents—haven't been getting that from Transco and NJNG representatives, though. They come to meetings and either refuse to answer questions or dance around the issues, "stonewalling," Bordentown, said Cann.

"They're arrogant, and it's really an insult to the intelligence of the citizens of this state, this country," Popko said. "It's an absolute insult that they think that's all they need to say. When they came to our township committee meeting, they had no answers. Jim kept asking questions about their project, and they said, 'We're just here for an easement. We don't need to answer this.' The absolute gall."

The township is still determined to fight, though, even if they have to go all the way to Washington.

"Our passion is because we love this town, and we think it's a great place to live," he said. "We want to keep it that way."
Today
,
Community
,
News
Pipeline
New Jersey Natural Gas Southern Reliability Link
Transcontinental Gas Pipeline Company
Jill Popko
Jimm Cann
Food and Water Watch