Corner Deli cooks up comfort

Jan 04, 2016 08:32AM ● Published by Community News Service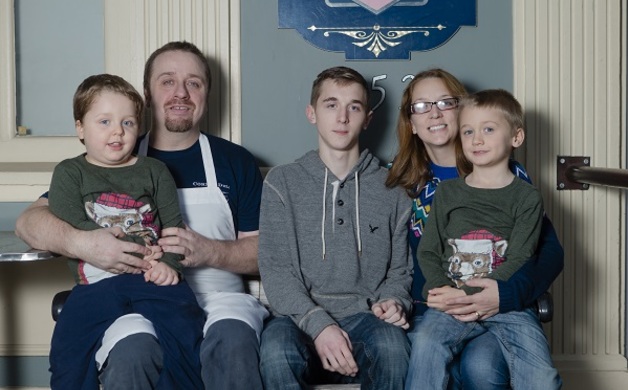 Asher Johnson, Mike Johnson, Christian Johnson, Stacy Pfieffer-Johnson and Cooper Johnson sit outside the deli Dec. 22, 2015. (Photo by Suzette J. Lucas.)
By Amy Macintyre

As a chef, Mike Johnson's dream has always been to own a business where he can plan out his own menus and cook up his own finely-tuned recipes.

Stacy Pfieffer-Johnson, his wife and a native Bordentown resident, has always wanted to own a piece of her hometown's history.

Both of the couple's dreams became a reality when they purchased the Corner Deli on Farnsworth Avenue in August from the previous owner Mike Petronella, Stacy explained. Stacy and Mike, who have three sons, purchased the deli with hopes that the already established local store will stay in their family for generations to come.

"We've always wanted to own a part of Bordentown—a part of history. And this place is probably one of the longest-running businesses in town," Stacy said.

Although Stacy is a new addition to the deli, Mike has been a familiar face behind the sandwich counter for years. Before purchasing the Corner Deli, Mike was the manager at the store for 5 years under the previous two owners. He's also the mastermind behind the best-selling specials on the menu.

With the winter months underway, the seasonal soups are always a popular menu item. Each weekday morning, Mike and full-time cook Rosemary Crawford cook up a fresh stock of a featured daily soup and almost everyday, they're sold out by the afternoon.

Wednesday's soup special is chicken and rice, and has been so popular they've been sold out before 1 p.m. for weeks.

Mike's chili is another winter favorite. Served with a slice of homemade corn bread, it's a local favorite and on the menu daily, but don't try getting the recipe from anyone at the deli. It's a secret that Mike has been working on perfecting for years.

Originally from Buffalo, New York, Mike got his first taste for the area during his time in the Air Force while stationed at McGuire Air Force Base. He attended the Restaurant School in Philadelphia where he trained to become a chef. The couple met while Mike was a chef and Stacy was a waitress at the now closed Bassani's in Fieldsboro.

"I just love this town," Mike said. "It's very community driven. Everybody knows everybody."

For Stacy, the deli is the backdrop to many childhood memories.

"I lived in Fieldsboro and a lot of my friends lived in Bordentown City and we would meet up here," Stacy said as she reminisced about the ice cream window and "slush puppies." "It was the best. We were all about 11 or 12 and we would just sit here and hang out."

Another connection she has to the deli is her father, Gerry, who passed away in 2009. He was part of a group of regulars who convened daily outside the deli.

"He was one of the ones who sat out here, drank his coffee every day," she said.

Later this month, Stacy and Mike plan to officially rename the deli Pife's Deli in his memory and celebrate with an official grand opening.

Other changes coming in the New Year is renovating a room in the back of the deli for their youngest sons, Cooper, 9, and Asher, 3, for a homework and play space.

Currently, the boys join their parents at the deli after school, where they occupy a desk between the cashier register and deli counter, playing video games on a laptop and giggling.

"Everyone likes to see them and they expect to see them," Stacy said. She adds that they are starting to learn the names of the regular customers.

Their oldest son, Christian, 17, also works at the deli after school as a dishwasher and stocking the shelves.

"We want to do it as a family business," Stacy said, reflecting on owning a business and raising a family. Previously, she worked as a medical technician at a pediatric practice, but left the position to run the store.

She admits it's not easy work. Stacy and Mike are at the deli every day, and Mike sometimes gets to work as early as 3:30 a.m. and doesn't leave until after 7 or 8 p.m.

"It's hard and it's a transition for everybody," she said. "But we want to leave it to our kids. We just keep thinking of the bigger picture when Cooper and Asher have their wives and their kids. That's where we're headed."

Although the deli has undergone several name changes and owners over the years, the made-to-order sandwich shop draws a consistent and regular crowd. On a typical day, a local cast of characters can be found sitting on the benches, sipping coffee, chatting about sports and weather, and greeting their neighbors passing by.

"They're all here all the time," Stacy said. She's sitting outside on the bench introducing the regular customers. "And that's Polly, she's already been here twice today."

"Where everybody knows your name," Dean Imlay, the deli's part-time cashier, interrupts. His shift is over, but he hangs around to chat with his friends over coffee as part of his routine.

"Even when it's cold, they'll sit here," Stacy said. "They're all like family, too."
The Corner Deli is located at 353 Farnsworth Ave., Bordentown. Hours: Monday-Saturday, 5 a.m. to 6 p.m. and Sunday 6 a.m. to 4 p.m. The grand opening will be announced at 
facebook.com/pifesdeli
. Phone: (609) 298-6688.
Food+Dining
,
Business
,
Today
,
Community
Corner Deli