As basketball season heats up, Oguonu is ready to rebound

Jan 04, 2016 08:44AM ● Published by Community News Service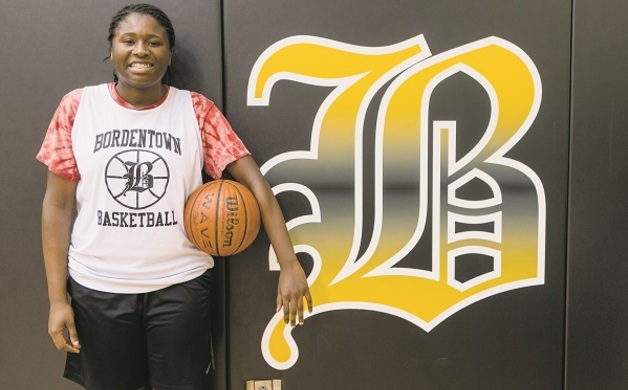 Kasi Oguano poses before a home scrimmage against Steinert on Dec. 7, 2015. (Photo by Suzette J. Lucas.)
By Rich Fisher

The date was Jan. 13, 2015 and freshman Kasi Oguonu was inserted into the Bordentown High girls' basketball lineup against Cinnaminson for her first varsity game.

Were it a Hollywood movie she would have calmly scored the winning basket at the buzzer. As it was, she scored two points in a 50-22 loss. And she was hardly calm.

"In the earlier games my emotions were all over the place," Oguonu said. "I was so afraid of messing up that my nerves got the best of me."

That did not matter to coach Bill Lloyd, who saw the upside of his 5-foot-11 center and eventually put her in the starting lineup. By season's end, she averaged around 10 points and 10 rebounds per game.

"To be honest she supplied scoring, she came in and her first four games (as a starter) she was averaging about 14 points," Lloyd said. "She was rebounding, blocking shots and supplying scoring. She was everything you want from a big in the middle."

Those nerves that she had quickly disappeared as well, and Oguonu's love for the game grew even more.

Oguonu came to high school with a lot of tools and plenty of room for improvement. Her only organized basketball as a kid was in the Bordentown Area Basketball League, and she also did a few skill clinics. She did not play travel or AAU ball but has played consistently for the past six years.

"I started playing when I was around eight," she recalled. "I would always play in the garage so my parents signed me up for BABL to get me out of their hair, and I've been playing ever since. I've always been the tallest person on the court, so the only position I have ever played is center."

She decided to play in middle school, and graduated from MacFarland a much different player than when she entered.

"I wasn't very aggressive and I didn't give basketball much thought," she said. "But I started to develop as a player in middle school and began feeling more confident on the court."

When she arrived at BRHS, Oguonu was placed on the JV team and immediately began to score and rebound in double figures. The coaching staff avoided the temptation to pull her up immediately, but continued strong play made it a no-brainer by mid-January.

"We had some upperclassmen in front of her, she just played her way on to the team," Lloyd said. "We didn't want to rush her and overwhelm her right away."

Despite that, she was admittedly a bit overwhelmed. But that's only natural, according to her coach.

"At the beginning of the year, she was hesitant, but she really came on strong," Lloyd said. "When you're coming out of a middle school program and going straight to varsity it's tough. You're still figuring out the speed of the game for that age group."

Oguonu said she was a little surprised by the callup.

"The coaching staff would give hints sometimes about moving me up, but I didn't expect it to happen so fast," she said. "But looking back on it, I'm happy I got moved up when I did."

Oguonu began to hit her stride in early February. In three straight games against Robbinsville, Pemberton and Cinnaminson she totaled 38 points.

Her rebounding also improved—many of her points came on put-backs of offensive rebounds.

"Everything started to click for me," Oguonu said. "At that point, I had gotten to know the others and was more comfortable with their style of play. Plus, after practice the coaches would give me advice from time to time, so that definitely made me more comfortable."

She also got help from her older teammates, which sometimes does not happen on a team if veterans take exception to a freshman trying to take their spot.

The Scotties had no such issues.

"The girls taught me a lot, especially the experienced bigs on the team," Oguonu said. "They took me under their wing and introduced me to new things I could use in my arsenal, like some new post moves and ways I could make myself more visible on the court. I'm glad I got to work with them, they made me a better player."

Realizing that she will be a key to this year's team, Oguonu put in her busiest basketball summer to date in preparation for her sophomore year. She played with the Scotties in the Moody Park League and once the season ended, she shot around in her driveway and worked on post moves.

The result is a more polished player.

"I think she's more confident. That's the biggest thing with her," Lloyd said. "She's starting to understand what she's capable of. For a young athlete, that can sometimes be the biggest hill to climb. You can see her confidence. We had our first scrimmage and she might have blocked 15 shots against Steinert."

The coach added that blocking shots is just part of what makes Oguonu a defensive presence.

"Even the shots she's not getting, she's causing girls to shoot over the top of her," Lloyd said. "That changes their scoring as well. She has those long arms and she just puts them in the air. She's just a shot blocker."

The center feels timing is the most important aspect to swatting shots.

"You need to get down the court fast enough to give yourself the right amount of time to stand your ground and put your hands up," she said.

Offensively, Oguonu works for most of her points underneath but will take the occasional jumper if its there. She has been working on her jump shot and foul shooting. 

"She's still working on low post moves," Lloyd said. "She really needs to improve her low post game. She needs to work on catching the ball in the post and going to drop steps and things like that."

Oguonu is part of a team trying to fill in some blanks after going 11-12 last season. Point guard Morgan Papp returns, but the Scotties suffered a big blow when guard Brianna Pagnani suffered a season-ending torn ACL.

"Having both of them in the backcourt to handle the ball took some pressure off of us," Lloyd said. "Now we have two young girls back there so it's going to take some time."

Also returning are Danielle Schenck and Morgan Irons. Genesis Walker and Emily Lukach will also play key roles.

Depth, Lloyd said, will be the team's biggest hurdle.

"If we have injuries or foul trouble, if we lose Papp for a quarter or two, we'll have inexperienced girls in the backcourt," he said.

With precious few subs on the team, Oguonu noted that the Scotties are working hard on stamina so they do not wear down.

"We have to be in shape because numbers aren't on our side," she said. "I have a lot of faith in our team. We are the underdogs due to girls graduating and not getting a lot of new girls to come out and play. But this team has heart and we give one hundred percent in practice every day, so I think if we keep working hard we'll do great this year."
Sports
,
Schools
Kasi Oguonu
Bordentown girls' basketball