Memphis on her mind

Feb 02, 2016 08:51AM ● Published by Community News Service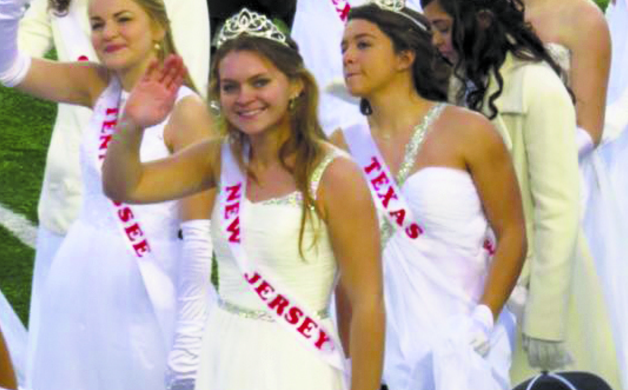 Danielle Schenck waves from the field at the 57th Annual AutoZone Liberty Bowl Football Classic game in Memphis Jan. 2, 2016.
By Laura Pollack

When Danielle Schenck, Bordentown Regional High School's reigning homecoming queen, tells people from out of state that she's from Bordentown, most of them just give her a confused look—outside of New Jersey, not many have heard of the township or the city.

But Schenck was able to bring a national spotlight to her hometown last month after she was chosen to participate in the 57th Annual AutoZone Liberty Bowl Football Classic game and bowl week events in Memphis, Tennessee.

Homecoming queens from all over the nation were selected to participate in the bowl game's parade and halftime show. The Jan. 2 Kansas State vs. Arkansas matchup drew a packed stadium of 60,000 fans, providing Schenck with the experience of a lifetime.

Schenck initially applied to go to Memphis in November, mostly for the scholarship that was being offered along with the trip. In fact, her mother, Laura said they initially looked right over the other benefits—once they saw the word "scholarship," they went for it.

While the scholarship winners won't be revealed until July, Schenck found out on Thanksgiving weekend that was she going to be ringing in the new year down south.

"I feel honored. Even being crowned homecoming queen, I was just excited to be on the court," Schenck said, adding that she never really expected to win, let alone go onto perform at a halftime show months later. "And now it was an amazing experience just to be representing New Jersey, especially coming from Bordentown—this little town."

Schenck was the only homecoming queen chosen from the Garden State. 

The application process for the bowl game was a competitive one, focusing on academics, community service and extracurricular activities.

Schenck didn't have any trouble filling those sections out. She is very involved with volunteering in her community, and doesn't plan to stop anytime soon. She currently volunteers a few days out of the week at the Peter Muschal School. She works with kindergarten teachers and creates lesson plans and helps the students with different projects.

"I just like the kindergarteners, they're just so cute and you never know what they're going to say," she said.

And she does all of that while maintaining spots on the Scotties' girls' soccer, basketball and golf rosters. By the time she graduates, she will have earned nine varsity letters between the three sports.

Though she likes having a lot to do, Schenck said managing her schedule can get difficult, but her "master calendar" and her mom help her keep everything straight.

"I refer to each one of them and am constantly checking back to them to make sure I'm on schedule to get everything done," she said. 

In the fall, Schenck will attend Eastern University, in St. Davids, Pennsylvania, with the goal of getting her nursing degree.

"I just like helping people," Schenck said. "When you need something, I'll be the first to say I'll do that, don't worry about it."

Schenck's mother, Laura, is extremely proud of her daughter and all that she's accomplished.

"She's worked hard, she's a good soul, she's always willing to help and do whatever is necessary, and she never thinks twice about it—that's just her personality," Laura said.

When Schenck found out she was chosen to go to the bowl game, she decided to turn the trip into a girls' weekend, bringing along her mother and sister, Samantha, a 2014 BRHS graduate who also played basketball for the Scotties. She is currently a sophomore at Alvernia University in Reading, Pennsylvania, where she studies nursing.

"There were so many laughs, we had such a good time," Schenck said.

She also has three younger brothers: Jake, 15, Brock, 10 and Cole, 3. Her parents grew up in the Hamilton/Trenton area, and the family has lived in Bordentown for 19 years. Laura is a systems analyst for Guy Carpenter & Co., while Schenck's father, Bill, is a salesman at Bergery's Truck Center in Hamilton.

Aside from being able to spend the weekend with her family, meeting new people from all over the country was a highlight of the trip.

Some of the activities required the girls to be grouped together by state, but since Schenck was the only one representing New Jersey she was considered an individual. She became friends with many of the other "individuals," who were all grouped together. She became friendly with girls from Montana, Washington, California and New Mexico.

Getting to talk to people about what high school is like 3,000 miles away was an eye-opening experience. While she was talking to one girl from Montana, Schenck mentioned that Bordentown is home to about 500 students, which is considered small in comparison to some of the other schools in the state.

"She was like 'Oh you think that's small? My graduating class is 15 students,'" Schenck said. "That's so tiny, I don't even have a class that size. It was crazy just hearing about their high schools and what they do."

While she was able to learn about high school life from around the nation, Schenck and her family were able to immerse themselves in southern culture. They said they were constantly surprised at the hospitality and friendliness of the locals.

"I think one of the main things we've noticed down there is how nice everyone is, especially here on the east coast, where you can walk down the street and everyone keeps to themselves," she said. "The three of us would be walking down the street and someone would randomly ask us how we're doing."

Other aspects of southern culture, however, were a bit more puzzling. The Schencks were surprised to be served chicken and waffles for breakfast, especially because the thought of ordering fried chicken early in the morning would have never crossed their minds back home.

While meeting new people and experiencing new things was exciting, there nothing was quite like the overall atmosphere of a college football game down south.

The day before the big game, the homecoming queens got the chance to participate in the New Year's Day parade down the famous Beale Street in Memphis.

"It was so packed, and the street is not that big, but the amount of people who were there watching [the parade] was really cool," she said, adding that the streets were covered with crowds of people wearing their teams' colors. "I was excited, but kind of nervous. I didn't want to be the one who like fell or did something like that."

Everything went smoothly, and things only went up from there the next day at the big game.

The homecoming queens performed at halftime with country singer Craig Morgan. Before the game, the girls were able to practice the choreographed part of the dance together, which involved dancing down the field and coming back up to the stage. Once they were at the stage, the girls were able to dance on their own to the songs.

Schenck used to dance as a child but stopped many years ago. This was the first time she's ever performed for a large crowd, let alone in a stadium filled with thousands.

"It was a little nerve wracking," she said. "They said in the beginning you never know where the camera is going to be, and you never know when the camera will pan over to you. It was good that I wasn't the only one out there because I felt more comfortable since there was more of us."

Despite being nervous, Schenck had an incredible time performing with the other girls and Morgan.

"Craig Morgan is a great singer, so it was lot of fun just rocking out with him on stage," she said. "They told us to make everyone else jealous because you guys are 10 feet away from him, and everyone else is sitting in a bleacher or sitting in their couch."

Overall, Schenck was mostly speechless when trying to explain the size of the crowds and the energy of people in the stadium.

"I can't really put it into words the amount of people were there and how excited they got," she said. "I'm so thankful for this experience. I will never forget this."
Today
,
Community
,
Schools
Danielle Schenck
AutoZone Liberty Bowl