Eco-friendly growth the goal for Popko

Feb 02, 2016 08:56AM ● Published by Samantha Sciarrotta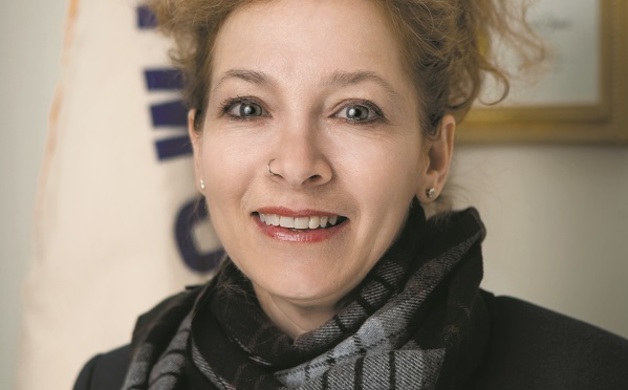 Jill Popko, a 14-year Bordentown resident and five-year committee veteran, was appointed mayor of Bordentown Township at the Jan. 2 reorganization meeting. (Photo by Suzette J. Lucas.)
By Samantha Sciarrotta

It's all about balance for Bordentown Township government this year.

The township committee and Mayor Jill Popko, who was appointed to the position at the Jan. 2 reorganization meeting, aim to bring in new businesses while also maintaining concern for the environment.

"It's imperative for Bordentown Township to have good, clean growth along with sustainability and environmental respect," she said. "I think it is so important for our community to bring in business, jobs and ratables to at least stabilize our taxes. But it has to be done in such a way that we are respecting our environment and looking towards a sustainable future. Growth for the sake of growth is untenable."

Between Popko and her colleagues—committeemen Jim Cann, Richard Carson and Eric Holliday, and Deputy Mayor Stephen Benowitz—the mayor said they are all able to contribute something to either side. 

She admits she is more inclined to be more concerned about sustainability, while other committee members' goals focus on business growth. Both are important in their own right, she added, but bringing them together could yield even better results for the township.

She maintains that Bordentown is a desirable location for new businesses because of the major highways that run through or or near the township.

"I imagine that in the future, there will be even more businesses," she said. "But we do have to make sure it's in a respectful manner to the citizens who live here now, and something that they can look forward to, rather than feature that it's just going to bring lots of traffic and more problems that it actually solves."

Popko cited the new Grainger warehouse as an example. Expected to be completed in stages by the end of the year, the warehouse was built following Leadership in Energy and Environmental Design standards—"as green as you can get," said Popko. 

When the company first approached the government about building in the township, Popko said she suggested they build a green roof and use elements like pervious pavement for runoff, but Grainger was already prepared to make those provisions.

The township also has been awarded a bronze certification by Sustainable Jersey, which means it has a functional green team and has completed a variety of actions, ranging from managing and tracking energy to implementing energy efficiency measures. Another goal for this year is to move up a step and earn a silver certification.

Popko, 56, has been active with environmental organizations for much of her life. She has participated in the International Day of Climate Action with 350.org, an organization that supports climate-focused campagins, projects and actions, and her family lives by the "reduce, reuse, recycle" principle.

"There is going to be a lot of growth," she said. "In certain respects, it's important. On the other hand, you want to make sure that there is the balance of obtaining open space. In the year ahead, I hope to see more ordinances that will have developers and redevelopers using green infrastructure. I would just like to see more developers as they come in do it in a way that has as little impact as possible on the environment."

The township is also focused on three proposed outside projects that have the potential to directly affect both the township and the city: the Southern Reliability Link pipeline and compressor station, and the waste management landfill and Elcon hazardous waste facility, both set to be situated along the river in Pennsylvania.

Both the township and the city could be affected by fumes and emissions from all three projects, and parts of the township, including the high school and Peter Muschal School, are directly in the blast radius of the compressor station. The township plans on taking legal action against all three projects.

"We need everybody to take the time and work with us to find out how they can help stop these projects," Popko said. "Even if we can stop one of them. I just think it's so important. I am really hoping people will at least mail letters or make phone calls. It isn't environmental justice that they are planning on all three of these projects, all at once, right now in our area. They have pinpointed, thinking that this is the path of least resistance. We need the township to show them they're wrong. This is not going to be easy for them."

Popko, who is in her fifth year on the committee, was first appointed after a member moved to Ohio and vacated his seat. She ran in the next election and won, and was appointed deputy mayor last year.

She has lived in Bordentown for 14 years with her husband, Bill, and daughters Livia and Thea. She graduated from LaSalle University in 1981, and then went on to attend the Culinary Institute of America from 1982-1984.

She worked as a chef cooking many different styles of food in New York City and New Jersey for a number of years, and it was an industry that was dominated by men, though she said that has changed over the years. Popko hasn't cooked professionally for two years, but she hopes to get back into it next year.

For now, she is focused on continuing to help Bordentown develop. The Petro truck stop on Rising Sun Road is set to expand and add a yet-to-be-named fast food restaurant, while the Valero gas station on Route 130 will be remodeled and tack on a 7-Eleven store.

The Pep Boys and Dollar General at the corner of Groveville Road and Route 130 should be up and running by the end of the year. The QuickChek next to the new Rivergate apartments is expected to be completed this year, as well as the Holiday Inn Express on Route 130.

The new public works building, situated next to the old facility on Bordentown-Crosswicks Road, will also be available for use this year.

"We're going to have a recycling center for residents to use that is going to accept almost anything," Benowitz, who became the first candidate to win in all eight districts this election, said. "They won't have to go to Florence to the county landfill. There were concerns with contamination, but that's all been taken care of. It's was never considered to be something that would be a drawback to the project. We do receive money out of this, too."

The township is also working on revamping several annual events, like Music in the Park.

"The city's always had a lot of these things," Popko said. "I'm really trying to make Bordentown Township catch up in that respect and be a place that people want to come to because it's fun, not just a great place for bringing up kids. We have a lot more to offer."

Popko also introduced an arts and creative team, to help artists and creative businesses work together throughout the year to present programs with green themes.

Music and the arts, she said, have been restorative in places like Trenton, and she would like to see the same happen in Bordentown.

"I encourage creative thinking," she said. "It can solve so many problems. When creative thought is oppressed, problems don't get solved. It builds a community that works together."

Park projects are also a priority. The proposed Veterans Memorial Park, set to connect to Joseph Lawrence Park, is moving forward. Fields, walking paths, an amphitheater and a veterans memorial are all planned, and the township will hold a concert fundraiser for the park later this year. 

They are also developing a plan for a recreational area at the old Dick's Drive-In site right off the Turnpike. It will include sports fields and a possible indoor sports facility.
Cann, last year's mayor, said park improvements are always an ongoing project within the township. He cited improvements to Bossert Park as a key example, and expects to see more in the coming year.

"Every year, we're trying to find new ways to improve our parks, make them more user-friendly for the residents," he said. "Yes, that's spending money, but we think the money gets returned because those things add to the value of the homes, plus the enjoyment of it."

As for other municipal projects, he said recent public works purchases have been paying dividends, as well.

"We've been buying them new equipment because it makes them more efficient," he said. "One of the things that it allowed us to do was to use them for projects that we would normally go out to bid on. The best example is the bridge at Bossert Park. I think the engineer estimated a cost of somewhere around $40,000. We did most of that internally and saved over $25,000."

Public works employees were also able to repair over 30 storm drains internally last year, and a new one-man leaf vacuum makes leaf collection more consistent, rather than twice every fall. The old vacuum required three employees to operate it.

Cann praised Popko and his colleagues on council.

"Frustration builds on us because we always want to move ahead," he said. "They put in so many hours. Jill, this is like a full-time job for her…That's our goal. To keep the town moving forward, getting better, even if it's just a little bit. Hopefully we can continue to accomplish that."

Benowitz, who served his first term on committee from 1979-1981 and has since served three more starting in 2013, agreed. 

He added that transparency—"a term that gets thrown around a lot"—is important to the group, as well.

"We have a great team in office right now," he said. "Our message got out. We're trying to build that bridge between government and residents. We're not the bad guys. We live here, also."

It all works in favor of maintaining an even-keeled government—and township as a whole.
Popko said there are sometimes disagreements within her own party, but nobody ever gets heated. They are always working toward compromise, she added.

"My colleagues on the committee, they really care about this town," she said. "They bring so many different facets to it. I think it's going to be a great year. There's an amazing balance. We have all different aspects of politics and philospohies, but we work really respectfully together. I feel so lucky about that."
Today
,
News