Making beautiful music in Bordentown and beyond

Feb 02, 2016 11:09AM ● Published by Community News Service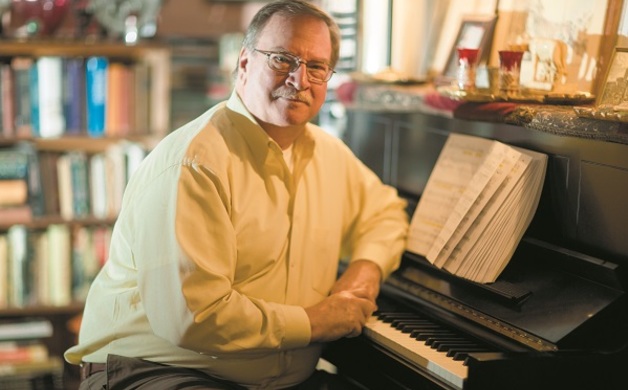 Robert Violette has been performing, directing and producing for over 50 years. (Photo by Suzette J. Lucas.)
By Nicole DeMentri

Robert Violette has made it his mission to share his passion for music with the world for most of his life. And he remembers the second his love for all things arts started.

It was a Saturday afternoon in Syracuse, New York, and Violette was 12 years old. He went to the movie theater, but soon discovered that he had seen every film in its rotation—except for a double feature matinee planned for that day.

"I had no idea what this stuff was," he said. "It turned out that one of them was the opera Aida with Sophia Loren as the main actress, and Giuseppe Campora was the tenor. So, they were singing, and I was like, 'What is going on?' That was fun, but then I thought, 'Hey I would really like to do that, too.'"

With Campora, an Italian singer who performed at the Metropolitan Opera with Maria Callas, as his chief inspiration, he did exactly that. Violette has been completely captivated by music ever since.

Since his father, Lionel, was a lieutenant colonel in the Air Force, the budding singer moved around all over the country with his dad, his mother, Barbara, brother, Terry, and sister, Michelle (now Lawler). Violette's mother was a housewife.

Eventually, they settled in Manlius, New York, right outside of Syracuse, in the early '60s after the Berlin Wall was built. His father moved to Germany while the rest of the family had to stay in the states due to the high tensions overseas before being able to join him a couple of months later when Violette was in middle school, soon after the Berlin wall was built. 

Violette left Germany a year before his parents did to attend prep schools in Baltimore and Miami. He said the family moved frequently, at least five times before he was even in first grade.

"My favorite assignment was the Pentagon, because Wednesdays were half work days for dad, and I got to run around the hallways," he said. Violette was in fourth grade at St. James Catholic School in Falls Church, Virginia at the time.

Originally hoping to become a director, Violette, 65, majored in voice at Florida Atlantic University where he designed for, directed and sang a small part in a opera during his time there. He went onto graduate school at Loyola University in New Orleans. There, he discovered his true passion.

"I was conducting a performance of a concert and the baritone missed his entrance and I just could see he wasn't going to be there, so I just sang it until he got himself together and he picked up," Violette recalled.

From there, Violette followed his singing dreams—with the help of a familiar face. Violette was singing in a concert in Palm Beach, Florida that Campora happened to attend. Campora asked the conductor to introduce him to Violette, with the hopes of teaching him traditional Italian singing techniques. Violette studied with him for the next two years. 

His daily lessons with Campora led to four seasons with the Piccola Opera of Philadelphia, a first-place prize from the American Opera Aditions, a recording and live performance for NPR in Cincinnati, a New York City recital and his Carnegie Hall debut.

Throughout his career Violette has performed at Carnegie Hall, toured Italy with leading roles and performed with major companies both nationally and internationally. He also continued to produce and direct. But he also had to support his artisitc ventures, so he worked other jobs to give himself the freedom to stay involved with the arts.

"As an artist, we have to have other jobs that support our dreams," he said. "I worked for the biggest law firm in the country. I was sent to Japan to work, but my contract [with opera] always came first."

In fact, working for a law firm wasn't the only job he had during his vocal career. He also taught at Montgomery Middle School and Montgomery High School in the music department.

"There, I would marriage my love for history and music," said Violette. He taught music classes where he would introduce history lessons to his students and then intertwine the influence of music, which he said students loved.

He also went on a business venture. A 16-year Bordentown resident, Violette has owned his own production company, Violette Productions, for 20 years.

"I began my company because I wanted a place where young talent could be fostered and get opportunities of a lifetime," he said.

Sometimes, he directs and performs in his company's productions—most recently, a concert performance of the opera Tosca, where he played the villain Baron Scarpia. A second performance will take place on Friday, Feb. 5 at Sacred Heart Catholic Church in Trenton at 7:30 p.m.

Other times, he brings in groups for the community to enjoy, like the West Point Jazz Knights. The free concert packed Bordentown Regional High School's auditorium—over 900 fans were in the audience.

"It was incredible, the feedback from the community," Violette said.

He also serves as artistic direction of the Community Concert Association of Bordentown.

Outside of teaching, directing, producing and starring in shows, Violette enjoys cooking both Italian and Cajun food. When he's not busy, he listens to everything from jazz to show tunes. He also is very active in his church ministry as the organist and choir master at the Calvary Episcopal Church in Flemington.

Aside from the traveling he did throughout his career, Violette also travels every summer to Italy with young talent he fosters through both his production company and his board position with Assisi Performing Arts, an organization that brings together professional musicians and aspiring artists from high schools, colleges and conservatories. They work together for two weeks, and  performers not only get experience, but they also gain exposure in a country that has major support for the arts.

From performing to cooking, Violette certainly is a jack of all trades, and he certainly has lived an awe-inspiring, fascinating life. Whether you see him out and around Bordentown or overseas in Italy, you can always catch him with a smile and a joke to tell.
Today
,
Community
,
Arts+Entertainment
Robert Violette
Violette Productions
Giuseppe Campora