Finding comfort in creativity at Leaping Dog

Feb 02, 2016 11:17AM ● Published by Community News Service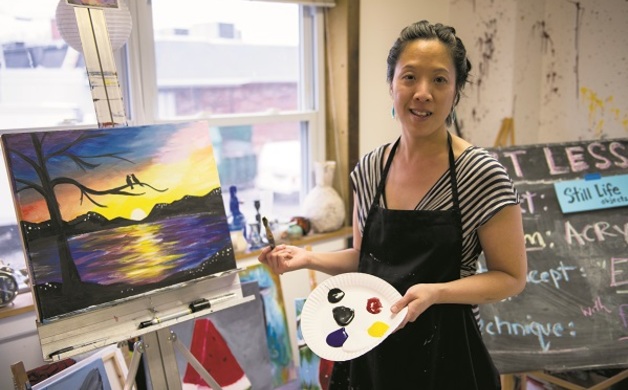 Jennifer Szeto taught art for 10 years before opening Leaping Dog Art Studio three years ago. (Photo by Fernando Lopez.)
By Jacquelyn Pillsbury

Jennifer Szeto has always had a passion for creativity. She found the perfect outlet to express that in teaching.

Prior to opening Leaping Dog Art Studios on Route 130 in Bordentown, she taught art for 10 years in Pennsylvania and New Jersey. Szeto earned a degree in illustration from Syracuse University, followed by a masters degree in art teaching from the University of the Arts in Philadelphia. She has also taken classes in London (Central Saint Martin's School of Art and Design) and New York City (Art Student's League).

Following the birth of her second daughter three years ago, she decided not to return to classroom teaching—but she still wanted to stay creative, so she opened up Leaping Dog.

"I love teaching kids. I would invite kids over to the house" to create art, she said. "After my second child was born I wanted something art-related for kids. Most programs [in this area] are crafty. I think it is important for kids to explore and play. I wanted a fun place for families to come and do art. There seems to be a void in this area."

Opening a studio was somewhat of a surprise for Szeto. It was not something she always planned to do, but the decision was one of the best she could have made. "I'm happy I'm able to do what I love best, but also able to be home with my kids. I walk the oldest one to school and I have the youngest with me most days. I have a passion. I feel it is important for all ages, adults as well as children to create art."

There is a lot of flexibility in her schedule. She teaches some classes in the mornings, others in the evenings, and even on weekends. On Wednesday afternoons, for example, for $12 a week, the studio provides open art studio time for children under 5 and their care givers.
Most of the eight classes a week she teaches at the studio start at 5 p.m., so her husband, Carter, comes home from teaching in Sayreville to be with their children.

In addition to regular classes, Szeto offers many special events both in her studio and at various places of business. One of her favorite events was when Clare Estates invited her to work with their residents. She has also worked parties for Sylvan Learning Center and at the National Guard's winter camp. "I'm keeping myself busy," she said. "It is a matter of timing and luck and people's journey. This seemed like a good time for me, too," to start a business.

One unexpected turn of events was the popularity of her BYOB Painting Parties. She helped someone else host one before Leaping Dog,but once she opened her studio, she started to receive inquries about haveing more. They are now offered every Thursday, and some Fridays and Saturdays, as well as for private events and cost $35 a person. A complete schedule is available online.

"It is a nice alternative to what is out there," she said. "You go out and consume something, or watch a movie. Here, you create something and learn something. It is very healthy to create, even if you don't think you are creative. People always surprise themselves and are happy with their paintings and their experience."

The first Friday of most months, Leaping Dog Art Studios hosts art pizza nights. Szeto describes it as "a laid back event to do art with kids." They order pizza and do seasonal art projects, such as creating Valentines in February using print making techniques. Pizza nights are $25 per child for the art supplies, materials, and pizza. Parents with children seven and up can "drop off their child for date night, or can do art with their kids. Under seven parents have to stay and do art. I like it when adults do artwork."

Last month, she began having open studio time on Sunday afternoons for all ages. "I opened it partially because of understanding family schedules. I've been asked if I had other class times." This will be an opportunity for families to create together.

One of the most unique experiences she has had as a business owner was when she had a chicken come into the class to serve as a model. Prior to the class with the chicken, they studied a diagram of a chicken and identified different parts. "You can learn so much from drawing. You become more observant by drawing," she said. Though most classes do not include live models, another unique one was her yellow lab, Liza Jane, the inspiration for the name of her studio.
Leaping Dog Art Studios, 146 US Route 130 S., Suite 203, Bordentown. Phone: (215) 850-5349. On the web: 
leapingdogartstudios.com
. E-mail: leapingdogartstudios@gmail.com. Preregistration for all programs is required.
Business
,
Today
,
Community
,
Arts+Entertainment
Jennifer Szeto
Leaping Dog Art Studios