Brown opens up court, excels as Scotties win first nine

Feb 02, 2016 11:24AM ● Published by Community News Service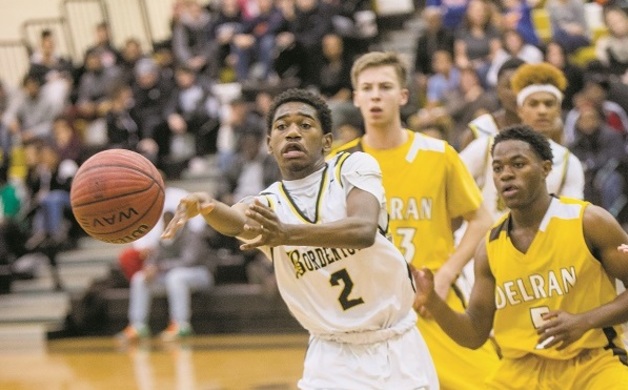 By Ken Weingartner

Darnill Brown is known for his skill as a shooter, but what makes the Bordentown Regional High School junior most dangerous is his all-around game on the basketball court. He has developed into one of the team's most versatile players.

Sure, he can knock down three-pointers with the best of them. He connected 62 times from behind the arc last year and is on pace to surpass that total this season. 

Twice in the Scotties' first nine games this season Brown nailed seven threes and through those nine games—all Bordentown wins—he averaged 13.6 points per contest.

But his success goes beyond points. As of Jan. 19, Brown also was first on the team in steals, averaging more than three per game, and second on the team in rebounding, averaging nearly four per contest. He was third on the team in assists, with two per game.

That's one eventful stat line, and it's something that doesn't surprise Bordentown head coach John Myers.

"He has a very good basketball IQ," the coach said. "Not only can he score when we need him to, but he has tons of steals, tons of rebounds, and tons of assists that a lot of people don't see. What makes Darnill so dangerous is if he's not scoring a particular day he can have the rebounds and assists. It's that complete game that makes him so good."

Brown's game has affected his teammates, too.

Myron Gordon, who led Burlington County in scoring last year with an average of 22.6 points per game, paced Bordentown in scoring through the early part of this season with an average of 23.3 points. 

Dante Gibson was averaging 14.3 points while Manny Ansong was averaging 11.2 points for the high-flying Scotties.

"When Darnill gets really hot, teams have to find him and it opens up so much more in the middle of the floor for Myron or Dante and Manny to do what they do well too," Myers said. "When he's making threes, we are a really tough team to defend; one of the best, I think. But I don't want him to put too much pressure on himself [to score] because he does so many things well."

However, what further impresses Myers is Brown's ability to put a slump behind him and remain focused and confident. 

Brown struggled with his shooting in a game against Delran this year, but he hit a three-pointer late in the game to help propel Bordentown to a 56-53 win.

"I tell him, shooters shoot; you'll work through it," Myers said. "He made a huge three after going oh-fer. I really admire that about his temperament."

Ansong, who led the Scotties in rebounding and blocked shots through the first nine games, said the team looks to Brown when he's got the hot hand.

"He doesn't miss often," Ansong said. "We try to get the ball to him so he can light it up."

Brown, who has been playing basketball for as long as he can remember, said he is a natural shooter but still puts in hours of work during the offseason to remain sharp.

"I was always able to shoot," Brown said. "But I'm always in the gym with my dad shooting jumpers. I like to put up a lot of shots in the offseason. When I went to the gym, I would make 500 a day. My teammates look for me and they trust me to shoot it."

Brown's play was one of the keys to the Scotties' fast start this season. Bordentown went 24-6 last season—more than doubling its win total from the previous campaign—and reached the state sectional championship game.

"Last year we were underdogs and teams took us lightly," Brown said. "This year we have a big bullseye on our back and we know that teams are going to come after us. We knew coming in that we'd have to play hard every game, and so far that's what we've done."

Last season's success, which included a win over No. 1-seed Lakewood in the Central Jersey Group 2 tournament, helped Bordentown enter this year with confidence.

Now, it's about striking the balance between confident and cocky.

"When we made the run [in the sectional tournament] we knew we were able to play with anybody," Brown said. "I think it got in our heads that we're just as good as any team in the state. We're trying not to get too confident but we have to play with a chip on our shoulders."

Keeping the squad focused on its goals is one of Myers's primary jobs—he wants divisional, sectional and state titles for the Scotties this season.

"People are surprised because I'm so blunt about it," he said. "If we don't get those goals, we don't get them. But if we do get them, good for the kids. I worry about [overconfidence] but my focus is on the game. Whatever the next game is; we don't talk about anything beyond that game. It's worked so far this season. They're very responsive. We have a very trusting relationship; I trust them and they trust me. I think that really helps."

And the Scotties' balanced attack doesn't hurt, either.

When multiple players hit buckets, Brown said, it allows for improvement in other areas.

"We can all score," Brown said. "We try to play good defense. We're a small team, but we rebounded well and we pick up a lot of steals. That's how we get our fast-break points. If we don't play defense, there's no offense for us. I think this could be a big year."

Ansong, who also is a junior, agreed.

"We have good teamwork and we're playing well together," he said. "We've been with each other for a long time, so we know how to play. We all like winning. I like playing with these guys because we're all close friends. It's good. I think we accomplish all our goals."
Sports
,
Today
,
Schools
Darnill Brown
Bordentown boys' basketball