Online campaign aids homeless man

Mar 01, 2016 11:18AM ● Published by Community News Service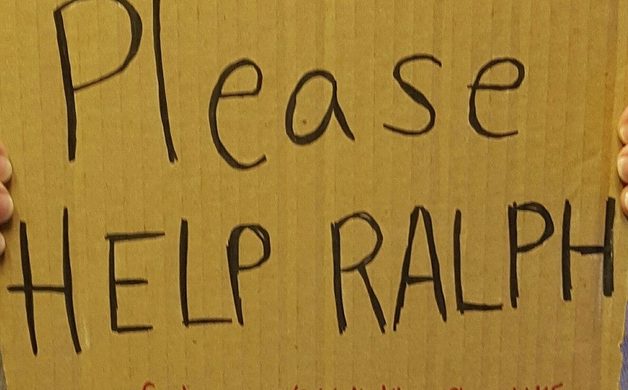 By Scott Morgan

Erin Colon wanted to help a guy. And rather quickly found out just how much trouble that could be.

It was October 2015. Colon, 31, left her Hamilton home and took Route 130, for the bajillionth time, toward her job in Plainsboro. And there, ambling along the side of the highway, he was. Tall. Dreadlocked. Obviously homeless and of indeterminate age. Pushing everything he owns along on a bicycle and heading for nowhere in particular. She had never seen him before. But she decided to pull over and give the man a few dollars.

This happened four more times over the next several weeks. What changed the dynamic was the New Jersey winter, specifically the blizzard that caked the Northeast in snow and ice at the end of January. Colon, having built a fragile relationship with the man, asked him where he was planning to ride out the storm. Ralph, as his named turned out to be, was planning on staying under an pedestrian bridge near Hamilton Marketplace.

Colon realized that this man who'd become a familiar site along Route 130, had no place to go. So she set him up at the Bordentown Motel and waved the rally towel on a specially-created Facebook page to help raise money to fund a winter's worth of residence at the motel for her new friend.

Sounds heartwarming, doesn't it? That this would be the place to talk about how the community answered the "Rallying for Ralph" initiative and helped get a human being out of the elements and keep him safe, right?

Well, yes, actually. The community did respond to help. Colon's call to action was met with hundreds of people donating money to help Ralph afford to stay at the Bordentown Motel until the middle of April, when Colon reasoned the weather would no longer be potentially fatal to someone left outside.

In fact, Colon said, between the launch of the Facebook page on Jan. 28 (close enough to Ralph's birthday to inspire a card drive for him that also went rather well) and Valentine's Day, Rallying for Ralph raised enough money to set Ralph up indoors through April 19.

That adds up to about $3,000, give or take. According to the motel, weekly rates are $240 if paid up front. If paid day-to-day, the rates add up to $280.

So, yes, in the grand scheme, Colon's original plan to get Ralph inside for the winter did work. But these couple weeks between the Pro Bowl and Valentine's Day involved quite a bit more than fundraising for Erin Colon. For her, Rallying for Ralph quickly became a stew of stress, worry and a hard lesson in naïveté.

In her efforts to help a person through a bad few months, Colon inadvertently made an agonizingly private man a minor local celebrity. In her effort to keep things simple and controllable, she drew the help and then the ire of a homeless organization that came to feel she was not helping in the right way. She encouraged people to give, only to find out that people wanting to help often make things worse out of the goodness of their hearts.

Maybe the best way to convey Colon's feelings is through something she posted on the Rallying for Ralph page: A graphic featuring a simple stick figure with a winter hat that reads "This is Erin. Erin wants to help Ralph. Erin is naïve when it comes to reporting news and setting up public Facebook pages."

There's a little more to the quote, but don't worry about it yet. This is a better moment to make the point that yes, it is absolutely worth helping people. And Colon is no stranger, at least, to philanthropy. She is an associate product manager at JK Group, where she helps develop software with which companies can build their own philanthropic programs.

So the question is not whether it's worth helping, the question is, what type of help are you supposed to give someone?

For Colon, the short answer is, the type of help the person being helped actually wants. In Ralph's case, that totals up to not much. 

According to Colon, Ralph has been homeless for about 27 years. She's not sure where he came from in life, nor how he got to being on the streets since before the Berlin Wall came down. Or, at least, she's not told the world.

What she does know is that Ralph is an intensely private man who has very little in the way of social skills. When he's approached by people wanting to offer him help, he usually declines politely. 

And with the increased attention on his cause, Colon has come to be increasingly concerned that people, even those trying to be helpful, will bother a man most comfortable being on his own.

What she also knows about Ralph is that his lack of social adroitness is no reflection on his intelligence. Colon says Ralph is sharp, polite and charmingly optimistic.

"I asked him if he'd ever been married," she said. "He told me, 'Not yet.'"

Broadcasting her case over Facebook quickly got the attention of area media outlets, causing Colon's stress level to rocket as more attention turned to a man who'd gone from being essentially invisible to the center of attention. Colon has been largely unhappy with media attention, saying she just wanted to help someone. She just didn't realize the reach of what she was doing.

For one thing, by asking everyone to donate to Ralph's lodging expenses, she inadvertently told everyone in the area where he was staying and where a large pot of money would be. Bordentown Motel is not set up to accept donations by credit card.

For another thing, by being the touchstone of a cause that involves a man who doesn't want to be approached, Colon became the focal point of the story, when she was just hoping to get people in on the cause.

"I'd rather shine the light on the community effort," Colon said. "But when you shine a light like this, you can't always control where the light goes."

In the first few days of the Rallying for Ralph campaign, Colon spoke with an organization named Homeless To Independent, an all-volunteer, faith-based nonprofit in Union Beach, near Sandy Hook. Homeless To Independent's main mission is, according to its website, to empower homeless people and to help steer them toward opportunities and programs designed to help them.

The early hopes for a smooth partnership between Colon and the organization turned sour almost immediately, when Colon and Homeless To Independent founder and CEO Ann Martin-Frey disagreed on what was best for Ralph. In an e-mail, Frey wrote that Colon "keeps collecting money to pay for his room without him getting the professional assistance Ralph deserves. She is wasting the money of the people. Erin has apparently made Ralph a pet project."

Frey also wrote that there are several organizations, particularly veterans' groups (as Ralph reportedly is a veteran), but Colon "did not want to hear it and that she did not want to let anyone speak with him. She said that Ralph said he would leave."

Colon said that Frey accused her of "coddling" Ralph and denying him the help he needs and deserves. But, Colon said, there is one thing being overlooked—Ralph has not asked for help and isn't even sure he wants it. He's aware of what's out there to help him, she said, he's just choosing to eschew it. 

At least for now.

"I'm not his custodian," she said. "I just wanted to get him out of a blizzard."

She is, however, admittedly quite protective of Ralph. By taking the initiative to help someone, you become responsible for what happens to that person, she said, and she wants to make sure that people do not bother Ralph, whether it's because they want to help or because they want to meet the guy who's suddenly shown up in the papers.

Moreover, Colon said, she wanted to help him as much as he is comfortable being helped. Colon said Ralph is grateful for the winter's stay in Bordentown.

Colon also is glad for the generosity people have shown. Immediately after creating the Facebook page, people started offering to help. For the most part, Colon said, the response has been overwhelmingly positive and generous, but there has been some flak. Some on the page had questioned how anyone could be sure that the money given to Ralph's cause would actually go to him.

At first, Colon just removed such comments from the page, trying to focus away from the internet's trollish countenance, but her husband reminded her that those are legitimate concerns that many people have, and the questions are better answered than deleted.
Colon also found out that people have a curious tendency to want to help in a way that would make themselves feel better. Think of it like a birthday present. You ask for a new basketball but get a shirt instead, because that's what the giver believes you should have. But it's not what you want.

Where Ralph is concerned, people wanted to help by giving him hats and coats and blankets, Colon said, which was certainly commendable and generous. But Ralph is a man who lives out of bags tied to a bike. He doesn't have the ability to keep clothing and tote it around with him.

"He doesn't have a home," Colon said. "He doesn't even have a closet, where is he going to put all these blankets?"

What Ralph needs more than anything, she said, is the money to keep him from freezing to death under an overpass during a New Jersey winter. But she is no longer going to be the central point for any funds raised.

Since garnering so much attention, Colon has spoken with Eric Lydick, founder of Restoring Hearts Ministries of Trenton. Restoring Hearts, which makes caring for the poor a central mission, is now helping with Ralph's case and will, if Ralph wants, assist him in with such things as getting an ID so that he might qualify for programs or, eventually, work. She also hopes the organization can convince Ralph to make efforts that will benefit his long-term health.

"We are delighted to be supporting Erin in her efforts to help Ralph," Lydick said. "Her heart is closely aligned with ours."

But again, a lot hinges on what Ralph is comfortable with. "He's not even sure if he wants the help," Colon said. "He goes back and forth." 

But at least now he's on the radar of a ministry that will give him as much help as he wants to receive.

Underlying the collaboration with Restoring Hearts is the bigger picture that Colon hopes will get people doing something—that Ralph is far from the only homeless person in Mercer or Burlington County, and that many homeless people could use some attention and help.

"There are many in the surrounding communities like Ralph that have vast needs," Lydick said. "Everything from food, housing, legal support, basic family education and job placement, to spiritual strengthening and encouragement. Many of these people have given up on society and are accustomed to being treated like a number as opposed to a person."

The goal, he said, is to correct this issue while providing a stabilizing influence that assists in the personal growth of the individual in the most loving and just way."

Colon said that if the attention gets too much for Ralph, he is willing to move to another hotel for the winter and have the funds transferred there. 

Still, for all the stress and unwanted focus on Ralph's daily life itself, Colon said she is glad she launched the campaign. She hopes the public will start recognizing more people in need, not just the one pushing his bike alongside a busy state highway.

What started out as a small movement of 350 people wanting to help has become one of 900-plus, and that shows Colon that there is at least some interest in humanity.

Which means, this is the place for the rest of that quote Colon posted in that graphic on the Facebook page: "Be like Erin (except when she's being naïve. You know what, don't be like Erin. Just do your best. That's all Erin is doing anyway.)"
Today
,
Community
Erin Colon
Rallying for Ralph