Podcasters set the record straight

Mar 01, 2016 11:39AM ● Published by Samantha Sciarrotta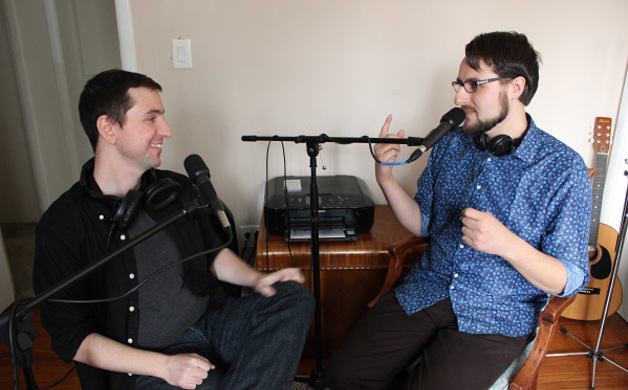 Bill Lambusta, left, and Brian Erickson launched The Great Albums podcast in January 2015.
By Samantha Sciarrotta

Most of the best conversations Bill Lambusta has ever had have one thing in common: music.
He and Brian Erickson remember countless discussions from their Rider University dorm room in the early 2000's, diving into classic albums, their favorite bands, the art of songwriting. It's become a staple of their decade-plus long friendship, so Lambusta decided one day last year, why not turn this into a podcast?

Lambusta was a regular listener of Scott Aukerman and Adam Scott's podcast, U Talkin' U2 to Me?, where the comedy duo dedicated each episode to a different U2 album, leading up to the band's Sept. 2014 release, "Songs of Innocence." Though some episodes went off course, Lambusta said, the pair often reviewed each album track-by-track and talked about different aspects of their U2 fandom, like the first time they listened to the band, or their anticipation of the new album.

It was those parts of Aukerman and Scott's show, plus his conversations with Erickson and their friends, that inspired him to launch The Great Albums podcast in January 2015. Each week, Lambusta, Erickson and, often, a guest discuss a different album, delving into works from The Beach Boys' 1966 masterpiece "Pet Sounds," to Bruce Springsteen's 1975 breakthrough "Born to Run," to Beck's 1996 sophomore effort, "Odelay."

All told, the two have released 122 episodes of what Lambusta says is basically what they used to do in college—only this time, their conversations are recorded. The Great Albums has grown to include a blog and "Bonus Song Thursday" installments, as well as episodes that are dedicated to artists and songs rather than specific records.

Erickson, a Pennington resident, was Lambusta's first thought as a co-host.

"He is basically a human encyclopedia when it comes to music," Lambusta said.

Both prefer listening to full albums rather than individual tracks, and they wanted to share that experience with listeners who may eschew the medium in favor of singles. As streaming services have become more popular, Lambusta feels "the art of the album may be lost a little bit on listeners nowadays." This podcast is about appreciating the album as an art form.

"If I like an album enough, I'm just going to go purchase it," Erickson said. "I like the feel of ownership of music."

He added that relying on streaming services like Spotify or Tidal as your sole resource could mean that you have no music should the sites dissolve. Physical copies of full albums are important to anyone's listening experience.

"Just in case Spotify comes down tomorrow in this odd corporate move of cutting things out, it's like, well, I still have my Beatles, I still have my Beach Boys, I still have my Replacements," he said. "I didn't want to just get rid of all that in good faith that a corporation whose prime objective is to make money is just going to keep this around forever."

Both Erickson and Lambusta got heavily into music in late high school and early college. Erickson's grandmother exposed him to jazz, which was his first love. Ben Folds Five's
"Whatever and Ever Amen" served as his introduction to rock music—he drew a connection between the piano trio (piano, bass and drums) and his favorite jazz musician, Dave Brubeck, whose quartet was made up of piano, bass, drums and saxophone. Ryan Adams, Elliott Smith and "Pet Sounds" were also influential.

Lambusta, a Bordentown resident, credits Pearl Jam with his broadening his musical horizons. He picked up two of the band's albums, "Ten" and "Vitology," on a family trip to West Virginia when he was a teenager and soon started digging into Eddie Vedder's influences.

"I had a guitar at this point, but I was still kind of in that phase of loud guitars are what makes things good," he said. "It's kind of ironic that the band that kind of awakened me was Pearl Jam, considering they're known as a loud guitar band…Pearl Jam, especially 'Vitalogy,' opened me up to understanding that music could be art while also being really visceral. It wasn't just about what feels good, but it's also about, lyrically, what resonates at a deeper level."

Both are also heavily into The Replacements, a punk outfit-turned-songwriting band. Lambusta introduced Erickson to the group—"It started out and I was like, 'Hey Brian, check this out,' but then Brian's gotten so into it that now he's just like, 'Oh, I already know that,'" Lambusta said—and diving into the band's guitarist, songwriter and vocalist Paul Westerberg's influences introduced both of them to a whole slew of new artists.

"Paul Westerberg, he's a literal high school dropout who still managed to make these really great, poetic lyrics and interesting compositions," Erickson said. "You don't need to be Bob Dylan, a certified genius, to craft great lyrics. Sometimes, you just need a clever sense of humor, or just an interesting perspective on the world."

It's discussions like this that are the podcast's bread and butter. Erickson and Lambusta had released a month's worth of episodes in early 2015, but were disappointed with their reach. After being featured in the music category of iTunes' New and Noteworthy section, though, their numbers started to rise. They went from dozens of listeners, to hundreds, then to thousands. It's been growing ever since.

Some hear about the podcast through word of mouth, while others discover it on Twitter, Facebook or Reddit. With lots of hashtagging and "some good luck," Erickson and Lambusta sometimes hear from the artists they talk about—bands like the Tom Tom Club have reached out and Jody Stephens, original drummer of the '70s power pop band Big Star, was a fan of the episode dedicated to the band's "#1 Record."

Guests range from local musicians, to friends, to higher-profile guests like 104.5 host Wendy Rollins, the founder of pop culture website Trunkworthy and hosts of other podcasts.
The duo have a list of albums they want to cover, but guests often choose what their episodes will feature. This year, they've started asking guests who are musicians to perform a song from their episode's album. 

In a recent episode featuring Elvis Costello's 1977 debut "My Aim Is True," local musician Jesse Elliot performed "Cheap Reward," an outtake from the album, and Devon Moore of the band Fun While You Wait played a ukulele cover of "Head Over Feet" by Alanis Morissette. They also raved about Renee Maskin of Lowlight's stripped-down cover of David Bowie's "Modern Love."

"It's really been an excuse just to find talented people and have them play a song for us before they leave," Erickson said.

Erickson said his dream guest would be an artist like Carole King, who was a prolific songwriter for other singers before launching her own solo career; or session musicians like bassist Carol Kaye or drummer Hal Blaine, part of the "Wrecking Crew" that played on countless hits from the '60s and '70s.

"The option of albums that they could probably speak on accurately would be in the hundreds, because they were on them," he said. "Likewise, someone like Carole King was writing songs for a decade before she was a solo act in her own right…Someone who's been around and has had a lot of exposure to different types of music."

Because, after all, that's Erickson and Lambusta's primary goal—to start a good, productive conversation about music.

"That's what gets people talking," Lambusta said. "When people talk about things they love, you don't even have to prompt them. They just want to talk about it. The dream guest is just a person who loves what they're talking about."
Today
,
Arts+Entertainment
The Great Albums
iTunes
Podcast
Brian Erickson
Bill Lambusta