Braasch explores his roots in 'The Diary of Anne Frank'

Mar 01, 2016 11:54AM ● Published by Community News Service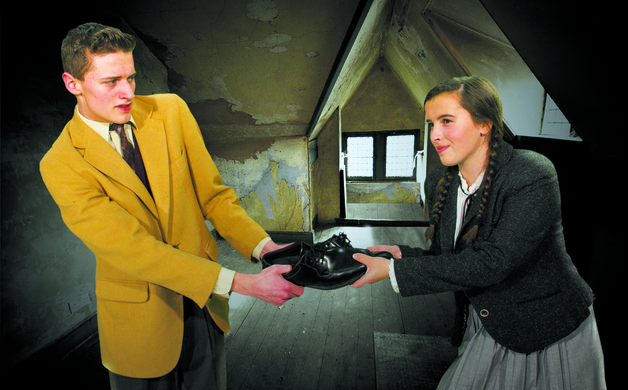 By Meagan Douches

When Evan Braasch was chosen to perform in the Pennington Players' upcoming production of The Diary of Anne Frank, he hadn't considered what the play might mean to him personally. After a conversation with his father revealing that his great-grandfather was a prisoner of war in a Nazi internment camp, Braasch established a new connection to the past.

Braasch said he was marginally aware of the connection when he was younger, but he didn't learn about or appreciate its depth until this year, when he and his father, Laurence, talked about it in the car on the way to a rehearsal for The Diary of Anne Frank. Louis Braasch, an Army veteran, was captured by Nazis in 1944 while serving in Belgium. He was sent to Stalag III-A, a German prisoner-of-war camp in Luckenwalde, Prussia (now Germany). According to records, he was imprisioned for at least five months.

"It affected me on a personal level because I realized that the Nazis weren't just some antagonist group in my history books," he said. "I realized that their actions could have decided whether I was even born."

This month marks the 71st anniversary of the death of Anne Frank, the young Jewish girl and historical figure of the Holocaust who documented her experience in a diary. The play follows the lives of the Franks and their companions during the two-year period they lived in hiding in a secret annex above Anne's father Otto Frank's office in Amsterdam.

A sophomore at Bordentown Regional High School, Braasch said he has learned more than expected studying the diary and preparing for his role of Peter Van Daan, the teenage son of Hermann and Petronella Van Daan who join the Frank family in hiding. Peter and Anne developed a close bond during their time together.

"I think it definitely brings the story to life," Braasch said. "To be one of the characters is the closest that you can possibly get to the situation, so it's opened my eyes."

The Diary of Anne Frank will be Braasch's first community show (the performances will be held at Mercer County Community College's Kelsey Theater in West Windsor), though he has performed in six shows at BRHS over the past year. Braasch hit the stage hard when he delivered his first performance as an Elvis impersonator in the middle school's production of School House Rock Jr., and his love of theater has continued to grow ever since. Since his freshman year, he has performed in A Little Princess, The Pajama Game, 10 Ways to Survive the Zombie Apocalypse, Footloose, Radium Girls and Junie B. Jones.

Braasch's theatrical roots span from his Laurence, who was involved in the theatre while attending Steinert High School in Hamilton. His younger sister Lydia, an 8th grader at BRMS, seems to have gotten the drama gene as well, and she currently participates in theatre at the middle school.

The family moved to Bordentown from Carney's Point in South Jersey in 2012 when Laurence began his current job working as a policy analyst for the state. Evan's mother Yvonne Braasch, a Pittsburgh native, works part-time as an orthodontic technician in Valley Forge, Pennsylvania.

In 2014, Braasch and his father went to see the Kelsey Theater production of Les Miserables and were blown away by the performance. The experience inspired Braasch to start trying out for community shows.

Braasch was drawn to audition for The Diary of Anne Frank due to the play's authenticity and historic truth, making the role that much more significant to him.

He felt like he could identify with many of Peter's characteristics—from his brown hair, blue-eyed appearance to his tendency to be more introverted. After two days worth of auditions, which Braasch says he found a little intimidating, he was asked to return for call-backs before he was selected to play Peter Van Daan.

"I've never been in a show with this level of professionalism before and to be cast for a role, it was super exciting," Braasch said.

Laurence said he was excited for his son to take on the challenge.

"I mean, at callbacks there were a lot of people," Laurence said. "Even though Peter's not the primary focus of the story, it's still a big deal to be there. And it being a true story and a story that I think is poignant for today, I think made it more interesting."

The small, close cast of The Diary of Anne Frank includes Isabel Kinney as Anne Frank, Jack Bathke as Otto Frank, Sara Their as Edith Frank and Gabrielle Cody as Margot Frank. Completing the Van Daan family with Braasch are Paul Cohen as Hermann and Alana Caraccio as Petronella Van Daan.

Braasch says the tight-knit cast is very affected by the reality and historic significance of the play, and that each performance is an emotional experience.

"We always have to take a minute after rehearsal," Braasch said. "The final scene—it leaves me speechless every time."

Braasch said he's honored to play a part in such a powerful piece of theater, and he believes that audiences will gain a new perspective on the characters and the hardships they faced during such a tumultuous period of time.

"I think this adaptation of it really focuses on the family life inside the annex before they were taken," Braasch said. "Just to know the family dynamics, to know what these people were like, what their thoughts were—their hopes, their dreams, the things they missed the most from the outside world."

Performances of The Diary of Anne Frank will take place on March 11, 12, 18 and 19 at 8 p.m. and March 13 and 20 at 2 p.m. at Kelsey Theater, 1200 Old Trenton Road, West Windsor. A opening night reception with the cast and crew will take place on March 11 and a special Talk Back Session (featuring a survivor of the Holocaust) will be held after the performance on Friday, March 18.
Tickets are $18 for adults, $16 for seniors, and $14 for students and children. Tickets are available online, 
kelseytheatre.net
, or by calling the Kelsey Theatre Box Office at (609) 570-3333.
Today
,
Community
,
Arts+Entertainment
Evan Braasch
The Diary of Anne Frank